ACT NOW and Grab Up to $3,080 in Monthly Payouts from Hidden
"Executive Dividends"
Starting TODAY!
Just click here to jump to the bottom of the page and complete your order, or call us toll-free at (877) 806-8697 for your risk-free trial of High Yield Investing
Companies are cutting traditional dividends and Washington is slashing Social Security benefits.
Trillions of dollars in income are disappearing into thin air—forcing retirees to "tighten the belt" on spending… just when they'd hoped to be enjoying themselves the most.
And it's up to YOU to do something about it. No one is going to step in and save you.
If you want to spend your golden years in comfort… and you've got a few minutes to spare each month… and you don't think Wall Street should be allowed to keep all the best income investments to themselves—then these "Executive Dividends" are the solution.
Because this program can pay $36,960 each year to help fund a more fulfilling, more relaxing retirement for you and your significant other… all while leaving hundreds of thousands of dollars to pass on to your family.
It's all covered in my NEW Special Report: 11 "Executive Dividend-Payers" Yielding Up To 10.4%…
These unusual companies have a history of paying surprise dividends that aren't covered in the media. One of them handed out a bonus dividend of $7 per share, on top of its normal 27-cent dividend.
That's like getting your next 26 paychecks advanced to you in one lump sum – and still getting your regular paychecks after that. Pretty sweet.
Another outfit in my report appears to pay just $1 per year. But when you count the $3 cash windfall it pays out in bonus dividends, its true payout is four times higher.
Then there's the casino that makes a bonus dividend payment every year of up to $8 per share.
And the insurance company that shelled out $13 per share in bonus payments over the past five years… along with seven other bonus dividend payers that you can buy into before they send out their next checks.
If you love quick cash (and who doesn't?!) you'll love this "Executive Dividend Payers" report.
And it's yours FREE just for taking a risk-free-trial look at High-Yield Investing, StreetAuthority's top source for ultra-safe, accelerated cash flow investments.
Take a look at everything you get with your subscription…
Subscription Benefit #1—12 FULL ISSUES OF MY MONTHLY ADVISORY LETTER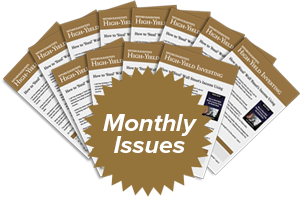 For the next year, you'll receive my High-Yield Investing research advisory… which covers every type of income-generating investment on Wall Street. The highlight of each issue is my "High-Yield Stock of the Month". If you like a towering dividend and a great shot at a capital gain, you'll love this compelling combination of yield and growth (regularly $99).
Subscription Benefit #2—12 MID-MONTH UPDATES
To keep you updated between issues and to let you know if we need to make any changes to our high-yielding portfolio (an $89 value).
Subscription Benefit #3—MEMBERS-ONLY SPECIAL ALERTS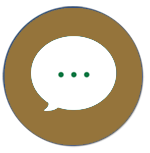 When market conditions change quickly—or if one of my picks is seeing a lot of action—I send out an alert to keep you up to speed. That way you won't be left wondering what to do (an $89 value).
Subscription Benefit #4—FULL ACCESS TO ALL MY RESEARCH
Along with your trial subscription, you'll get free access to my firewalled website… which is a central clearinghouse for my investing research. You'll find a constant stream of ways to "goose" your portfolio to generate thousands of dollars in extra income every year (a $99 value).
Subscription Benefit #5—FREE SUBSCRIPTION TO STREETAUTHORITY INSIDER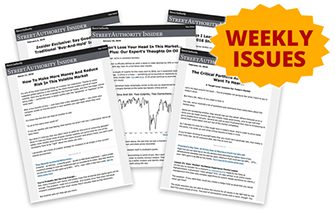 The Insider gives you a peek at the market picks… and the gurus behind those picks… that have made StreetAuthority one of the premier investment publishers in the United States. It's an exclusive publication for our paying clients only.
Of course, you'll also get these two special reports at no charge: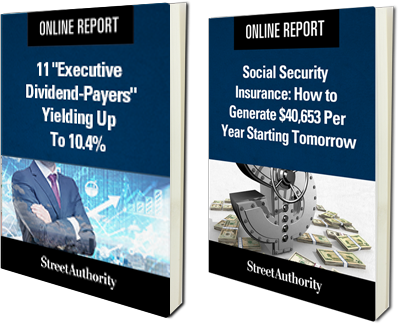 11 "Executive Dividend-Payers" Yielding Up To 10.4%…
Social Security Insurance: How to Generate $40,653 Per Year Starting Tomorrow.
Note that these reports aren't for sale anywhere, at any price. They are only available to members of the High-Yield Investing inner circle. And they are yours free as soon as you decide to start your trial membership.
Sign up to High Yield Investing for 2 years and get even MORE bang for your buck… ONLY $89.90!
The retail cost of this membership level is $198.
You get all 5 member benefits mentioned above with 3 additional research reports…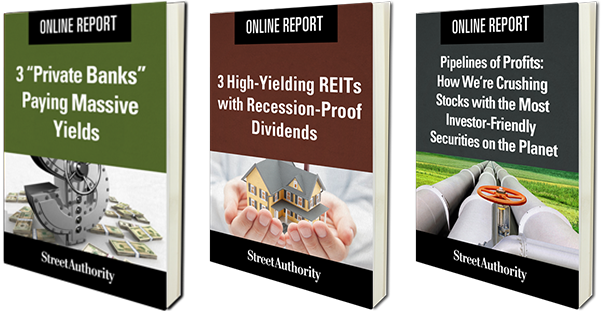 3 "Private Banks" Paying Massive Yields – Most investors don't even know they exist… but the wealthy have direct access to these double-digit yielders. Now you do too with this powerful, insider report. Yours FREE!
3 High Yield REITs with Recession Proof Dividends – Be a wealthy landlord without the hassle of tenants. There's no easier way to capture a steady stream of rental income than with Real Estate Investment Trusts. Get the 3 best in this provocative report FREE!
Pipelines of Profits: How We're Crushing Stocks with the Most Investor-Friendly Securities on the Planet – The highest yields on Wall Street are found in pipelines that transport oil and gas. Discover 3 ways to cash in with a fat tax break to boot—FREE!
One more thing that's worth mentioning…
When you try High-Yield Investing the risk is mine, not yours—I insist.
You don't risk a penny with my 100% DOUBLE guarantee.
Here's how it works…
Use the full version of High-Yield Investing for 90 Days, Risk-Free—

On Me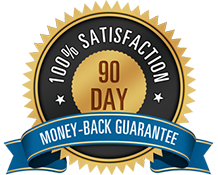 Take the next 90 days to check out my Social Security Insurance Program… pore over the latest issue of High-Yield Investing… and check out my reports.
You've got three months to use High-Yield Investing and all the other research and services that come with it.
If, at any time within the first 90 days, you're not completely satisfied with the research, gains, or anything else about my High-Yield Investing advisory service, simply let us know and we'll promptly refund every penny of your subscription price. No questions asked.
Missing out on this opportunity to lock in a solid annual income stream for life could leave you with the sting of regret for years to come… because you'll always wonder, "what if…"
So go ahead and join us now. You literally have nothing to lose and SO MUCH to gain…
Or, if you prefer, call New-Member Services at (877) 806-8697. They're available from 10 a.m. to 6 p.m. (Eastern Time), Monday through Friday.
They'll answer any questions you may have about the service and sign you up right away.
So please complete the form below and get started before this offer expires.
Remember, if you don't like it, you don't pay. I have no interest in keeping your money if you're not completely satisfied.
And you can keep all the special reports I've just detailed as my thanks for giving my service a try.
Let me welcome you to High-Yield Investing…
I look forward to serving you.
With best wishes for a lifetime of income,

Nathan Slaughter
Chief Investment Strategist
High-Yield Investing