Grab These 5 "Bulletproof Buys" — and You May Never Have to Worry About What the Market is Doing Again!
250

117 Seats Left
Dear Reader,
Congratulations on making the wise decision to join me inside High-Yield Investing today.
I hope you're excited…
Because you're about to discover five of the strongest, safest, and most generous income stocks I've ever recommended.
Stocks that have been rewarding investors for decades with ever-growing dividend payouts and monster capital gains.
These five stocks could help put your retirement worries on hold forever as you start accumulating an endless stream of growing income.
All the details are waiting for you inside Bulletproof Buys: 5 Income Stocks to Own Forever (a $199 value).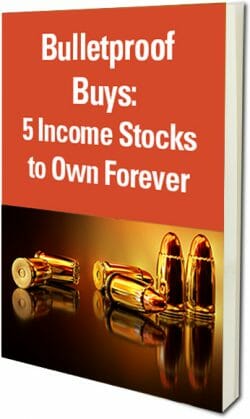 To recap, here's what you'll discover in this blockbuster report:
The energy titan that hiked payouts 683% since its IPO 20 years ago — even during the Great Recession. If you invested just $17,000 in this stock when I first recommended it, you would have since collected over $36,000 in dividends — more than double your initial investment!
The infrastructure giant that grew dividend payouts 171% since we began holding it ten years ago… and that has delivered average annual returns of 20% over the last decade — almost double the S&P 500!
The pipeline that increased dividends 22 years in a row, even during the Great Recession. If you bought just $15,000 of this stock you when I first recommended it, you would have since collected $19,500 in dividends. Now yielding more than 7%.
The REIT that has hiked dividend payouts by 3,682%over the last 18 years. What's more, since going public in 1994, it has delivered 15.2% compound annual returns — that's more than Warren Buffett has produced over the last five years!
One of the world's largest financial exchanges — it's been paying out bigger and bigger dividends since Nixon was in office and hasn't missed a single one! And over the last ten years, dividend payouts have increased by a whopping 541%. What's more, each December it hands out a "special" dividend to investors as a Christmas gift.
I also have two more blockbuster reports waiting for you:
Social Security Insurance: How to Generate $32,522 Per Year Starting Tomorrow (a $99 value)
According to the latest projections, the Social Security trust fund will be bankrupt by 2034. So if you're relying on Uncle Sam to keep his promises, you could be in for a world of hurt. In this special report, you'll learn how to create your own private safety net and put an extra $32,522 in your pocket each year, free of the shackles and constraints of Social Security.
Easy Money: "Be the House" and Claim Your Share of Record Casino Riches (a $99 value)
Covid is on its way out — and that means casinos are now bursting at the seams with players looking to make a quick easy score. Now, I've uncovered a little-known way you can grab a chunk of the billions they leave behind — without having to own a single share in any casino!
All three of these money-making reports (a $397 value) are yours, free, just for accepting your no-risk trial membership to High-Yield Investing, my premium advisory service dedicated to uncovering the world's safest and most lucrative income investments.
The kind that make it possible for my readers to pile up massive profits, like: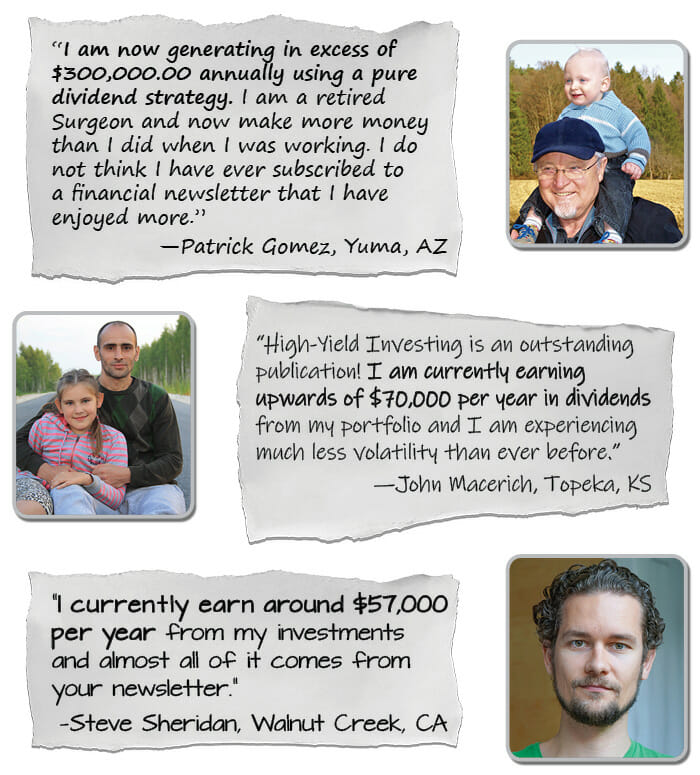 Of course not every investment turns out this well, but exceptional stories like these show what is possible when you pick up these rock-solid" Bulletproof Buys."
And because you're one of the first 250 readers to join today, you're about to lock in a full year income opportunities for just $39 — more than 60% off the standard price. Here's what you can expect the moment you join: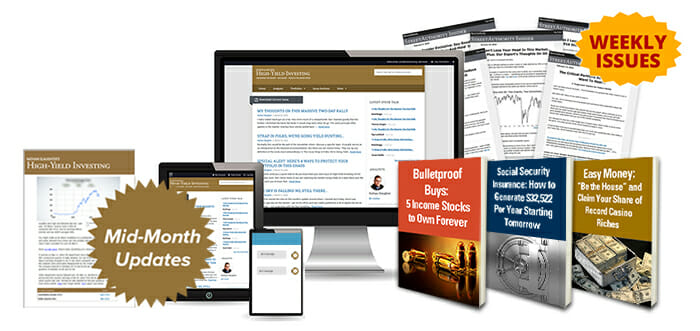 MEMBERSHIP BENEFIT #1: 12 FULL ISSUES OF HIGH-YIELD INVESTING
For the next year, you'll get exclusive access to the safest and most generous income opportunities on the planet — those with the ultimate combination of high yield and spectacular growth potential. These profit-sharing opportunities will give you the chance to stuff your pockets with endlessly growing cash payments every month… every quarter… for years and years.
MEMBERSHIP BENEFIT #2: 12 MID-MONTH UPDATES
To keep you updated between issues and to let you know if you need to make any changes to your income portfolio…
MEMBERSHIP BENEFIT #3: MEMBERS-ONLY SPECIAL ALERTS
Markets don't move just how you always expect them to. So when a surprise event occurs, I'll send you an action alert explaining exactly what to do. You will always be up to speed and never left wondering what to do next.
MEMBERSHIP BENEFIT #4: FULL ACCESS TO ALL MY RESEARCH
You'll also get FREE access to High-Yield Investing's password-protected, private website… which is the central clearinghouse for all my research. You can dig through issues stretching back more than a decade, giving you a treasure trove of ways to "goose" your portfolio and generate thousands of dollars in extra income every year.
MEMBERSHIP BENEFIT #5: FREE SUBSCRIPTION TO STREETAUTHORITY INSIDER 
This weekly bulletin gives you a peek at the market picks (and the experts behind those picks) that have made StreetAuthority the fastest-growing investment advisory publisher in the United States. Yours free as a new member of the StreetAuthority family.
But it gets even better…
Save $120 and Receive 3 More Bonuses
Because I firmly believe that one great deal deserves another...
And because I want to make it easy for you stick with me for the "long haul" and increase your opportunities for success...
I've negotiated another deal with my publisher that allows you to effectively "double your discount" and lock-in two full years of High-Yield Investing for just $78.
That's a massive $120 in savings.
What's more, you'll receive three more bonuses worth $297...
The Data Powerhouse: How to Siphon the Riches of the World's Wealthiest Companies in One Simple Move (a $99 value) — Apple. Google. Netflix. Amazon. The world's biggest, richest companies aren't exactly sharing the wealth with their investors. Luckily, I've found a completely legal "back-door" to their bank accounts, that lets you siphon their obscene wealth in one easy move.
Hidden Dividends: 11 Companies With Much Higher Dividends than People Think  (a $99 value) — You won't see them reflected in their published yields, but these extra "special" dividends are often 10x to 20x bigger than regular quarterly dividends! And this special report shows you exactly where to find them.
Three "Private Banks" Averaging 7% Yields (a $99 value) — Let's face it: Big, wealthy investors often have opportunities the little guy doesn't — like investing in privately owned startups while they're still experiencing triple- and quadruple-digit growth. But that's all changing. Because thanks to an obscure piece of legislation you have the chance to participate in this secretive and incredibly lucrative big boys club, via three "private banks" averaging 7% yields.
And keep in mind, no matter which option you choose, you're protected by…
My Double-Barreled 100%
Satisfaction Guarantee
Because I want you to be 100% sure High-Yield Investing is right for you, I'm giving you three full months to try it out at my expense.
If at any time during those 90 days you're not completely happy with what you're getting from me — or the money you're making — simply let my Customer Service team know.
And I'll issue you a prompt, no-questions-asked refund for every penny of your membership.
And even if it's past the 90-day mark and you find yourself unhappy for any reason, I still have your back.
Simply let me know and I'll give you a refund for the unused portion of your subscription.
And I insist you keep your free reports along with any issues you receive, as my way of saying "thank you" for giving High-Yield Investing a try.
But you must hurry — available spots are being claimed fast, and once they're gone, they're gone.
So please don't wait another moment: Simply fill out the secure order form below now, to reserve yours now before it's too late.
I look forward to welcoming you inside High-Yield Investing.
For greater income and peace of mind,


Nathan Slaughter
Chief Investment Strategist
High-Yield Investing