Start Pocketing Yields of Up To 23.2% with High Yield Investing!
You get it all: My Stock of the Month Yielding 23.2%…
A 62% Discount… Up to 5 FREE Bonus Reports…
And a 100% Money-Back Guarantee
Get ready to capture the extraordinary profit opportunities I'm finding in dozens of ultra high-yielding securities!
And remember, when you sign up, you aren't committing to anything at all…
You're simply giving my service a no-strings-attached try.
Here's how easy it is to get started…
First, my publisher will knock 62% off the regular rate…
And welcome you aboard for just $49.
Or, you can extend your savings even further, and sign up for a 2-year membership for only $89. That's less than the standard rate for just one year of membership!
And you'll gain access to all 5 of the special reports I've prepared for you…


No matter which term you choose, you'll lock in all of these membership benefits…
Membership Benefit #1:
12 Full Issues of My Monthly Advisory Letter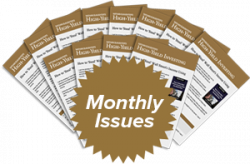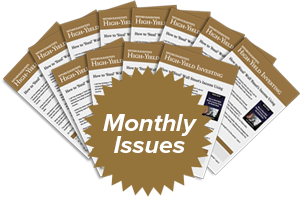 For the next year, you'll receive all of my High-Yield Investing research… covering every sort of income-generating investment on Wall Street.
The highlight of each issue is my "High-Yield Stock of the Month."
If you like a towering dividend and a great shot at a solid capital gain, you'll love this compelling combination of yield and growth.
Membership Benefit #2:
12 Mid-Month Updates
To keep you updated between issues…
And to let you know if you need to make any changes to your income portfolio ($79 value).
Membership Benefit #3:
Members-Only Special Alerts
Markets don't move according to anyone's publishing schedule.
So if a surprise event occurs, I'll send you an action alert explaining exactly what to do.
You will always be up to speed and never left wondering.
Membership Benefit #4:
Full Access To All My Research
You'll also get FREE access to High-Yield Investing's firewalled website… which is the central clearinghouse for all my research.
You can dig through issues stretching back more than a decade…
Giving you a treasure trove of ways to "goose" your portfolio and generate thousands of dollars in extra income every year ($99 value).
Membership Benefit #5:
Free Subscription to StreetAuthority Insider ($29 Value)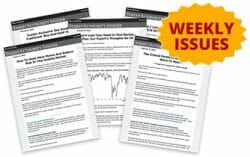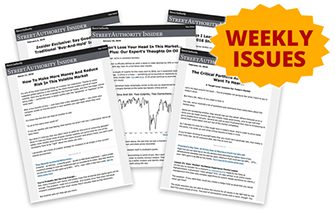 This weekly bulletin gives you a peek at the market picks (and the experts behind those picks) that have made StreetAuthority the fastest-growing investment advisory publisher in the United States.
It's yours free as a new member of the StreetAuthority family.
See What Other High-Yield Investing Readers are Saying…
"Your service must be the best value out there as a reflection of its content, superb commentary, and depth of study. Thanks!"
—Garry C., Chicago, Illinois
"I continue to find your monthly newsletters and updates very useful, well researched, and profitable. I have done very well with some of your recommendations over the last two years."
—Brenda R., Calgary, Alberta
"Since I'm retired, it's most important to me to generate sufficient yields on my investments. Your High-Yield Investing newsletter is a "gem" and has given me many terrific ideas to help supplement my income."
—Marty K., Lido Beach, New York
"This is the first email I've written to any newsletter. You are by far the most comprehensively researched newsletter I've read, and you explain your position in a way that is easily understood."
—Bill F., Orlando, Florida
"High-Yield Investing is the best financial publication in existence, bar none."
—Anthony L., Quincy, Massachusetts
To join these happy subscribers and start your trial subscription today,
simply choose your preferred term below: