A Special Gift for You from High-Yield Investing
This boring company has
paid out a "Holiday Bonus" to
shareholders every year for
the last decade...
Stake your claim by

December 9th

and you could end the year with an

extra $290 in your pocket

... simply for holding the stock.

Fellow investor,

Fair warning… this may be the quickest (and most surefire) income play you'll put in your portfolio all year.

This "boring" stock rewards shareholders like clockwork… for 10 years running, every December it's paid out a special dividend (think of it as a "Holiday Bonus").

And this year, investors holding shares on or before December 9th will be treated to a hefty "Holiday Dividend" on top of its regular payouts.

How does that look in terms of your bottom line?

Simply holding 100 shares of this company would hand you a $13 "Holiday Bonus"...

Holding 250 shares would net you a quick $32.50...

Picking up 500 shares today would give you $65...

And holding 1,000 shares of this company would let you walk away with an extra $130 in your pocket.

Tally up the "Holiday Bonus" plus your regular dividend payout... and you're looking at a lightning-quick payday of up to $290.

Of course, it goes without saying that the more shares you pick up the bigger your "Holiday Bonus" could be.

Now, recommending a stock based on a special dividend alone is rarely a smart move…

But this company offers SO much more than just one extra payout…

Not only has it made consistent and continuous special dividend payouts every December for the last decade with no signs of slowing down any time soon...

But shockingly it hasn't missed a regular dividend payout in the last 10 years, either!

This company even sailed right through Covid without having to put its dividend payouts on pause.

And this "Holiday Bonus" stock comes with a long history of incredible income.

Anyone bold enough to have picked up 1,000 shares of this profit powerhouse a decade ago would have racked up nearly $6,500 in income alone by now… just for holding onto the stock!

Best of all, when you own shares of this company or before December 9th this "Holiday Bonus" will be in your portfolio before Christmas.

I don't know anyone who couldn't use a little extra income around the holidays...

Which is exactly why THIS company deserves a spot in your portfolio NOW.

And as a holiday "gift" of our own…

I put full details on this timely — and urgent — opportunity and the steps you need to take to stake your claim today... into a simple, easy-to-read report that I want to put in your hands absolutely FREE.

That's right... this "Holiday Bonus" report that could help put close to $300 in your pocket before Christmas is yours FREE.

All I ask in return is that you simply give our elite income advisory, High-Yield Investing, a try…

At High-Yield Investing our mission is to uncover the safest and most generous income stocks on Earth and help everyday investors lock on to them for a shot at incredible profits.

Inside each issue, you'll discover incredible "off the radar" income stocks that reward investors with ever-growing dividend payouts and monster capital gains…

Just like the company you'll see inside your free copy of our "Holiday Bonus" report.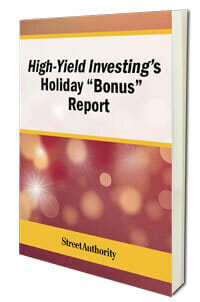 You'll uncover:
The exact name and ticker of the company behind this "Holiday Bonus" payout.
The simple steps you need to take to claim your "Holiday Bonus."
And for people who like looking under the hood... we've included a full write up on what this "boring" company does and what we believe you can expect from them in the future.
Remember, this "Holiday Bonus" Report is yours at no charge, in return for trying out High-Yield Investing.
But we're not stopping there… in the spirit of giving we're going to put a few more "gifts" under the tree for you as well…
They come in the form of two more blockbuster reports:
Social Security Insurance: How to Generate $32,522 Per Year Starting Tomorrow (a $99 value)
According to the latest projections, the Social Security trust fund will be bankrupt by 2034. So if you're relying on Uncle Sam to keep his promises, you could be in for a world of hurt. In this special report, you'll learn how to create your own private safety net and put an extra $32,522 in your pocket each year, free of the shackles and constraints of Social Security.
Easy Money: "Be the House" and Claim Your Share of Record Casino Riches (a $99 value)
Covid is on its way out — and that means casinos are now bursting at the seams with players looking to make a quick easy score. Now, I've uncovered a little-known way you can grab a chunk of the billions they leave behind — without having to own a single share in any casino!
All three of these money-making reports (a $397 value) are yours free...
Just for taking High-Yield Investing on a 6-month "Test Drive."
As soon as you join, you'll become part of a community of regular investors like Patrick, John, and Steve, who all wrote in to let us know how High-Yield Investing was working out for them...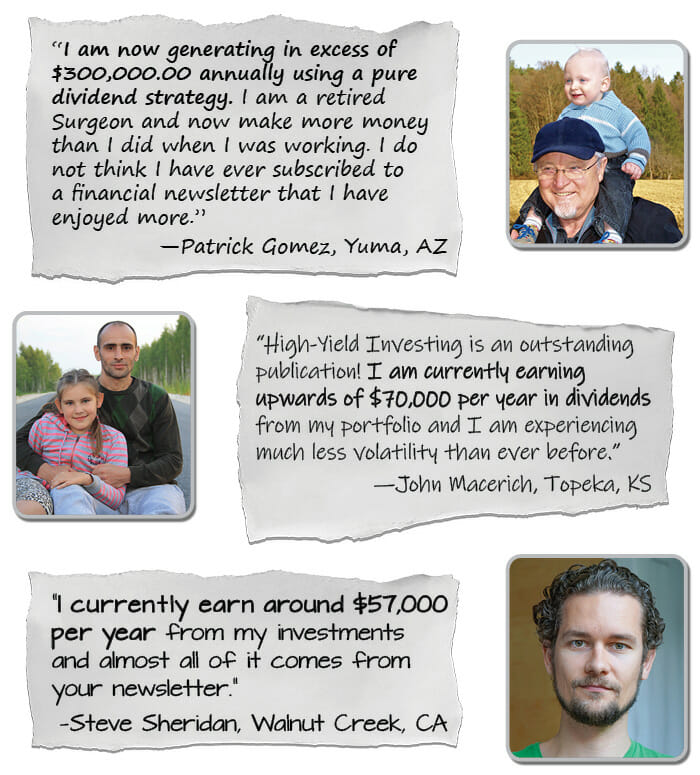 Of course, not every person has this type of success... but exceptional stories like these show what is possible when you pick up the rock-solid income opportunities recommended inside High-Yield Investing.
The regular price for a year's worth of High-Yield Investing is $199.
And considering the "Holiday Bonus" on the table today could completely cover the membership fee (and then some)...
It's a steal at that price.
But as our gift to you...
Today you can lock in access to 6 months of High-Yield Investing at the rock bottom rate of just $19.
That's almost 70% off the standard price!
Here's what you can expect the moment you join:
MEMBERSHIP BENEFIT #1: 6 FULL MONTHS OF HIGH-YIELD INVESTING
For the next 6 months, you'll get exclusive access to the safest and most generous income opportunities on the planet — those with the ultimate combination of high yield and spectacular growth potential. These profit-sharing opportunities will give you the chance to stuff your pockets with endlessly growing cash payments every month… every quarter… for years and years.
MEMBERSHIP BENEFIT #2: 12 MID-MONTH UPDATES
To keep you updated between issues and to let you know if you need to make any changes to your income portfolio…
MEMBERSHIP BENEFIT #3: MEMBERS-ONLY SPECIAL ALERTS
Markets don't move just how you always expect them to. So when a surprise event occurs, I'll send you an action alert explaining exactly what to do. You will always be up to speed and never left wondering what to do next.
MEMBERSHIP BENEFIT #4: FULL ACCESS TO ALL MY RESEARCH
You'll also get FREE access to High-Yield Investing's password-protected, private website… which is the central clearinghouse for all my research. You can dig through issues stretching back more than a decade, giving you a treasure trove of ways to "goose" your portfolio and generate thousands of dollars in extra income every year.
MEMBERSHIP BENEFIT #5: FREE SUBSCRIPTION TO STREETAUTHORITY INSIDER 
This weekly bulletin gives you a peek at the market picks (and the experts behind those picks) that have made StreetAuthority the fastest-growing investment advisory publisher in the United States. Yours free as a new member of the StreetAuthority family.
Unfortunately there is one small catch…
Due to the massive discount I'm offering — along with how time sensitive this opportunity is — there will be no refunds.
However, I believe in standing behind my work…
So I fully believe that when you claim your 6 month trial of High Yield Investing and snag your copy of our "Holiday Bonus" report...
You'll be able to use my recommendations to potentially collect more than a few fat dividend payouts.
But you must hurry — if you want to pocket your "Holiday Bonus" you need to stake your claim before December 9th.
So please don't wait another moment...
Simply fill out the secure order form below now to claim your seat inside High-Yield Investing and secure your free copy of our "Holiday Bonus" report.
We look forward to welcoming you inside High-Yield Investing.
For greater income and peace of mind,


Nathan Slaughter
Chief Investment Strategist
High-Yield Investing