Let These 12 Ultra-Generous Dividend Payers Hand You Automatic Income Every Month of the Year!
250

117 Seats Left
Dear Reader,
Congratulations on making the wise decision to join me inside High-Yield Investing today.
I hope you're excited…
Because you're about pick up 12 of the safest and most generous dividend payers I've found on the market — stocks that will pay you virtually every 30 days like clockwork, all year long!
Are You Ready To Get Paid 4X More Often?
No more waiting for quarterly payouts — now you can collect a growing stream of passive income, every single month!
Pick up these stocks today and you could start pocketing as much as:
$210
$236
Even $250 (or more) each month
Cash you spend immediately, how you want… on what you want!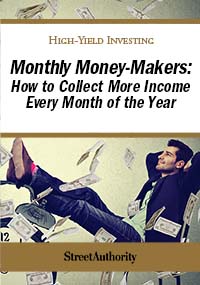 All the details on these 12 dividend payers are waiting for you in
Monthly Money-Makers: How to Collect More Income Every Month of the Year.
One of them hasn't missed a single monthly payout since Nixon was in office…
Another has raised dividends nearly every year for the past 24 years...
While a third has hiked payouts 650% over the last 14 years!
Those are just three of the ultra-generous dividend payers you'll find inside your free copy of this groundbreaking report.
But that's not all that's in store when you join me inside High-Yield Investing, today.
When you take advantage of this opportunity, right now — I also have two more blockbuster reports ready and waiting for you:
Bulletproof Buys: 5 Income Stocks to Own Forever
(a $99 value)
Want to be able to tune out the financial media for good? Then you owe it to yourself to discover these five incredible stocks — stocks that are so reliable and so generous, you may never have to worry about what the market is doing again!
Hidden Dividends: 11 Companies With Much Higher Dividends than People Think (a $99 value)
You won't see them reflected in their published yields, but these extra "special" dividends are often 10x to 20x bigger than regular quarterly dividends! And this special report shows you exactly where to find them. 
All three of these in-depth and actionable, moneymaking reports (a $397 value) are yours free, just for accepting your no-risk trial membership to High-Yield Investing, my premium advisory service dedicated to uncovering the world's safest and most lucrative income investments.
The kind that make it possible for my readers to pile up massive profits, like: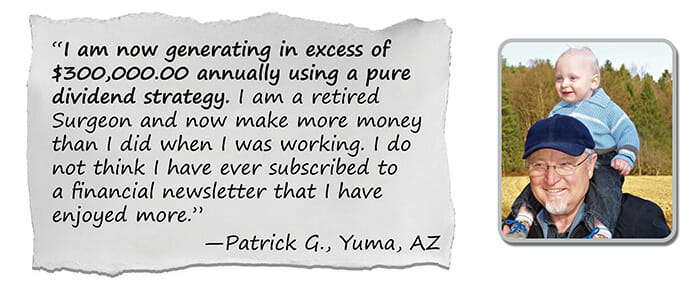 Of course, not every investment turns out this well, but exceptional stories like these show what is possible when you pick up ultra-generous dividend payers.
And because you're one of the first 250 readers to join today, you're about to lock in a full year income opportunities for just $39 — more than 60% off the standard price.
Here's what you can expect to start receiving from High-Yield Investing, the moment you join:
MEMBERSHIP BENEFIT #1

: 12 FULL ISSUES OFHIGH-YIELD INVESTING
For the next year, you'll get exclusive access to the safest and most generous income opportunities on the planet — those with the ultimate combination of high yield and spectacular growth potential. Profit sharing opportunities which will give you the chance to stuff your pockets with endlessly growing cash payments every month… every quarter… for years and years.

MEMBERSHIP BENEFIT #2

: 12 MID-MONTH UPDATES
To keep you updated between issues and to let you know if you need to make any changes to your income portfolio.

MEMBERSHIP BENEFIT #3

: MEMBERS-ONLY SPECIAL ALERTS
Markets don't move just how you always expect them to. So, when a surprise event occurs, I'll send you an action alert explaining exactly what to do. You will always be up to speed and never left wondering what to do next.

MEMBERSHIP BENEFIT #4

: FULL ACCESS TO ALL MY RESEARCH
You'll also get FREE access to High-Yield Investing's password-protected, private website… which is the central clearinghouse for all my research. You can dig through issues stretching back more than a decade, giving you a treasure trove of ways to "goose" your portfolio and generate thousands of dollars in extra income every year.

MEMBERSHIP BENEFIT #5

: FREE SUBSCRIPTION TO STREETAUTHORITY INSIDER
This weekly bulletin gives you a peek at the market picks (and the experts behind those picks) that have made StreetAuthority the fastest-growing investment advisory publisher in the United States. Yours free as a new member of the StreetAuthority family.
But it gets even better…
Save $120 and Receive
2 More Bonuses Today
Because I firmly believe that one great deal deserves another...
And because I want to make it easy for you stick with me for the "long haul" to increase your opportunities for success...
I've negotiated another deal with my publisher that allows you to effectively "double your discount" and lock-in two full years of High-Yield Investing for just $78.
That's a massive $120 in savings.
What's more, you'll receive two more bonuses worth $198.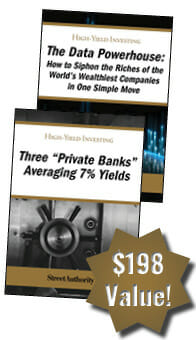 The Data Powerhouse: How to Siphon the Riches of the World's Wealthiest Companies in One Simple Move (a $99 value)
Apple. Google. Netflix. Amazon. The world's biggest, richest companies aren't exactly sharing the wealth with their investors. Luckily, I've found a completely legal "back-door" to their bank accounts that lets you siphon their obscene wealth in one easy move.
Three "Private Banks" Averaging 7% Yields (a $99 value)
Let's face it: Big, wealthy investors often have opportunities the little guy doesn't — like investing in privately owned startups while they're still experiencing triple- and quadruple-digit growth. But that's all changing. Because thanks to an obscure piece of legislation you have the chance to participate in this secretive and incredibly lucrative big boys club, via three "private banks" averaging 7% yields.
And keep in mind, no matter which option you choose, you're protected by…
My Double-Barreled
100% Satisfaction Guarantee
Because I want you to be 100% sure High-Yield Investing is right for you, I'm giving you three full months to try it out at my expense.  If at any time during those 90 days you're not completely happy with what you're getting from me — or the money you're making — simply let my Customer Service team know.
And I'll issue you a prompt, no-questions-asked refund for every penny of your membership.
And even if it's past the 90-day mark and you find yourself unhappy for any reason, I still have your back.
Simply let me know and I'll give you a refund for the unused portion of your subscription.
And I insist you keep your free reports along with any issues you receive, as my way of saying "thank you" for giving High-Yield Investing a fair try.
But you must hurry — with such an incredible opportunity on the table (and less than 250 spots available today) I don't expect this to stay up long…
And once they're gone, they're gone.
So please don't wait another moment:
You're just a click away from accessing "automatic income"… every month of the year.
Simply fill out the secure order form below now, to reserve yours now before it's too late.
I look forward to welcoming you inside High-Yield Investing.


Nathan Slaughter
Chief Investment Strategist
High-Yield Investing