The Hidden $10 Billion A Year Satellite Opportunity Starts Right Now
You're Minutes Away from Taking Advantage of The Obscure Footnote Wall Street Completely Missed…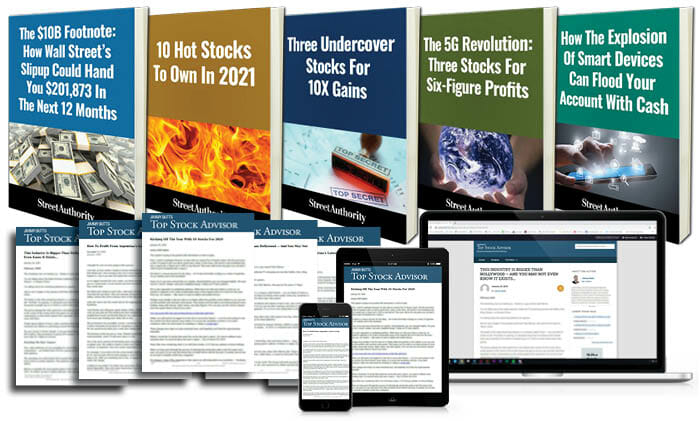 500

257 Membership Spots Remaining Today Lock in Yours to Secure This Package
Worth $416

Yours Today for Only $39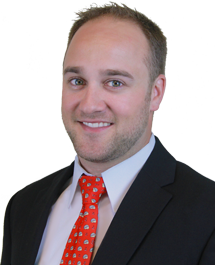 Hello, I'm J.R. Butts.
Thank you for reviewing my presentation.
Wall Street doesn't often miss an opportunity to make money.
But this time, they've failed in a massive way.
And their loss can be your gain…
Investors who make the right moves today will have an opportunity to build the kind of wealth they've only ever dreamed of…
I want that for you.
And to get started, you only have to agree to take Top Stock Advisor out for a risk-free test drive.
When you join today, here's everything you'll receive:
12 Monthly Editions of Top Stock Advisor — In each monthly issue, I provide investment recommendations, a detailed economic outlook, model portfolio summaries, and specific buy, sell, and hold indicators for each model portfolio position.
Intra-Day FLASH Alerts  — Any time an investment opportunity requires your attention, I'll send you an instant email alert with instructions on how and when to close out your position, optimize your profits, and be ready to invest in the next breakout opportunity.
Mid-Month Update Emails — When something important happens in the markets, I don't want you waiting several weeks to hear about it. So mid-month, I'll send an email update to ensure you're on top of any and all late-breaking market developments and company news.
Members-Only Website Access — As a Top Stock Advisor member, you have exclusive, unlimited, around-the-clock access to my private website. Here, you'll find a searchable archive of past newsletter issues, special market reports, FLASH Alert histories, and model portfolio details… all at your fingertips. And only ever a click away.
VIP Concierge Service — As soon as you're on the inside, you'll have access to a special phone number where you can reach my VIP concierge team every weekday during normal business hours. The team is standing by to ensure any questions, concerns, or problems you have as a member are dealt with quickly and thoroughly.
Join Top Stock Advisor Today For
Only $39
The regular price for a one-year membership in Top Stock Advisor is $199.
But Wall Street's little $10 billion "slip up" could hit the evening news at any moment…
And steal this undervalued gem right out of your hands.
I'd hate to see banks and hedge funds profit from an opportunity you rightly deserve…
All because the membership fee made you pause.
So I've negotiated a one-time discount with my publisher that gives you cash savings of $160 off the regular price.
When you break it down, a one-year membership costs you less than $0.11 cents a day.
Think about that for a moment…
Just pennies a day for access to world-class investment recommendations and research compiled by an ex-Wall Street insider…
And delivered instantly to your email inbox like clockwork each and every month.
The $10 billion footnote has the potential to turn thousands of everyday investors into millionaires…
And I'm confident Top Stock Advisor can help you become one of them.
But this $39 price is a one-time offer.
If you leave this page without completing the order form below, I can't guarantee this price will be available when you return.
I have only 500 257 membership seats remaining today…
And at this price, I don't expect them to last much longer.
I'm so confident in this opportunity that I'm covering you with not one… but two "ironclad" guarantees…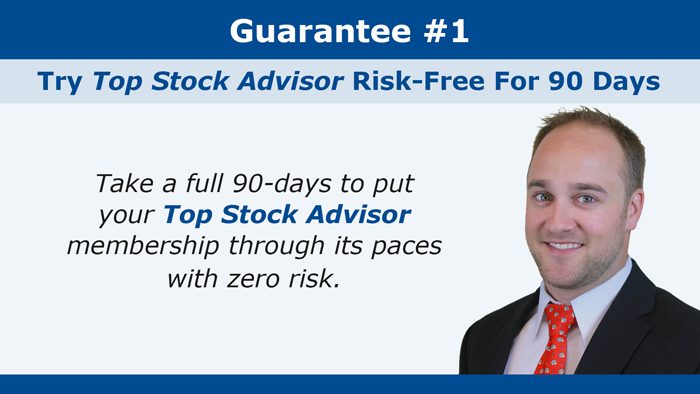 Review your bonus reports…
Read through the newsletter back issues…
And check out our model portfolio's performance.
If there's anything about Top Stock Advisor you don't absolutely love, place a quick phone call to our Concierge Hotline within 90 days of joining and we'll return 100% of your membership fee… no questions asked.
And here's my second guarantee…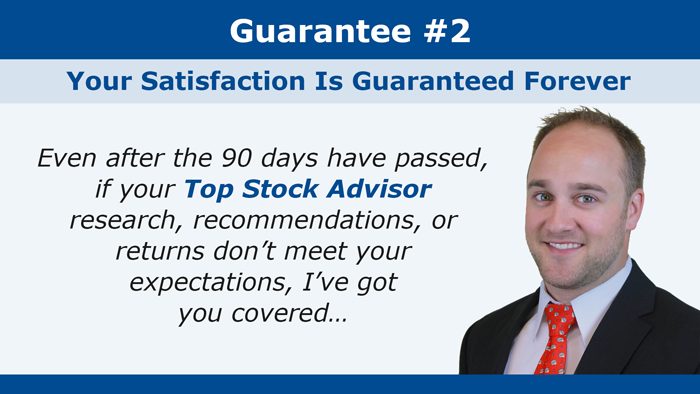 Once again, a phone call is all it takes.
We'll prorate your fee and refund you immediately for any unused months remaining on your membership term.
Plus… if you decide to leave in the first 90 days or at any time in the future, all the reports, newsletters, alerts, and recommendations you receive during your membership period are yours to keep forever…
Think of them as my way of saying, "Thank you for trying us out."
Upgrade To A Two-Year Membership
And Receive These Exclusive VIP Bonuses
Top Stock Advisor has helped thousands of investors prepare for retirement by delivering double and triple-digit opportunities every month of the year.
And many new members asked for a multi-year subscription option.
So I've negotiated a second deal with my publisher…
Right now — and only until the remaining membership spots are spoken for — you can lock in a two-year membership for only $78.
That's $320 off the regular price of $398.
Don't worry… you'll still be covered by my double guarantee.
And when you select the two-year option on the order form below, I'll send you two additional bonuses — a $118 value — absolutely free.
BONUS #1: How The Explosion Of Smart Devices Can Flood Your Account With Cash ($59 value)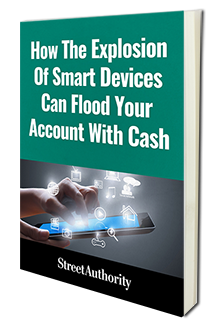 Amazon Alexas, Google Assistants, Nest Thermostats, web-connected TVs, door locks, cameras, and security systems…
By 2025, there could be as many as 64 billion of these "smart" devices in the world. That would be eight devices for every man, woman, and child on the planet.
And every last one of these devices will constantly generate data…
Data that needs to be stored, processed, and secured.
Companies providing these services to smart device manufacturers could see their stock prices go ballistic over the next few years.
In this report, I reveal three small companies offering potential for explosive gains over the next 12 months.
BONUS #2: The 5G Revolution: Three Stocks For Six-Figure Profits ($59 value)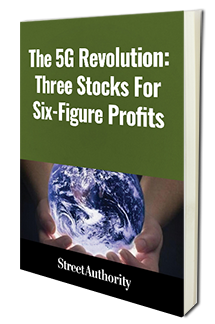 5G — the latest and greatest communications standard — will add $12 trillion to the global economy and give smart investors multiple opportunities to create generational wealth.
Inside this exclusive report, I reveal…
The little-known company that will act as a gatekeeper in deciding which of the billions of new smart devices are "up-to-snuff" for the world's blazingly fast 5G networks.
How 5G's 50X demand for antenna space could launch the stock of one specialty real estate company into the stratosphere.
A smart traffic sensor manufacturer positioned to dominate the industry as 5G makes self-driving cars a reality.
Each of these stocks offer the potential to add six-figures or more to your investment portfolio as the global 5G rollout accelerates.
These reports and the profits they can hand you are not available to the general public.
They're only available here on this page and only when you when you select the two-year membership option.
The "$10 billion footnote" could add $201,873 or more to your investment account in the next 12 months.
There's no better time to start than right now.
Enter your details in the form below…
And I'll rush you all the special reports and bonuses I showed you above.
But you've got to act right away…
I only have 500 257 membership spots remaining today…
And they're disappearing quickly.
I look forward to welcoming you as a new Top Stock Advisor member very soon.
To Your Wealth,
Thank you,

J.R. Butts
Chief Investment Strategist
Top Stock Advisor
February 2021