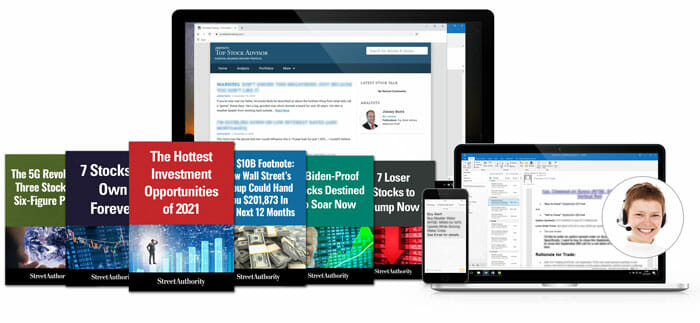 Hello, J.R. Butts again.
I wanted to thank you for taking the time to review our investment forecasts for the next 12 months.
Many of our firm's greatest market calls have come from this annual forecast of the coming year's most pressing opportunities.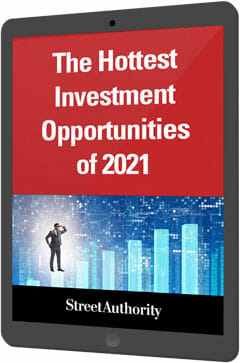 In your copy of this year's report, you'll discover…
Why violence in Peru could push a $2 stock past $44…
The only way for investors to hitch a ride on Elon Musk's mission to Mars…
Why flying cars could be the #1 investment of the decade (and our favorite pick in this burgeoning sector)…
The "bounce-back" play of 2021 that currently yields 15.2%…
A small group of mining stocks that could soar 100-to-1…
The best way to profit now from the historic cryptocurrency boom…
A "sleeper" investment that has crushed stocks over the past 30 years that everyone is missing.
This report (valued at $99) is yours absolutely free of charge, when you accept a no-risk trial membership to Top Stock Advisor today.
When you join us you'll also immediately begin receiving:
12 Issues of Top Stock Advisor — Every month, I'll email you the latest issue, always containing an in-depth profile of the single-most promising profit opportunity my research uncovers.
Intra-Day FLASH Alerts  — Anytime you need to take action in between issues… whether it's taking some profits off the table or a new opportunity to invest in… I'll send you a flash alert.
24/7 Members-Only Website Access — As a Top Stock Advisor member, you have exclusive, unlimited, around-the-clock access to my private website. Here, you'll find a searchable archive of past newsletter issues, special market reports, FLASH Alert histories, and model portfolio details… all at your fingertips.
VIP Concierge Service — As soon as you join, you'll have access to a special phone number where you can reach my VIP concierge team every weekday during normal business hours. The team is standing by to ensure any questions, concerns, or problems you have as a member are dealt with quickly and thoroughly.
Join Top Stock Advisor Today
for Only $39
The regular price for a one-year membership in Top Stock Advisor is $199.
But if you've never tried my service before, I'd like to offer you a one-time new-subscriber discount of $160 off our regular price.
When you break it down, a one-year membership comes out to less than $0.11 cents a day.
Think about that for a moment…
Just pennies a day grants you 24/7 access to groundbreaking ideas and potentially life-changing investment opportunities…
All delivered instantly to your inbox, each and every month, like clockwork.
But I need to warn you, this is a limited-time offer.
If you leave this page without completing the order form below, I can't guarantee it will be available when you return.
Hesitate and you could get locked out.
Which means you're potentially leaving a lot of money on the table — money that could have gone right into your pocket.
I don't want you to miss out on a penny of profit… or have any worries that Top Stock Advisor isn't right for you. Which is why, when you join today, you'll be covered by my:
Ironclad "Double-Barreled Guarantee"
I'm so confident in this opportunity that I'm covering you with not one… but two ironclad guarantees…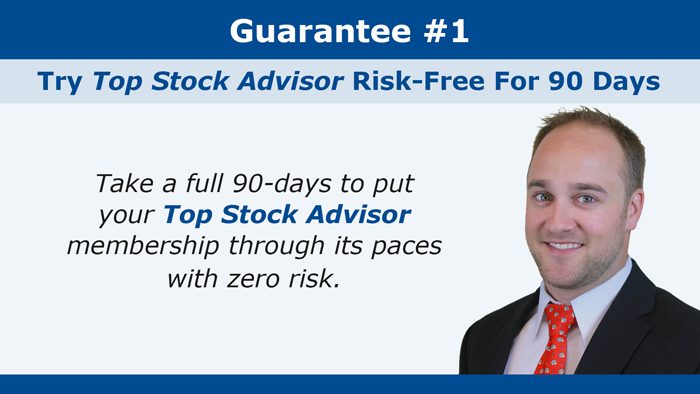 That's 3 full months to review your bonus reports…
Read through the back issues…
Check out our model portfolio's performance…
And potentially make some of the investments recommended inside.
If there's anything about Top Stock Advisor you don't absolutely love, place a quick phone call to our Concierge Hotline within 90 days of joining and we'll return 100% of your membership fee… no questions asked.
And here's my second guarantee…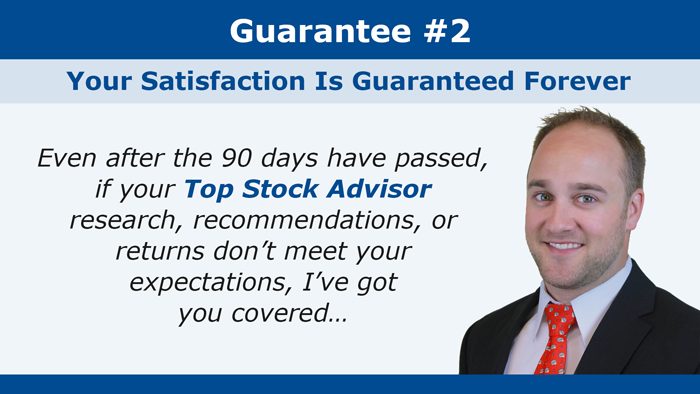 Once again, a phone call is all it takes.
We'll prorate your refund you for any unused months remaining on your membership term.
Whatever you decide, all the reports, newsletters, alerts, and recommendations you receive during your membership period are yours to keep forever.
Upgrade to a Two-Year Membership
and Receive 5 Exclusive VIP Bonuses!
We have been sending out annual predictions like the ones I want to send you today since 2009.
In our very first round of predictions, we told our readers to expect "an opportunity of enormous proportions" in nanotechnology. Our pick shot up 354% by the end of the year.
We also predicted that an obscure diamond miner in Northern Canada would strike it rich. Our pick rose 622% in the following year.
We then singled out a chipmaker that we predicted would "ring up market-crushing gains." The stock is currently up a stunning 993%.
We highlighted a little-known company that was turning algae into fuel. The stock went on to rise 823%.
In our most recent report, we predicted "a new miracle fiber would hit the market that's 35x tougher than steel." Five months later, the stock had shot up more than 800%.
A $1,000 investment into each of these 5 stocks could have turned into more than $40,000!
Of course, these are extraordinary results, by any measure, and not every prediction pans out this well… but it does show what's possible with Top Stock Advisor.
And with this repeated pattern of spectacular gains in mind, you might want to sign up for a two-year membership so you get next year's report as soon as it is released too.
A two-year membership today is only $78, saving you $320… and you'll still be covered by my double-barreled guarantee.
What's more, when you select the two-year option below, I'll send you five additional bonuses — a $295 value — absolutely free.
BONUS #1

: The $10B Footnote: How Wall Street's Slipup Could Hand You $201,873 in the Next 12 Months (Value $59)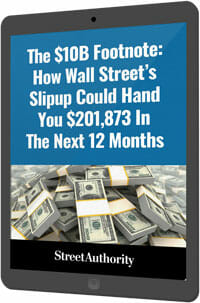 Recently, a little-known satellite company quietly purchased a promising Internet startup at a bargain basement price.
How'd the stock market react?
Bupkis… no one cared. The stock price didn't budge.
Now, Wall Street analysts get paid a lot of money to research deals like this one.
So, when a satellite company buys a cutting-edge tech startup…
And its stock price doesn't move a penny…
It's because the army of wealthy, suit-wearing Wall Street analysts didn't find anything special about the deal.
But this time they missed something. Because buried deep among hundreds of pages of legal contracts in this buyout agreement…
I uncovered an obscure footnote all the Wall Street suits seem to have missed…
One that could be worth as much as $10 billion a year to the satellite company revealed in this report.
And that "hidden" $10 billion could boost the stock price by 10X… 20X… even as much as 50X… within hours of its existence hitting the news.
BONUS #2

: 3 Biden-Proof Stocks
Destined to Soar Now ($59 value)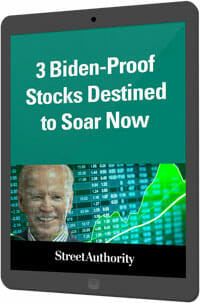 No matter what surprises a Biden Administration will spring on Wall Street, we firmly believe these three stocks are destined to go nowhere but up…
#1 is a big homebuilder taking advantage of a nationwide supply deficit, which has more than tripled its dividend in the past year alone.
#2 is a tech juggernaut with its hands in everything from AI to mobile gaming to electric vehicles, perfectly positioned to profit from these red-hot sectors.
#3 is one of the world's largest investment exchanges, protected by a deep economic moat. It is generating record revenues from the millions of new investors flooding into the markets on popular trading apps like Robinhood. Whether they win or lose, this outfit can divert a tiny slice of every trade they make into your pocket.
BONUS #3

: The 5G Revolution:
Three Stocks for Six-Figure Profits ($59 value)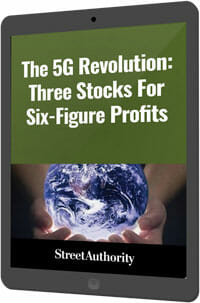 The 5G communications breakthrough will add $12 trillion to the global economy… and give smart investors multiple chances to create generational wealth. Inside this exclusive report, you'll see…
The little-known "gatekeeper" that will decide which of the billions of new smart devices get access to blazingly fast 5G networks.
How 5G's 50X demand for antenna space could push one specialty real estate stock into the stratosphere.
A traffic-sensor maker positioned to dominate as 5G makes self-driving cars a reality.
BONUS #4

: 7 Stocks to Own Forever
($59 value)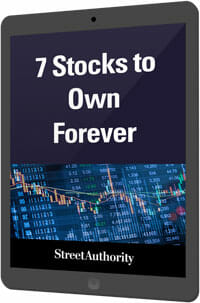 Bull market or bear… inflation or deflation… these stocks are so reliable — and so potentially profitable—they'll give you deep financial peace of mind as they churn out wealth for decades to come.
You'll discover:
A "boring" enterprise that has delivered 17% annual returns for 45 years — enough to turn $10,000 into $11.7 million…
An iconic American company that has hiked its dividend by an astounding 2,100% in the last 20 years…
One of the most and disruptive companies ever — so well run it's sitting on a $193 billion cash hoard…
Plus, four more places you can sock your money away and potentially never worry about it again.
BONUS #5

: 7 Loser Stocks to Dump Now
($59 value)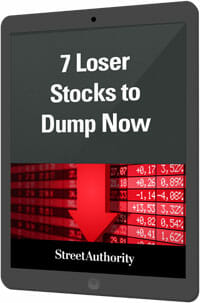 Watch out — these ticking time bombs could blow a smoking crater in your portfolio.
Surprisingly, many of them are quite popular. You probably know their names. In fact, you may own a few. Here's a quick rundown…
One shot to fame as a popular pandemic play that credulous investors can't stop swooning over…
Another is one of America's largest companies (but has been losing customers fast)…
A third is a debt-soaked dud, luring investors with a gaudy dividend that can't last…
Plus, four additional "death trap" investments you should avoid at all costs.
Important: These reports are not available to the general public.
They're only available to folks who make the smart decision to step up and join Top Stock Advisor.
As a group, the opportunities you'll find in this collection of exclusive reports could make 2021 your best investment year ever… and the sooner you start the better.
But if you want in… you really need to make your move NOW… while these fresh market calls still offer their maximum return potential.
I look forward to welcoming you as a new Top Stock Advisor member.
To Your Wealth,
Thank you,

J.R. Butts
Chief Investment Strategist
Top Stock Advisor