Dear Reader,
Make no mistake: Top Stock Advisor is the ultimate resource for discovering the world's very best stocks for banking huge profits without unnecessary risk.
The kind of stocks responsible for handing readers gains of 70%… 77%… 90%… 102%… 114%… 164%… 299%… 160%… and many more.
No matter what kind of company it is… no matter which industry it operates in… or what market it serves…
If it has the potential to make YOU lots of money, you can bet you'll find it in Top Stock Advisor.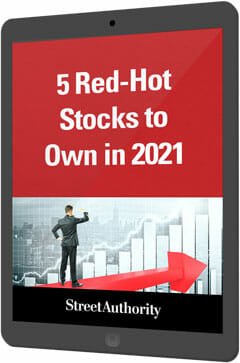 But that's not all: Because I want your New Year to be as profitable as possible, I've gone the extra mile and prepared a special report for you the moment you join: 5 Red Hot Stocks to Own in 2021.
Inside this sizzling new report (a $99 value), you'll discover:
How to grab a piece of Warren Buffett's empire for 99.9% less than the cost of one share of Berkshire Hathaway…
The behind-the-scenes player that's set to soar with the rollout of COVID-19 vaccines…
The cybersecurity firm shielding some of the world's largest corporations from the world's most destructive…
How to double your money as the 5G rollout continues…
How to profit from soaring demand for the world's number one resource (it's not what you think)…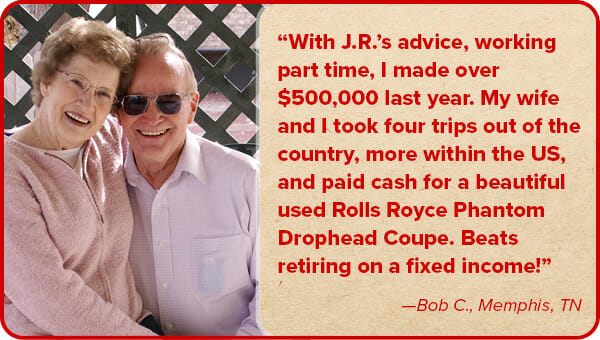 You'll also receive a special bonus report I just put the finishing touches on (a $99 value).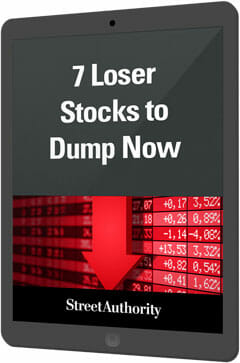 7 Loser Stocks to Dump Now: Watch out — these ticking time bombs could blow a smoking crater in your portfolio.
Many of them are quite popular. You probably know their names. In fact, you may already own a few of them.
One emerged this year as an extremely popular pandemic-era play that credulous investors can't stop swooning over…
The second is one of America's oldest and largest companies that just can't stop losing customers fast enough…
And stock #3 is a debt-soaked dud; ensnaring investors with a deceitfully large dividend.
Plus, there are four more investing death traps just like these you'll discover inside this shocking new report.
There's much more: Because with Top Stock Advisor I don't simply hand you a ticker symbol and leave you to your own devices. I'm with you every step of the way.
So here's exactly what you can expect from me, once you join:
Each month, I'll send you the latest issue of Top Stock Advisor with an in-depth profile of the single most promising profit opportunity my research has uncovered.
You'll also receive Intra-Day FLASH Alerts any time I find an urgent BUY opportunity or when my research tells me it's time to take profits on an open trade. You'll never wonder what to do or when to do it…
With your membership, you'll also receive:
Mid-Month Update Emails — Containing important news affecting the economy, the market, or our portfolio positions.
Confidential Members-Only Website — This secure, password-protected membership site is where you'll have 24/7 access to all past issues of Top Stock Advisor, FLASH Alert histories, portfolio summaries, special reports, and bonuses.
VIP Concierge Hotline — Where a real live human is available during business hours to handle any questions or concerns you have.
What's more, because you're one of the first 250 readers to respond to this special offer today, a full year of these exclusive benefits are yours for just $99 $39.
That's just 10 cents a day for access to the world's hottest stocks, each of which has the potential to double your money or more.
I think you'd agree that's a pretty good deal.
Still… I've arranged another one I think is even better.

Save $120 Instantly:
Get 2 Years of Top Stock Advisor
for just $78
It comes down to this: the longer you stick with Top Stock Advisor, the more opportunities you'll have to make life-changing profits.
And I want to make darn sure you don't miss out on a single one of them.
Which is why, when you join us for two years, I'll "double' your special discount and put $120 in savings right in your pocket…
And I'll rush you two more money-making reports, each a $99 value, absolutely free:
3 Biden-Proof Stocks Destined to Soar Now: There's a lot of anxiety about how a Joe Biden administration will affect certain stocks. But no matter what kind of surprises his Presidency has in store, these three special stocks are destined to go nowhere but up. The first is one of America's largest homebuilders, taking advantage of a huge nationwide supply deficit, and which has more than tripled dividend payouts over just the last year. The second is a tech juggernaut with its hands in everything from AI and cloud services to mobile gaming and electric vehicles, perfectly positioned to profit from these red-hot sectors. And the third play you'll discover is one of the world's largest financial exchanges, protected by a giant economic moat and which has tripled dividend payouts over the last nine years. No matter what politics throws at us in 2021, you'll be well positioned to profit in the New Year and beyond with these three plays.
7 Stocks to Own Forever: Want to really sleep well? Then you owe it to yourself discover the 7 ultra-solid stocks inside this report. Bull or bear… inflation or deflation… these companies are so reliable, so dependable, and so profitable, you can have true financial peace of mind as they relentlessly churn out new wealth for decades to come. Inside, you'll discover: A "boring" yet extremely lucrative enterprise that has delivered 17% annual returns 45 years in a row — enough to turn a $10,000 investment into $11.7 million! Plus, one of the most innovative and disruptive companies ever — so well run and so profitable it's sitting on a massive $193 billion cash hoard. Even more importantly, it's making investors rich, handing them more than 1,100% gains over the last decade. And an iconic American company that's every income investor's dream come true, hiking dividend payouts by an astounding 2,100% over the last 20 years.

It doesn't get much better than that.
But if you're serious about taking advantage of all these savings and benefits, I urge you to hurry.
Because they're reserved only for the first 250 subscribers. That's it.
Remember, when you claim them, you're protected by…
My Double-Barreled 100%
Satisfaction Guarantee
Because I want you to be 100% sure Top Stock Advisor is right for you, I'm giving you three full months to try it out at on the house.
That's plenty of time to check out everything on the Top Stock Advisor website… read a few issues… and take part in the moneymaking opportunities you'll discover in your free reports, along with the recommendations I bring to the table inside each new issue and every FLASH alert…
If at any time during those 90 days you're not completely happy with what you're getting from me — or the money you're making — simply let my Customer Service team know.
And I'll issue you a prompt, no-questions-asked refund for every penny of your membership.
I have no interest in keeping your money unless you're 100% satisfied.
But I'm still not done…
Because even if it's past the 90-day mark and you find yourself unhappy for any reason, I still have your back.
Simply let your VIP concierge know and we'll immediately issue a refund for any unused portion of your subscription.
Absolutely no questions asked.
What's more, everything you've received up to that point — the issues, the special reports, and all the profits you've made — are yours to keep.
It can't get much fairer than that.
But remember:
There are just of these heavily discounted memberships left, today — and I expect each of them to be claimed in a hurry.
Once they're gone, they're gone.
So please, don't wait another moment: Just select which membership option is right for you and then fill out the secure order form below.
I look forward to welcoming you.
To an immensely profitable 2021,

Jimmy Butts
Chief Investment Strategist
Top Stock Advisor