You're just a click away…
Lock in your shot at REAL life-changing wealth as wave-after-wave of "profit shocks" send the markets into a feeding frenzy…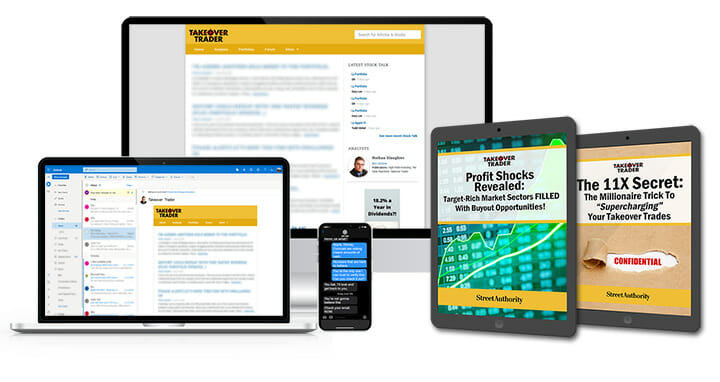 Things are really heating up!
Right now, the world's wealthiest companies…
Walmart… Google… Apple… Meta (formerly Facebook)… along with hundreds of others... are sitting on a $6.84 TRILLION treasure trove of stockpiled cash…
And they need it off their books as quickly as possible.
The best way to do that?
I believe they're going to effectively dump that cash onto Wall Street in a wave of buyouts, mergers, and acquisitions.
And just like blood in the water… once it starts we'll be in the middle of the largest market-feeding frenzy in history as wave after wave of targeted takeovers send trillions of dollars slamming into the market…
Potentially sending a select group of stocks surging by double… even triple digits in a matter of weeks….
And at this moment, I've identified three market sectors FILLED with high potential takeover targets in the crosshairs of major buyouts and acquisitions…
Everything you need to know to profit from the coming feeding frenzy can be found in your copy of my exclusive FREE report…
Profit Shocks Revealed:
3 Target-Rich Market Sectors FILLED With Buyout Opportunities!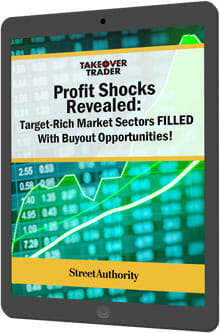 With THOUSANDS of publicly-traded companies on Wall Street, it's nearly impossible to keep tabs on every buyout opportunity.
So what's the secret to spotting and capitalizing on takeover opportunities?
It's simple… focus on the three strongest sectors with a long history of billion-dollar buyouts!
With new tech revolutions… COVID treatments… biotech breakthroughs… and a red hot economic recovery…
The tech, biotech, and commodity sectors are ripe with takeover opportunities…
And I'm about to clue you in on the top 3 I'm tracking right now.
Inside Profit Shocks Revealed you'll find everything you need to know to position your portfolio to take full advantage of the coming buyout feeding frenzy in these market sectors.
As far as I can tell, there's nothing else like Profit Shocks Revealed on the market right now.
And you won't find this exclusive report sold in bookstores, on Amazon, or anywhere else. (And If I were to release this information to the public … my publisher likely wouldn't let it go for anything less than $1,000.)
But, while this report will never be made available… at any price...
Today you can get access to it RIGHT HERE… RIGHT NOW by joining me inside Takeover Trader!
But trust me… you're getting so much more than a single report today…
As a member of Takeover Trader,
you're guaranteed unlimited access
to everything I offer
Including…
24 Trade Alerts — Delivered twice a month directly to your email inbox. Inside each issue, you'll find all the deep market insights you need to harvest these takeover opportunities as my system uncovers them, including the name of the stock, industry breakdown, and my recommended "buy-under" price.
Instant Access to the Takeover Trader Portfolio — Includes up-to-date stock and option trades. Easily update and position your investing account for high-potential takeover.
Special Situation Reports — My detailed investing guides and reports that cover the major "themes" I'm watching unfold in the markets that could deliver extraordinary wealth for followers of my investment advisory.
Searchable Takeover Trader Archives — Want to get caught up on a trade I recommended? Simply search the archives. Every single past issue of Takeover Trader is at your fingertips.
Unlimited Access to the Members-Only Website – Secured by your personal username and password, anything and everything Takeover Trader can be found on the members-only website.
FREE Subscription to StreetAuthority Insider — This weekly bulletin gives you a peek at the market picks (and the experts behind them) that have made StreetAuthority the fastest-growing investment advisory publisher in the United States. Yours free as a new member of the StreetAuthority family.
VIP Customer Concierge Service — Unlimited and toll-free, the Takeover Trader customer service team is available 9 a.m. to 6 p.m. ET Monday through Friday to help you with virtually anything you need.
But that's not all…
Once you join me as a Takeover Trader, you'll also receive a special…
FREE Takeover Trader Bonus:
The 11X Secret: The Millionaire Trick To "Supercharging" Your Takeover Trades…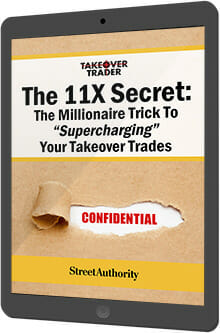 Besides trading regular stocks, options play a critical role in my "double-dipping" profit strategy with every Takeover Trader trade recommendation.
Never traded options before? Not a problem…
I wrote the The 11X Secret specifically to get new subscribers up to speed FAST on how to trade options like a real Wall Street insider.
Inside, you'll discover…
What options are…
What calls, puts, premiums, and option expiration dates are…
Understanding the basics of options trading…
How to place your first trade…
How to make options work for your investment plan…
And, while there will be no refunds when you accept this offer today, ALL OF IT — the free bonus reports, portfolios, special reports, members-only website access, and profit-rich trade recommendations…
Are all backed by TWO "Iron-Clad" guarantees…
"1,000% GAINS... or else": I'll just come right out and say it… if the gains from the closed trades inside our model portfolio don't add up to a minimum of 1,000% in the next 12 months, I'll give you a second year of Takeover Trader "on the house." Simply call our toll-free customer service team and they'll add another year to your account at no additional charge.
If you're unsatisfied for any reason… you can easily switch the remaining balance of your membership to another premium service here at StreetAuthority. Simple as that. No questions asked and no hoops to jump through.
BUT YOU MUST MOVE FAST!
I'm only opening the doors to 67 new takeover traders today. And I don't expect spots to last much longer.
If you want in… now is the time to act.
Remember, the blood is already in the water… and the feeding frenzy could be just days away from reaching a fever pitch.
If you want to set yourself up for maximum gains… you need to stake your claim NOW.
To join me as a takeover trader today, simply fill out the short form and click the big blue "submit" button you'll see below.
Looking forward to seeing you on the inside.
Thank you,

Nathan Slaughter
Chief Investment Strategist
Takover Trader