Smart Move!
1 Step Left to Lock in Your
First "Rainmaker" Trade for a
Potential $50,296 Jackpot…
Your Takeover Trader
Limited VIP Membership is Waiting…
Nathan Slaughter here again.
Congratulations!
You've taken your critical first step towards investing — and WINNING BIG — with the historic opportunity "Project Rainmaker" has presented us.
That's not something I take lightly…
Because while most investors scramble for cover — YOU are braving the elements — taking action…
And daring to pull open the curtain on these CEOs as they hash out the details of their potential trillion-dollar deals.
So — there's just 1 more small step you can do right here — to become a "Rainmaker" trader starting right now.
Look, this isn't some hypothetical investing system. The score so far this summer?
Five winners out of the six "Rainmaker" trades we made.
For a ridiculous 5 times your money in just 71 days.
But don't forget, this type of trade dominates in up, down, sideways, AND as we've recently proven, even pandemic markets.
Which means you're hauling in consistent, repeatable profits.
Already, my readers have been stacking up fast wins like:
150% in 8 days… for 2.5 times your money
96.3% in 9 days… nearly DOUBLE your money
170.4% in 14 days… for nearly TRIPLE your money
343.93% in 34 days… that's more than

QUADRUPLE

 your money!
THAT is the power of trading with my proprietary 4-part stock screen.
With more than a decade of data analysis hardcoded inside today's R.A.I.N. system…
And following the footprints from a series of 424(b)(2) legal filings straight into these CEOs $4.0 Trillion dollar buyout bonanza…
This is the most accurate buyout detection system available to investors in 2020, because it allows us to detect buyout targets before they erupt.
With every single pick, I'll be giving you detailed, easy-to-read guidance including:
Exactly When to Buy
Exactly How Much to Pay
Exactly How Much Profit to Expect
Exactly When to Sell
Exactly What Price to Sell At
Now you can uncover the BIGGEST "Rainmaker" opportunities on the market…
And pick them out, like a needle in a haystack, from the 6.34 billion other shares swirling around the market every day.
So it's no surprise Wall Street Journal said:

Or that Harvard Business Review confirmed these trades can:

Gear up and get ready.
Because enormous RAINMAKER GAINS… from LIGHTNING-FAST TRADES…
Is what you can expect as a Limited VIP member of my exclusive stock advisory — Takeover Trader…
The ONLY advisory in the world powered by the proven 4-part R.A.I.N. system we've discussed today.
Like the "Rainmaker" trade that hit on ASV Holdings, and quadrupled: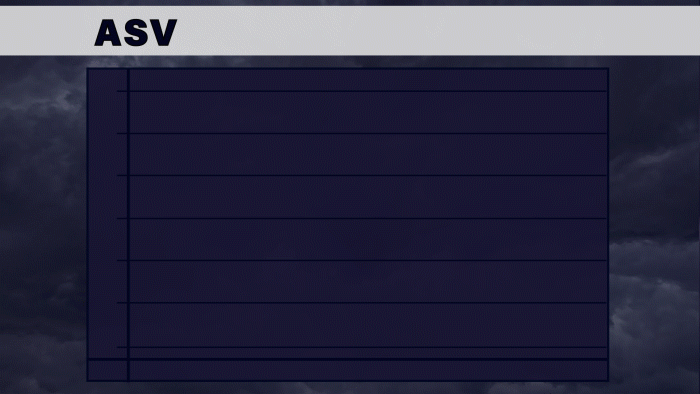 If you'd pulled the trigger on Tobira Therapeutics…
This "Rainmaker" trade would have handed you $8,600 for every $1,000 invested.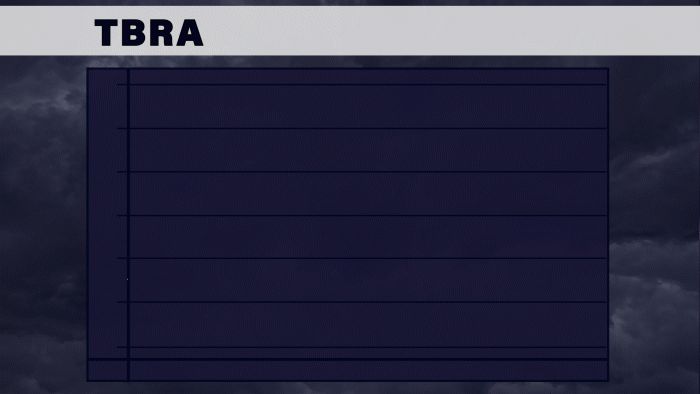 Or take Immune Design Corp — a regular stock trade that spiked 309% before investors could blink: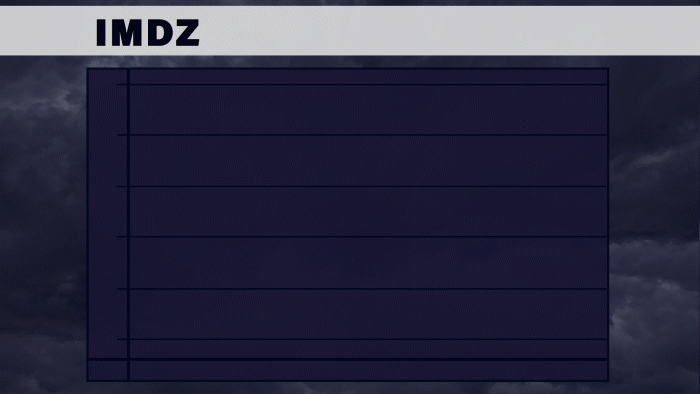 YES! I'm Ready to "Make it Rain" Profits in My Portfolio
with Takeover Trader
More than
296,000 readers

received my emails about this exposé, and the
$4 trillion CEO-led Corporate Directive it uncovered
(But
only 50

Limited VIP seats are available today — you can NOT delay)

Which means thousands of other investors could be viewing this page… at this very moment.

If you act quickly, you can be one of the lucky Takeover Traders pinpointing the juiciest buyout targets…

Handing you the opportunity to score up to 5 times your money in the next few weeks.

This first-of-its-kind system can guide you every step of the way.

Don't wait another moment… click the button below to join me inside right now.

YES! Show Me the First "Rainmaker" Trade for Up to 5X My Money

Perhaps the most exciting part of all this today…

Is the next stock that has my 4-part detection system blaring "GO"…
This Weird TV Streaming Stock Checked EVERY Box on My Proprietary 4-Part Stock Screening System
(Get in NOW for up to 5X on Your 1st "Rainmaker" Trade)
Rising Cash Flow
All-Clear
Irreplaceable Assets
No Way That's the Price!?!?!?!
I know the thought of making 5 times your money in one trade can be a lot to process.
And yet, this is still just the tip of the iceberg — because when you learn to follow these CEO cash moves with my R.A.I.N. system…
You can start pinpointing the BIGGEST buyout opportunities… before they happen.
Which means if you simply follow my system…
In just a few short weeks or months from now — you could be a walking success story like these Takeover Traders: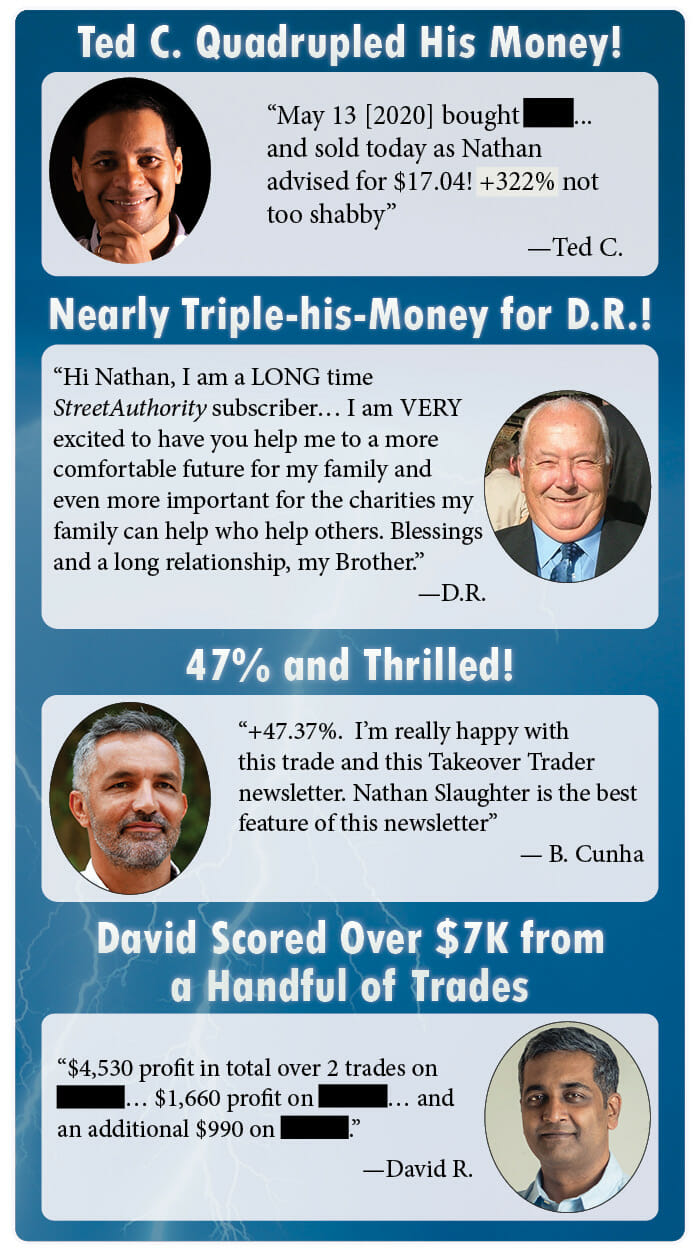 Imagine waking up with even a FRACTION of results like these…
And then remember: the 4-part screen you're about to gain access to…
Is the most powerful system I've ever released.
YES! I'm Ready to Bag Up to 5X My Money with My First "Rainmaker" Trade
Let's take a look at everything you're getting with today's Limited VIP membership package to Takeover Trader
The ugly truth is…
While CEOs have been profiting from these deals for decades… funding their lavish vacations, yacht parties, and early retirements…
The average investor has been left in the dark. For you, all that could change starting now.
On this page here, you have the opportunity to claim your personal copies of:
R.A.I.N. Profit System Report #1: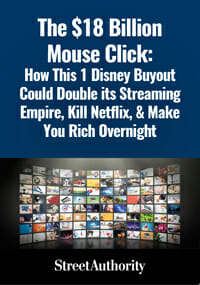 The $18 Billion Mouse Click: How This 1 Disney Buyout Could Double its Streaming Empire, Kill Netflix, & Make You Rich Overnight
This easy-to-read report will tell you everything you need to know about the stock I'm convinced will shoot through the roof when Disney's CEO potentially makes a bombshell acquisition announcement. Disney's partnership to use this company's streaming hardware spans 9 YEARS.
Disney+ — their "Netflix Killer" — now has 54.5 million paid subscribers.
This buyout alone would almost double its subscriber base… adding nearly 40 million new accounts overnight
Demand surged 80% and revenues are UP 55%… something Variety called "a massive streaming surge for the company."
I'll include the name and ticker symbol of the stock I believe is being targeted, exactly how much to pay for it, and when to sell.
Next, you'll also gain instant access to this second valuable resource:
R.A.I.N. Profit System Report #2: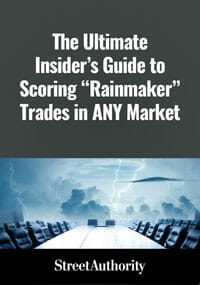 The Ultimate Insider's Guide to Scoring "Rainmaker" Trades in ANY Market
Up, down, sideways… even in the face of COVID-19, the latest coronavirus… these trades GO UP like a law of nature. Consider this your full A-to-Z guide on "Rainmaker" stock trades — EVERYTHING you need to know about:
How frequently to expect new plays
Why they shoot so high, so fast (only if you're interested in what's "under the hood" — not necessary to profit)
And much, much more!
Remarkable, yet it gets even better — because you're fully protected by my ironclad guarantee:
Today's New Members Get a Historic
"11X Your Money" GUARANTEE
Frankly, this was the only way to show you just how serious I am about proving the stocks recommended by my R.A.I.N. Profit Signal…
Represent the most powerful trading system available to investors in 2020, and beyond.
When you secure your Limited VIP Membership in the next few minutes, this is the agreement I'll be making with you: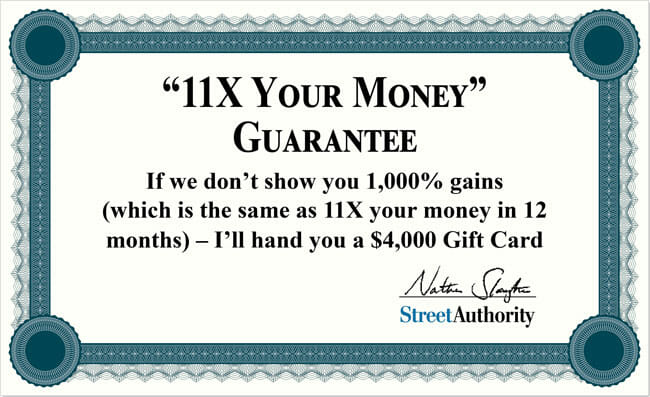 *** Not Redeemable for Cash ***
The moment you join my Takeover Trader today, my job becomes finding you the fastest, biggest buyout gains on the market.
You're "hiring" me to find these "Rainmaker" trades.
And I've never been more confident in my career that you will be thrilled with the overflow of profitable resources inside your new membership.
But if for some reason I don't close out enough winning trades to deliver 1,000% gains over the next 12 months…
Just reach out to your VIP concierge via phone or email, and we'll give you a "store gift card", worth $4,000, to credit towards any one of our premium investing newsletters (not redeemable for cash).
YES! Make Me a Takeover Trader NOW
WARNING: Only 50 of these generous welcome packages will be made available today
They're only available to those who step forward to claim your Limited VIP membership in Takeover Trader today.
A full year of insights inside Takeover Trader would usually go for $5,000.00…
But you won't pay that today.
For the 50 members I can accept today, I'm going to knock a full $3,050.00 off the regular price! That's 61% off a full year membership.
Remember, these trades are simply so small that their sensitive nature limits the numbers of investors allowed in.
(This is one reason they have so much room to skyrocket, and fast.)
And in order to protect motivated members like you, this offer is ONLY for people who are serious about getting rich with takeover trades. Which means there will be no refunds. Doing so would waste the time of the very important researchers on my team, not to mention my own time…
It could also flood the market with freeloaders looking for a handout… while you pay the price in lower potential gains.
So please, don't delay another moment in securing the tremendous bundle of profit-making tools included in today's special offer.
Your Exclusive Takeover Trader Limited VIP Membership Also Includes: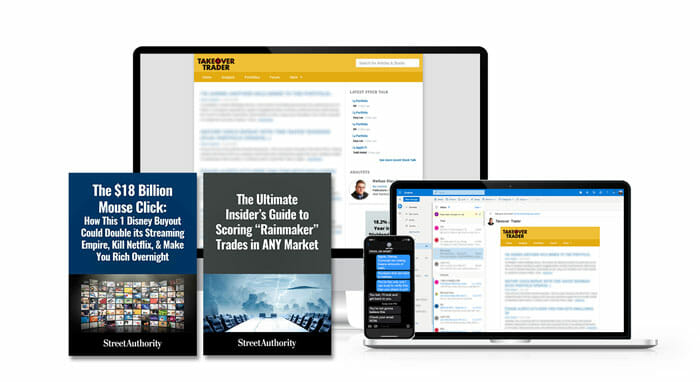 2 Brand-New Issues EVERY Month: The market never goes on vacation — and neither do we. Twice a month, we'll bring you the BEST idea our R.A.I.N. Profit Signal spits out. And if it zeroes in on multiple per month? More world-class picks for you! And chances to bag 2x, 7x, even 15x returns.
Timely, Easy-To-Read Buying & Selling Guidance: Because knowing what to buy is only half the battle, you can rest assured that we'll tell you exactly when to buy… and exactly when to sell.
100% Model Portfolio Access: All of our current and future "buy" recommendations, right at your fingertips 24 hours a day, 7 days a week.
Private Access to the "Members Only" Takeover Trader Website: Your personal control room for zeroing in on some of the market's most promising R.A.I.N. stock stories and opportunities.
PLUS, Regular Email Updates, Guest Editor Appearances, Master Archives, and so much more!
Plus these FREE additional investing gifts.
Bonus R.A.I.N. Report #3: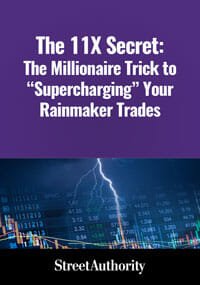 The 11X Secret: The Millionaire Trick to "Supercharging" Your Rainmaker Trades
When you've been in the business as long as I have, you discover little "tricks" most investors don't know about.
This particular trick works on ANY stock. But it's not about WHICH stock, it's about HOW you trade it. This unique type of trade can be done in under 7 minutes and has the potential to turn a regular 5X-your-money win into a 55X profit downpour.
BONUS R.A.I.N. Report #4: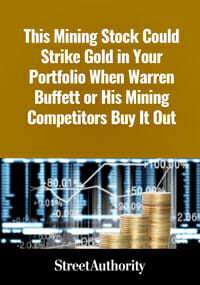 This Mining Stock Could Strike Gold in Your Portfolio When Warren Buffett or His Mining Competitors Buy it Out
R.A.I.N. Score: 4/4
Key Profit Drivers:
It is still early-stage in Gold's METEORIC 2020 rise — which means you can still get in before: a) bullion prices go ballistic and b) before a well-capitalized acquirer swoops in
My system is indicating Warren Buffett could be the buyer — quietly known for making MASSIVE thousand-ton investments in bullion…
On July 7, he made his first post-pandemic "Rainmaker" trade — a $9.7 billion acquisition of natural resources company Dominion & Duke — his BIGGEST deal in 4 years. NYT Dealbook declared: "Warren Buffett is back in the game."
But if Buffett isn't quick enough, other seasoned mining sharks are likely circling — like Denver, Colorado-based gold producer Newmont Corporation.
Get in front of the action & you could watch your portfolio soar over the moon when someone snaps this small player up.
BONUS R.A.I.N. Report #5: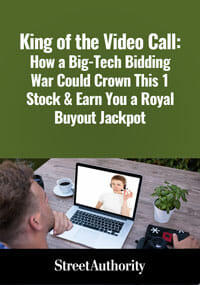 King of the Video Call: How a Big-Tech Bidding War Could Crown This 1 Stock & Earn You a Royal Buyout Jackpot
TECH TITANS Fight Tooth & Nail: Apple, Google, and Microsoft are ALL potential acquirers (if you remember, Apple has $200 BILLION burning a hole in its pocket) — because NONE of their in-house video technologies match up with what this company does…
Taking the Nation by Storm: As the lockdown swept the nation — forcing Americans into their homes and onto tele-conferencing apps — one company emerged as king of the video call. Real Money & The Street call this stock "an attractive acquisition play"…
Nearly Tripled in the Last 4 Months: With the stay-at-home economy booming — this little video-conferencing darling returned light-speed gains of 267% in the last 4 months. But based on my 4-part screen — the profit potential from a coming buyout will make even its recent performance look like pocket lint. Get in NOW.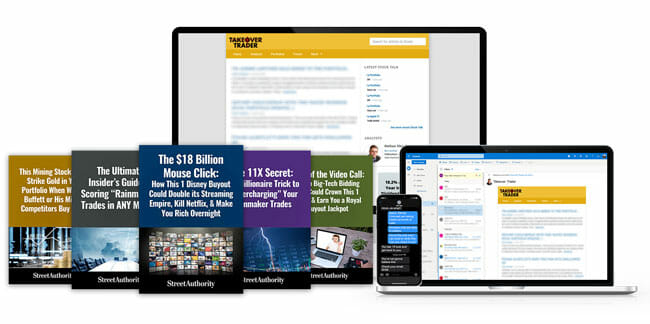 You've stuck with me this far… now it's time to make a decision.
The last thing I'd want is for you to regret missing out on this.
A decision I'm afraid would haunt you.
Don't look back a year from now knowing you passed on this…
This is your turning point — when YOU become a Rainmaker and take full control of your future.
The time to take action is right now.
You don't need your own stock-screening software or special computer…
Just let my R.A.I.N. buyout system do all the work for you.
But you DO need to do just one thing — take ACTION — and you need to do it right now.
Confirm your membership details below…
And the moment you click the final button, I'll open up your Takeover Trader account and give you INSTANT ACCESS to everything you need to become a wealthy "Rainmaker" investor.
YES! I Want to Profit Like a Rainmaker With These Buyout Trades TODAY
More comfortable ordering by phone? Dial toll-free (877) 806-8697 and our dedicated customer service team will process your order immediately.

Nathan Slaughter
Chief Emergency Analyst
StreetAuthority