With over 136,000 readers and one of the strongest research teams in the business, independent financial research outfit StreetAuthority is once again going out on a limb with a series of startling new forecasts, including…
The U.S. dollar will weaken in 2023, causing emerging markets to soar.. When the Fed raised interest rates to fight inflation, the U.S. dollar soared, and emerging markets took a swan dive. As the Fed tapers off its rate hikes in 2023, the same scenario will unfold in reverse. We could see a replay of what happened after the financial crisis in 2009, when emerging markets jumped 79% — and tacked on another 19% the year after that. This is the sort of locked-in macro play that no investor should miss. See below for our favorite way to position yourself for this move now.
The world's first cancer vaccine will be developed… targeting the deadliest form of skin cancer: melanoma. If the research bears fruit, people could soon inoculate themselves against the disease with a single shot… instead of covering themselves in sunscreen and protective clothing their whole lives. The team behind this lifesaver will be able to name their price for it.
The future of the U.S. EV industry will be found at the bottom of a turtle pond in North Carolina.. It's the key to creating the first complete American supply chain for EV batteries. Few investors have any idea about what's going on here, but this obscure situation could make 2023 a very lucrative year for them… because there is a fortune at the bottom of that pond. See our full story below for your next step.
Driverless trucks will hit the highways in 2023. We will all be nervous the first time an 18-wheeler cruises by us with no driver at the wheel, but before the year is out, it will be a welcome and reassuring sight. Below we reveal how this transportation breakthrough will benefit all of us, along with a handful of smart bets to profit from it.
Marijuana sales will boom in the United States. U.S. grocery stores will start stocking dozens of marijuana-infused products, including edibles, drinks, foods, and cosmetics. For more about the most explosive pot opportunities we're finding now, see our full story below.
A solar-powered car will hit the market in 2023. With a roof made of solar cells, it will look like nothing else on the road. Surprisingly, it will cost less than $40,000. There are already 63,000 pre-orders, amounting to $2.3 billion. Using standard automotive industry metrics, you could argue that this $7 stock should be trading at $40. Read on to see why we're calling this breakthrough the "opportunity of the century."
Psychedelic "magic mushroom" stocks will blow investors' minds. A fledgling new drug industry capitalizing on the remarkable properties of "magic mushrooms" to treat depression… addiction… and other mental ailments. To get a short list of companies closest to paydirt, keep reading.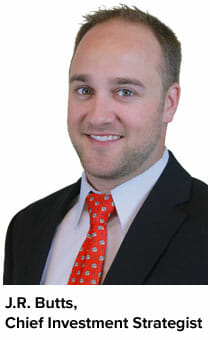 My name is J.R. Butts.
These are the latest forecasts from my research team at StreetAuthority.
In this letter, I will share these and other forecasts with you.
I'll also tell you how you can receive, completely without risk, an in-depth report that reveals the research and analysis that went into these forecasts.
This report describes specific investment opportunities which can help you reap exceptional profits from each of these predictions. But today I'd like to share the report's highlights with you…
They Told Us We Were Crazy
to Go Public With Our Predictions
For years now, StreetAuthority has been sending letters like this, alerting investors to the market's most pressing dangers and profitable opportunities. When we began doing this, people told us we were crazy. "You're bound to be wrong sometimes," they said, "and that will kill your sales."
But we felt that investors want clear, unhedged, and accurate forecasts… and we were determined to provide them for all to see. What's more, we knew we had developed some exclusive forecasting methods that have given us great confidence in these predictions.
As it turned out, investors have enjoyed reading our reports, because everyone's interested in getting a handle on the future. When they saw that our analyses made good sense, and a good many (though certainly not all) of our forecasts came true, our subscriptions soared.
For example, last year we flatly predicted: "Interest rates will surge in 2022, slaughtering bonds, and devastating millions of unprepared income investors." We went on to recommend a way to profit from what we saw coming.
Just as we thought, interest rates indeed zoomed higher. Bonds collapsed in their worst year since 1949 and readers who took our advice saw their investment triple by October.
We have a long track record of pinpointing (and profiting from) moves in the financial markets.
From our very first round of predictions, way back in 2009, we hit pay dirt. We told our readers to expect "an opportunity of enormous proportions" in nanotechnology. Our nanotech pick shot up 354% by the end of the year — enough to turn a $10,000 stake into a fast $35,400 profit.
We also predicted that an obscure diamond miner in Northern Canada would strike it rich. Our pick rose 622% in the following year.
Year after year, most of our greatest market calls have come from our annual forecasts.
As the Swine Flu pandemic raged, we recommended a small biotech working on a breakthrough vaccine. Its stock went on to rise more than 400%.
We singled out a sophisticated chipmaker and predicted it would "ring up market-crushing gains" from the global rush into smartphones. The stock is now up 652%. Investors who put $10,000 into this stock when it was recommended could now be sitting on $65,200 in pure profit.
We also picked a title insurance provider we figured would prosper from then-record low mortgage rates. It has gone on to soar 629%, almost exactly as much as the chipmaker.
In our report for 2015, we highlighted a little-known company that was turning algae into fuel. The stock went on to record an 823% gain by the middle of 2020.
In our 2020 report, we recommended an unusual biotech opportunity that had just gotten a plum contract from the Pentagon. By May of that same year, the stock price had risen 9-fold.
The next year, in our report for 2021, we recommended a Chinese aviation startup whose stock soared from $21 to $124 in six weeks.
Of course, there's no guarantee our new forecasts will be as profitable as these earlier ones. Speculative picks like the ones we're making here today can go down as fast as they go up.
But when I reviewed the new crop with our publisher, he told me that he felt these could be some of the most lucrative recommendations in our organization's history.
Please bear in mind that when I discuss a specific investment, we are a totally independent publisher, with no affiliation to any brokerage or investment products. We live and die on our subscription revenues.
When you run an investment publication on subscription fees alone, you're not in business long unless your advice makes money for your customers. So consider this letter a free sample of what our paying readers receive every month.
Later in this bulletin I'll describe how we have been able to select winning investments so consistently. I'll share with you our cardinal principle of successful investing — a principle that will help you systematically build your wealth while others, following the latest Wall Street fad, are inevitably fleeced.
For now, though, I want to get back to our current forecasts, so you can see our latest thinking. Of course, in a letter like this, we can only hit the highlights. There's simply not enough room for all of the data, projections, analysis, and judgment that go into each of these forecasts.
So I've compiled all this research into an exclusive report called The Hottest Investment Opportunities of 2023. To get the full story on each of these opportunities, I urge you to request a copy of the full report.
I'll tell you how to get the report in a moment. But first, let's get to our latest forecasts…
Prediction #1
The U.S. Dollar Will Weaken in 2023 Sending Emerging Markets Soaring
When the Fed started raising interest rates last March to fight inflation, something predictable happened: the U.S. dollar strengthened to a 20-year high and "risk assets" like emerging market stocks took a swan dive.
T. Rowe Price's New Asia Fund, for example, shed 35% of its value by October. KWEB, an ETF of Chinese stocks, plunged 50%. Hundreds of individual stocks on foreign exchanges were down 70%, 80%, even 90%.
Now that inflation is mellowing and the Fed is tapering its aggressive rate hikes, we think the reverse will happen in 2023.
Once the Fed stops tightening, the dollar will plummet, creating a gale-force wind at the back of foreign stocks. The emerging markets of Asia, which have seen their valuations crushed hardest in 2022, will rebound especially dramatically.
We could see a replay of the move following the financial crisis in 2009 when emerging markets jumped 79% — and tacked on another 19% the year after that.
Right now, many stocks in these markets are so cheap that they're trading at "shoe-size" P/Es of 7-9… and yielding 6%-7%, to boot. They are currently some of the cheapest stocks in the world — and a no-brainer "buy" for anyone who thinks the dollar will pull back from its 20-year high.
Bottom line, we are probably looking at a massive bull run in Asia, Latin America, and Eastern Europe in 2023. For the best low-cost way to play this, request your free copy of The Hottest Investment Opportunities of 2023 today.
Prediction #2
The First Cancer Vaccine Will Be Developed
Vaccines save countless lives every year. The smallpox virus has been completely eradicated… and polio, measles, and other childhood diseases have been drastically reduced.
But science is still struggling to develop a vaccine against non-infectious killers like cancer.
This hurdle could be overcome soon. Right now, scientists are working on a skin cancer vaccine which will be personalized for individual patients.
If it bears fruit, patients with high-risk melanoma could potentially be treated by a single injection.
Melanoma is the deadliest form of skin cancer, killing more than 7,000 people a year in the United States alone.
Soon, instead of covering yourself in sunscreen and protective clothing, you could be inoculated against getting skin cancer in the first place.
It's a joint effort between two high-profile biotech companies…
Company A's messenger RNA vaccine triggers the immune system to deploy killer T cells that target the specific mutations of a patient's tumors.
Company B's monoclonal antibody, administered as an injection, prevents cell proteins from stopping those T cells from going on the attack.
An mRNA vaccine uses the genetic code of the "infection" (in this case cancer cells). This allows the body's own immune system to fight the infection without the dangerous side effects of chemotherapy or radiation. This is the same technology that allowed us to produce multiple rapid-fire Covid vaccines in such a short span, saving untold lives in the process.
But that's just the beginning.
This game-changing vaccine is in the second of three trials. And the time to jump on it is now, before the results are released. We profile both powerhouse pharmaceutical outfits working on this breakthrough in The Hottest Investment Opportunities of 2023.
Prediction #3
The Key to Future of Electric Cars in America Will Be Found in… a North Carolina Turtle Pond?
At the bottom of a 150-foot-deep turtle pond near Charlotte lies the possible savior of the American electric vehicle industry.
This rain-filled former quarry once produced massive quantities of lithium used in the Manhattan Project — the secret government program that built the first atomic bomb.
Shuttered since the 1980s, an American company is now trying to get it up and running again. Once they cut through the environmental red tape, they could singlehandedly solidify the U.S.'s first complete supply chain for electric vehicle batteries.
There is certainly a need for one. General Motors is building four lithium-battery plants in the United States. Ford is spending $11 billion on three battery factories. Volkswagen is looking at setting up a battery cell factory in this country. And Panasonic, which supplies batteries to Tesla, is building a factory in Kansas.
But none of them will be able to make a single battery without raw lithium. There's simply no substitute.
Right now, the only lithium mine in the United States is a tiny operation in Nevada. China makes 79% of the world's lithium-ion batteries. The U.S. makes just 5.5%.
Bottom line, if our country can't secure a domestic supply of lithium for batteries, we will be left behind in the electric vehicle revolution.
It's a pressing problem. Tesla says that the #1 factor limiting electric vehicle production is an unreliable supply chain of batteries.
Meanwhile, car buyers are clamoring for EVs after the passage of the Inflation Reduction Act, which lets them take $7,500 off their taxes. If EV demand lives up to projections, the U.S. will need 5x more lithium by the end of the decade.
The company we have our eye on wants to revive this rich North Carolina lithium mine as the critical first step to a domestic EV battery supply. And we think they'll succeed.
The price of lithium has shot up from $4 to $37 per pound in the past two years. So there could be a fortune at the bottom of that pond. To see how to claim your share, check out The Hottest Investment Opportunities of 2023.
Prediction #4
Driverless Trucks Will Go Mainstream in 2023
The next opportunity I want to tell you about is the kind of potential money-maker that presents itself only once every few decades…
And no investor — from the cautious widow to the high-rolling speculator — can afford to ignore it.
The closest parallel I can think of is smartphones back in the 1990s, when investors who saw the surge coming were rewarded with staggering profits of $180-to-$1.
Today, my team and I are convinced that an opportunity for spectacular profits is shaping up in driverless trucks.
It's not common knowledge, but self-driving trucks are already on the road, delivering furniture from an IKEA in Texas to another store 300 miles away. And they're moving orders between a Walmart warehouse and grocery store in Arkansas.
It's unnerving to imagine an 18-wheeler humming down the highway with nobody at the wheel. But trucking is already dangerous. About 74,000 people were injured and 3,200 people died in truck crashes in 2020.
And we are convinced that robotic trucks will actually make U.S. highways safer and the cost in humans lives will go down, not up.
Self-driving trucks will be better at sharing the road than most humans. They'll be programmed to stay in the right lane and never speed. They'll never weave in and out of traffic or drive while drunk. They will be boringly predictable.
Self-driving trucks will solve the freight industry's biggest problem: sleep. Truckers are always racing against time to reach their destinations before strict "hours of service" regulations force them to pull over and rest. Robot truckers don't need breaks.
What's more, we are short 80,000 truck drivers in the U.S. right now. We need to fill this gap if we want our supply chain to function properly again.
Safer — Robot truckers will never text and drive or drive sleepy. 94% of truck accidents are due to human error, so robot drivers could eliminate up to 94% of future accidents.
Cheaper — 61% of a truck's cost per mile comes from the driver. With no driver, you're looking at a huge drop in trucking costs.
Faster — Since these trucks won't have to stop for mandatory rest breaks, they can drive slower, save gas, and still get there faster.
Flexible — Driverless trucks can operate around-the-clock, setting out on a run whenever needed. And they will never have to spend the night at a rest stop — a crucial advantage in this era of same-day delivery. Satellites will direct trucks to avoid congested city streets and delays.
More Productive — Since they don't need rest breaks, self-driving trucks can operate all day, every day. Today's trucks are on the road just 29% of the time. Self-driving trucks will be rolling 78% of the time.
Better Traffic — Self-driving trucks will automatically avoid rush hour. Robots don't mind being on the road at 3am so traffic will be better for all of us. Because they will move in the middle of the night, you will actually see fewer trucks in your daily life.
Smarter — Unlike human drivers who learn individually by trial and error, autonomous trucks learn in parallel: when one truck learns something, they all do, because the new information is shared on their network.
The economics of autonomous trucking is irresistible. Driving at lower speeds means fewer accidents and insurance claims. Less wear and tear translates into lower maintenance and repair costs. Savings on fuel will trickle down the supply chain, helping everyone.
Even Warren Buffett is a believer. In August he bought into a startup that operates driverless trucks between Dallas and Atlanta.
That one is in private hands, but we've found a half-dozen more autonomous trucking startups that trade publicly.
One of our favorites operates out of Arizona. It has logged over 200,000 miles of paid freight haulage with no driver. Its trucks are 10% more fuel efficient, and they use cameras rather than the radar that most automated vehicles use.
They have discovered that it's cheaper and better at detecting objects on the freeway. In 2021 it made history by operating a heavy-duty truck on an open public road with no driver on board and no remote control.
They operate about 50 fully autonomous trucks in Arizona, Texas, and New Mexico, with an emphasis on the "Texas triangle" between Dallas, San Antonio, and Houston.
A second startup that looks promising was started by the man who ran Google's self-driving project. Its hyper-perceptive system can detect debris on the road and determine when lane markings have shifted due to construction. Its platform works with a lot of vehicle types, and it already has partnerships with Volvo, Toyota, and Uber.
Both of these stocks have huge upside potential, but they're also still fairly volatile… which is why I'll let you in on a company that is already a critical part of the autonomous vehicle story (and as close to a surefire bet as you're likely to see).
It makes the "brains and nervous system" of many modern vehicles. If you've ever driven a car with adaptive cruise control, this company made it possible. If your steering wheel vibrates when you drift out of your lane, that's this company.
It lets you adjust how your engine and transmission run to increase performance. It shows you the exact tire pressure in each of your tires… without getting out of your seat. This outfit is already turning a profit, and we can't see those profits going anywhere but up as AVs enter our lives.
Nothing is etched in stone in this nascent industry, but the potential upside here is huge. When the opportunity presents itself to get in on the ground floor of something that could change the world, you need to grab it. Because you don't get this chance often.
Your free copy of The Hottest Investment Opportunities of 2023 reveals how you can be among the first investors to participate in this extraordinary opportunity.
Prediction #5
Marijuana Sales Will Boom in the U.S.
The pro-pot trend continues to accelerate. Missouri and Maryland just legalized pot in the November midterms. Marijuana is now decriminalized or flat-out legal in 44 states, covering 93% of the U.S. population.
As the number of legal markets keeps growing, so will sales. The tax revenues for state governments are just too good to pass up, and the few die-hard pot prohibitionists will cave. They will legalize marijuana the same way they are doing with gambling.
One way to play this is to "fish for bait." As legal restrictions against marijuana are removed, big tobacco companies will buy out marijuana startups to tap into the mainstreaming of pot and to make up for declining cigarette sales. Holders of these takeover targets could pocket an overnight premium of 50% to 100%.
This is one of those investment "megatrends" that will unfold regardless of whether we're in a bull or bear market, an economic expansion or recession.
We'll see cannabis become a mainstream consumer product, with the introduction and distribution of a wide variety of marijuana-infused products. We'll see especially fast growth in edibles and beverages infused with THC or CBD.
A growing number of senior citizens embrace pot use and as social taboos continue to fall by the wayside, I expect to see the overall acceptance of cannabis snowball (likely filling the massive void left by an ailing tobacco industry).
Biotech companies will launch breakthrough marijuana treatments, causing medical marijuana use to soar in 2023. Several companies working on cannabis-related medicines are receiving favorable results in clinical trials and are on the cusp of FDA approval, leading more doctors to prescribe medical marijuana.
I don't know if we'll see federal legalization in 2023. But with multiple bills on the docket this year, it's only a matter of time before Congress finally lifts restrictions… allowing pot businesses to open bank accounts, accept credit cards, and access the mainstream financial system. This will unleash a tsunami of marijuana profits.
The companies we focus on in The Hottest Investment Opportunities of 2023 are introducing dozens of new marijuana-infused products that you will soon be able to walk into your local grocery store and see on the shelves.
As a group, these companies have been beaten down so low over the past few years that any one of them could realistically pop 10 to 1 in 2023.
Prediction #6
A Solar-Powered Car Will Sell Big in 2023
After 15 years of tinkering, testing, and dreaming, a California company has finally released its solar-powered dream car. And we think it's going to be a hit.
It's an electric SUV with a range of 350 miles. It accelerates from 0 to 60 in 3.6 seconds, as fast as an Aston Martin. And it's surprisingly cheap, at $37,499.
But the coolest thing? Its roof is made of solar panels that charge the battery "on the go," generating up to 2,000 emissions-free miles per year.
This isn't easily done, mind you. Tesla wanted to develop a solar roof option but gave up. But this company made it work.
What's more, its "bidirectional charger" lets you send electricity back out into the world. You can use your car to run your home for seven days if a storm knocks your power out. And you can plug it into another EV to give it a few extra miles to the next charging station.
This car is a PR man's dream. It combines the trendy fields of electric cars and solar energy into one low-cost package.
The "Greenies" will love its 110 pounds of recycled materials. Personally, we don't care that it has a "vegan" interior, made from recycled fishing nets, old t-shirts, and renewed rubber… but in today's world, it's a selling point. What we do love is the 17.1-inch rotating screen that shows movies when parked.
The car just started rolling off the production line a few weeks ago. Pre-order reservations sold out in just 30 days and now sit at 63,000 strong.
The stock looks cheap. It has a market cap of $2.2 billion — and $829 million of that is cash.
For some perspective, Tesla has a market cap of $565 billion, 256x higher.
Our pick won't hit Tesla-like valuations next year, of course, but it is definitely doing something right.
Other EV startups are struggling to get off the ground while this one is making it happen. It even started production on schedule, which rarely happens in the automotive world.
So what kind of numbers are we putting on the stock price?
Let's look at revenues. The 63,000 reservations mean it's sitting on locked-in revenues of $2.3 billion right there.
Mature car companies like GM and Ford are valued at about half their revenues. A fast-growing EV outfit like Tesla is valued at eight times its revenues. Apply that metric to the $2.3 billion in preorders, and our pick could be an $18.4 billion company. Yet right now its market cap is just $2.2 billion. So this back-of-the-napkin calculation suggests a potential upside of eight times your money.
Actually, that could prove conservative. Another new EV maker, Lucid, is valued at 38x sales. Valued at that ratio, our pick would be an $87 billion company. That's close to a 40-bagger from here.
Will it pop 40-to-1 next year? Doubtful. But it won't take much for this $7 stock to hit $30 or $40 as investors begin to realize what is going on here.
Frankly, the stock isn't getting a lot of love on Wall Street right now. Of course, neither did Tesla in its early days. Ten years ago you could have bought a share of Tesla for less than $2 (adjusted for splits). Now you're paying closer to $200.
It's clearly speculative. And there are no guarantees. But once the company starts collecting those billions in pre-order cash, so many investors will want to jump into the stock that it will be like Niagara Falls trying to pass through a garden hose.
For the full write-up on this tantalizing speculation, see our story in The Hottest Investment Opportunities of 2023. You'll see why this could be a triple-digit stock in a few years. Full details inside your free report.
Prediction #7
"Magic Mushroom" Stocks Will Take Off
As anxiety, loneliness, and depression surged in the Covid-19 pandemic, one unexpected beneficiary was a fledgling new drug industry capitalizing on the remarkable properties of psilocybin. This naturally occurring compound found in "magic mushrooms" can treat depression, cure addiction, and help all manner of mental ailments.
Superb results are coming in from test patients who have chronic depression caused by traumatic events.
Big Pharma is plowing major resources into researching psychedelics. We predict they will pull these drugs into the pharmaceutical mainstream by the end of the decade.
Marijuana companies are also jumping on the bandwagon, researching LSD, psilocybin mushrooms, and other psychedelic substances. This trend will only gather steam as restrictions against psychedelics continue to be lifted.
How to profit best? We've compiled a short list of companies to consider…
One of our favorites is a development-stage biotech using psilocybin to treat depression. It was the first "psychedelic" stock to be listed on a stock exchange. It has raised $80 million from investors — including PayPal founder Peter Thiel — for its new antidepressant based on magic mushrooms.
The FDA has awarded it with a Breakthrough Therapy designation, which speeds up the approval process for drugs that offer a "substantial improvement" over available therapies. It is currently in phase 2b clinical trial in 22 sites across Europe and North America.
Another one we like is using LSD to treat addiction and attention deficit hyperactivity disorder (ADHD). The project has passed the initial safety testing and is in phase 2a. A separate hallucinogenic therapy for anxiety is in the same clinical trial stage.
If everything goes to plan, the company could steal a sizeable portion of the multi-billion-dollar global market for anxiety, depression, and ADHD drugs.
You'll find the complete details inside your free personal copy of The Hottest Investment Opportunities of 2023.
Now — Receive The Full Details
On All Our 2023 Predictions — FREE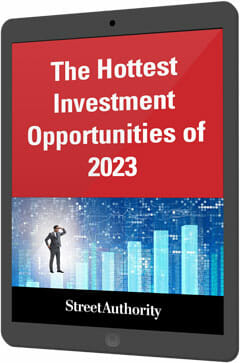 I hope you've enjoyed reviewing our major investment forecasts for the coming year.
Again, in today's brief report, I am only hitting the highlights… I've bundled all the data, analysis, and other research that went into these forecasts into The Hottest Investment Opportunities for 2023.
This report lays out the full details of all our predictions for the coming 12 months. It also spells out specific investment opportunities that could set you up to reap exceptional profits from each of these predictions.
I invite you to send for a copy of the report right now. It won't cost you a penny. Despite the months of research, hundreds of man hours, and thousands of dollars we have spent compiling it, we're not charging anything for this report.
Instead, it's yours as a free bonus when you accept a no-risk trial subscription to my financial advisory letter, Capital Wealth Letter.
Extraordinary Investing Ideas You Won't Find Anywhere Else
At Capital Wealth Letter I'm not looking to just beat the market — I'm looking for ways to generate life-changing fortunes, just like the opportunities you'll see in The Hottest Investment Opportunities of 2023.
Despite all the rocket scientists and supercomputers on Wall Street, the best way to get rich from investing is the same approach that worked best decades ago: find a breakthrough idea early on and watch your profits soar as the concept matures into a mainstream commercial success.
The ordinary media rarely cover this beat. They'll tell you all about a discovery once it comes out — but they don't look ahead to see where the next one is coming from.
And I can assure you that if you are not looking for the next breakthrough… you won't find it.
I spend dozens of hours a week looking for game-changing companies… poring over trade journals and SEC filings. My Rolodex is crammed with CEOs, brokers, and bankers… and I talk to them every day.
Most investors can't spend their days camped in front of a computer screen, sifting through stock charts. And they're not going to have much luck getting a CEO on the phone.
But I do. And that access is invaluable… because it gives me insight that you just can't get any other way. And I share what I learn in every new issue of Capital Wealth Letter.
We're booking gains in stocks from every corner of the market… whether it's a blue-chip stalwart like CME Group (up 200% for us)… a cybersecurity startup like Okta, where we booked a 113% return in 15 months… or a game-changer like PayPal, where we closed a 300% winner.
Of course, not every stock we recommend is going to shoot to the moon. But the picks we've made so far are making plenty of my readers very happy. So much so that they've taken time out of their busy lives to send me notes like these…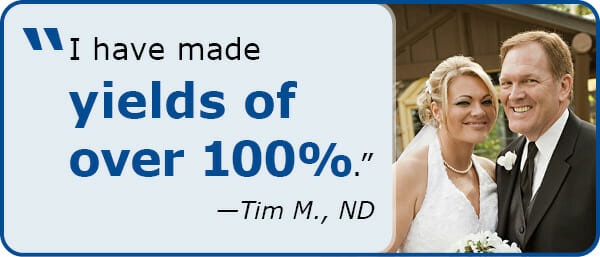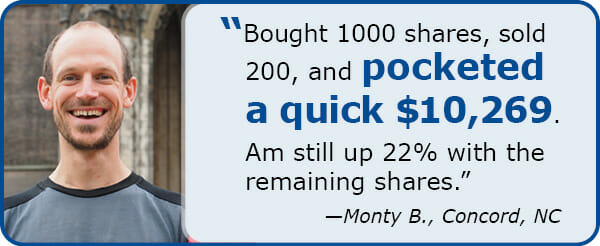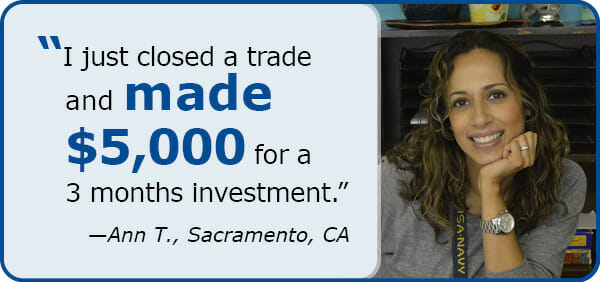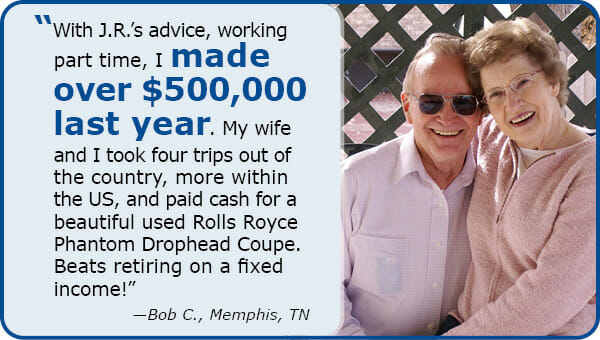 These are exceptional cases, and I can't promise you'll see the same results… but I'm sharing them with you to show how Capital Wealth Letter is changing the lives of real people (and how it could change yours as well).
Join these folks today and in addition to The Hottest Investment Opportunities of 2023, you'll get all this:
12 Issues of Capital Wealth Letter — Every month, I'll email you the latest issue, always containing an in-depth profile of the single-most promising profit opportunity my research uncovers.
Intra-Day FLASH Alerts  — As soon as I think one of our picks has reached peak profits, I'll send you an email explaining exactly how to close out your position, leaving you ready to invest in the next breakout opportunity.
24/7 Members-Only Website Access — As a Capital Wealth Letter member you have unlimited, around-the-clock access to my private website. Here, you'll find a searchable archive of past newsletter issues, special market reports, FLASH Alert histories, and model portfolio details… all at your fingertips.
VIP Concierge Service — As soon as you're on the inside, you'll get the phone number for my VIP concierge team. They are standing by every weekday to answer any questions you might have.
A Special Offer Good for a Limited Time —
Only $39 for a Year of Capital Wealth Letter
The approach I've described here — where I hunt for growing companies before they explode into mainstream commercial success — guides every recommendation in Capital Wealth Letter.
This approach has served my readers exceedingly well, and I believe it could lead you to investment performance that surpasses anything you've ever experienced.
In fact, I'd like to prove how well you can do with the help of Capital Wealth Letter — at no risk to you.
So, I'm making this exceptional offer: When you join me inside Capital Wealth Letter today, you're getting a full year of access to my service for just $39 — that's less than 11 cents a day.
The regular price for Capital Wealth Letter is $199 per year. But sign up through this offer and it comes to you for $39… that's 80% off!
These days, $40 barely fills up your gas tank. But if you act today it can buy you the next 12 months of Capital Wealth Letter packed solid with specific recommendations from the investment publisher with one of the most successful track records in America.
It's quite an opportunity — and I urge you to take advantage of it, now.
Please know that you will also be protected by this ironclad "double barreled" guarantee: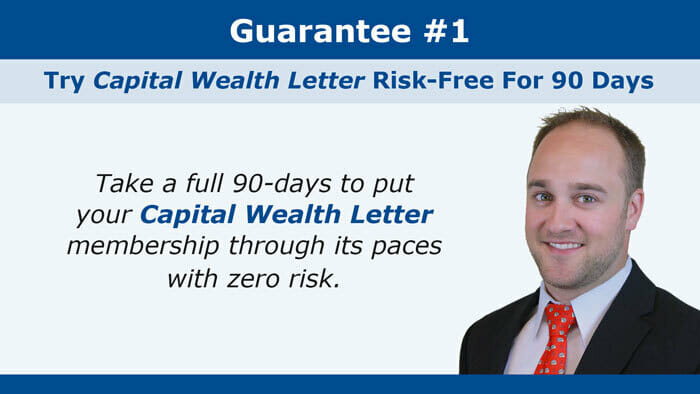 Review your bonus reports…
Read through the back issues…
And check out our model portfolio's performance.
If there's anything about Capital Wealth Letter you don't absolutely love, place a quick phone call to our Concierge Hotline within 90 days of joining and we'll return 100% of your membership fee… no questions asked.
And here's my second guarantee…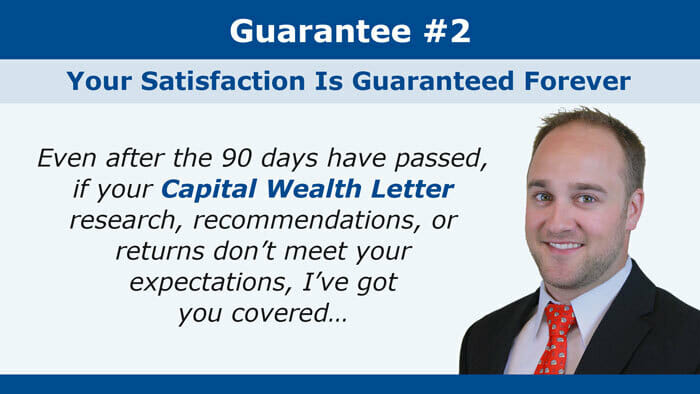 Once again, a phone call is all it takes.
We'll prorate your fee and refund you immediately for any unused months remaining on your membership term.
To sum up…
You'll get a full year of Capital Wealth Letter at a massive 80% discount.
You'll receive a free copy of my exclusive report, The Hottest Investment Opportunities of 2023, identifying many of the best opportunities to come along in years.
And you'll be protected by my 100% satisfaction guarantee.
In all, it's an outstanding opportunity. Your risk with my service is zero, yet your profit potential is enormous. I urge you to take advantage of it now.
Just click on the link below.
You'll see a secure request form that will give you access to The Hottest Investment Opportunities for 2023 and all our other work in a matter of minutes.
Wishing you a great 2023!

J.R. Butts
Chief Investment Strategist
Capital Wealth Letter
P.S. Go here now to take advantage of this $39 offer while it still stands. You'll also see how to lock in a second year at the same special rate, and with the same 100% guarantee, and receive five additional investment reports:
Bonus #1: The $10B Footnote: How Wall Street's Slipup Could Hand You $201,873 in the Next 12 Months (Value $59)
Bonus #2: Retire Rich on the "Tesla of Space" ($59 value)
Bonus #3: The 5G Revolution: Three Stocks for Six-Figure Profits ($59 value)
Bonus #4: 7 Stocks to Own Forever ($59 value)
Bonus #5: 7 Loser Stocks to Dump Now ($59 value)