Act Now to Lock In $3,080 in Monthly Payouts from Hidden
"Executive Dividends"
Dear Concerned Investor,
First the bad news…
It looks like millions of Baby Boomers are going to have to re-plan their retirements in a hurry.
The income they were counting on is evaporating… and their retirement dreams are suddenly in serious danger.
Here's what's happening…
Interest rates are sitting near all-time lows and hundreds of major companies are slashing their dividends.
GE's dividend cut alone will deprive investors of $4.1 billion in steady payouts.
And it's not just shrinking dividends. Stocks are also long overdue for a bear market… and when the next one hits, it is going to decimate retirement portfolios.
Even a run-of-the-mill bear market will last 15 months and knock 32% off your stock wealth.
And if you're thinking you can cover the gap with income from a pension plan or Social Security—then think again.
Because our broken Social Security system is already losing $253 million a day… or $84 billion each year.
The program is burning through its reserves faster than it can take money in. The only way Social Security is still making payments is by "borrowing" from the trust fund that was set up for future beneficiaries.
In fact, Washington just announced that for the first time since 1982, it is tapping into the Social Security trust fund to pay current benefits.
This wasn't supposed to happen. Not so soon.
Economists thought that Social Security wouldn't fall into negative cash flow for decades. But the crash of 2009 drove so many people to apply for benefits early, that the system is now 32% underfunded.
Which means Social Security is in worse shape than the struggling city of Detroit.
Detroit can get its pension back into good health by cutting benefits 16%.
But making Social Security whole would require an immediate and permanent 22% cut in benefits.
That's why they're already making deep cuts—slashing another $4 billion in Social Security payouts this year alone—just to balance their budget.
They've already raised the "Full Retirement Age" to 67…
They've already made a move that cost 9 million Americans $19,800 each in lost benefits…
They already closed a "loophole" that could've let you collect a $110,000 lump sum check.
And the cuts are just getting started.
Social Security's trustees also projected that the trust fund will run out of money by 2034 and that Medicare's fund for paying costly hospital bills will be depleted by 2026.
All of this while 10,000 baby boomers are reaching the retirement age of 65 every single day in America.
What about your pension, you might be wondering?
Well, the experts say America's pension system is "A disaster waiting to happen."
According to Wilshire Consulting, 65% of state and local government pensions are tied up in the overextended stock market. Moody's says they've already got nearly $7 trillion in unfunded liabilities—and that's assuming they can keep up a return of at least 7% per year.
Bottom line, they've promised far more in benefits than they have on hand to pay them.
That means even a minor market correction could absolutely slaughter pension funds, especially in states like Illinois, Kentucky, Connecticut and New Jersey, which have the biggest liabilities.
The trend is obvious: the government is targeting the hard-earned retirement savings of millions of Americans to paper over their own failure to manage programs correctly.
Put bluntly, Washington will continue to use OUR money to pay for their mistakes.
I don't know about you, but I'm not signing up for that program.
Which is why I've decided it's time to share an elite class of high-income investments—my "Executive Dividend" payers—that will help you live out your golden years in comfort … instead of scraping by with whatever Uncle Sam chooses to let you keep …
Boosting Your Retirement Income with "Executive Dividends"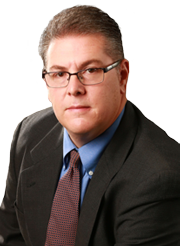 I'm Nathan Slaughter, Chief Income Strategist at StreetAuthority—one of the largest independent investment advisory firms in the United States.
If you can't tell by now, I'm not bullish on America's retirement system.
With 10,000 Baby Boomers retiring every day, it's only a matter of time before pensions, Social Security and popular income investments completely fail us.
Well, I'm not sitting around waiting for that to happen.
That's why I want to share my short list of "Executive Dividend" investments, a hidden treasure trove of sky-high dividends that almost no one else in America talks about.
They're issued by some of the biggest corporations in America… and are dished out automatically to all shareholders.
But these unscheduled payouts are considered "special," not ordinary.
So they aren't reflected in the official yield figures, and they go unreported by the press.
They are authorized by a small circle of a company's highest-ranking officers—hence the name "Executive Dividends."
Unless you're watching the market like a hawk (like I do), you probably wouldn't even notice them. But they are happening all the same.
Vodafone paid one of the biggest Executive Dividends in history—an incredible $17 per share—when they sold a piece of the company to Verizon…
Dish Network, Whole Foods and Microsoft paid out some Executive dividends recently, too.
And get this: these special payments are typically 10 times larger than a regular dividend.
In an era where most income investments are plummeting and Social Security is about to be slashed, these "Executive Dividends" are the perfect remedy.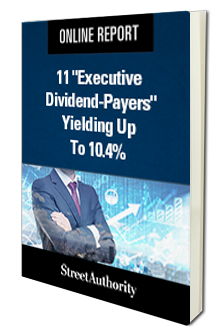 So I recently dug up every company I could find with a history of making these surprise payouts. Then I ran them through a battery of tests to find the strongest… and released the final cut in this special report: 11 "Executive Dividend-Payers" Yielding Up To 10.4%.
One of the companies in this report handed out a bonus dividend of $7 per share. Meanwhile, its normal dividend was just 27 cents.
That's like getting your next 26 paychecks advanced to you in one lump sum – and still getting your regular paychecks after that. Pretty sweet.
Another outfit in my report appears to pay just $1 per year. But when you count the $3 cash windfall it pays out in bonus dividends, its true payout is four times higher.
Then there's the casino that makes a bonus dividend payment every year of up to $8 per share.
And the insurance company that shelled out $13 per share in bonus payments over the past five years… along with seven other bonus dividend payers that you can buy into before they send out their next checks.
If you love quick cash (and who doesn't?!) you'll love this "Executive Dividend Payers" report. And I'll show you how to get your copy in just a moment.
But when it comes to building your income, we're just getting started…
Because I'd also like to offer you access to our proven "Social Security Insurance" program. It can easily double your retirement income and keeps flowing regardless of what happens to pensions or Social Security.
In just five simple steps, I can show you how to lock in an average income of $40,653 per year with this system… deposited directly into your account every month.
And once you're set up in the program, you'll have the luxury of never worrying about Social Security again.
Social Security could go belly-up and it wouldn't affect your payout one bit.
That's because our income program has nothing to do with the government or the Social Security Act of 1935.
Social Security is run by overworked bureaucrats who know nothing about investing. Our system is managed by a team of professional investors.
And while Social Security is dead broke, these managers have created more than $14.2 billion in system assets. And the value of these assets is growing about 5% a year.
Again, getting this money doesn't affect your regular Social Security in any manner.
You aren't exchanging one benefit for another… and you aren't forced to take a reduced rate on your current benefits.
This is simply income on top of what you collect from Social Security. Best of all, it's open to anyone.
You can collect even if you've never worked a day in your life.
You don't have to be 62 before you start taking payouts. You can start tomorrow.
And you don't have to wait until you're 70 to get the maximum payout, like you do with Social Security. You can get it right now.
I can tell you firsthand that this program is perfect for anyone who wants to retire early.
Some of my clients are already using this money to retire up to 12 years earlier than they'd planned…
These People Are Already Pulling In Tens of Thousands a Year
William B. tells me…
"I have made more money in retirement than I did when I was working."
Lloyd F. of Missouri sent me a note saying
"Because of your research, I have an income of $30,000 a year and this is just from 1/3 of my investment portfolio."
Theodore F. of Cumming, Georgia says it has
"helped me make the cash flow that my wife and I require in order to retire with the same income we had during the working years."
Wayne C. Of Milwaukee, Wisconsin says his retirement is "very comfortable," thanks to what we're doing here.
Dr. Stephen Silverhardt of Jenkintown, Pennsylvania says it
"is the fix I need to augment my retirement income."
Stan Ackerman of Rancho Palos Verdes, California says
"I have made thousands this year. Keep up the good work."
If all these people can do it, you can too…
Once I show you what to do, you can start getting paid just like all these folks.
So let's get to it…
Nail Down $40,653 per Year in Bonus Income for the Rest of Your Life
By combining our "Executive Dividends" with Social Security Insurance, you'll get a strategy that works in any economic climate.
That's because the partners in our program are key players in critical engines of the world economy.
The program combines multiple income streams—safely diversified across multiple sectors of the economy—into one bullet-proof retirement-funding package.
And these payments are often guaranteed years in advance.
Bottom line, it works. We have seen this program pay out like clockwork since we started it in 2003.
A typical participant is raking in $40,653 to their account every year (about $3,388 per month).
And that's just the average.
Depending on how you choose to participate, you could easily hit $100,000 per year in additional income.
What Would You Do with an Extra $100,000 This Year?
And if it's $100,000 this year, it will almost certainly be MORE next year. Because our investments grow their payouts by about 5% a year.
So five years from now, with dividends reinvested in your program, you'll be pulling in $127,628 per year.
For the millions of retirees who once lived off income investments, and now find it impossible, this program is life-saving.
And if the current retirement systems survive, all the better…
You can invest your Social Security checks into your private plan to bump up your payouts… or just pile them up and use them to splurge on whatever you want.
On the other hand, if the government's program withers away, you're covered by your own retirement plan thanks to your Social Security Insurance and "Executive Dividends."
And it's all so easy…
Once I show you the steps, you can start cashing in right away.
I need to share a personal observation here…
I've been an investment advisor for 23 years now. And I've always found there are pros and cons to every investment. But I can honestly think of NO good reason not to enroll in this program.
My subscribers LOVE it when I steer them to these massive "stealth" dividends.
And because I want you to see why,
I'll Help You Get Started Right Now, FREE…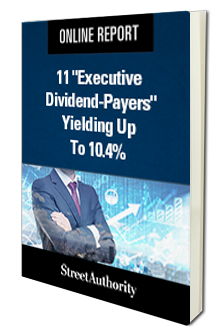 So here's what I'll do…
I'll send you a FREE copy of my "Executive Dividends" report when you agree to examine High-Yield Investing at your leisure for the next 90 days.
And to make sure you never run out of money, I'll throw in a FREE copy of my proven Social Security Insurance Plan …
It's a refreshingly simple alternative to today's pension systems and Social Security.
Why do I say that? Because believe it or not, Social Security alone has 2,728 rules governing its benefits… and thousands upon thousands of additional sub-rules.
Add them all up and you have more than 9,200 ways to claim Social Security. Pick the wrong one and you'll be stuck with smaller payments forever.
This straightforward alternative not only makes your life easier… it can easily pay you almost three times more than Social Security, too.
I think you'll be surprised at how easy it is to establish an income stream so reliable that you will never outlive it.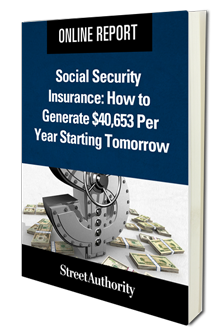 I've written up exactly what to do in a simple briefing called… Social Security Insurance: How to Generate $40,653 Per Year Starting Tomorrow.
This confidential report explains how to create your own shock-proof alternative to America's faltering retirement programs.
Once you own these bulletproof income plays, you no longer need to worry about inflation or deflation… bear markets or recessions… flash-crashes or rising interest rates.
That's because these assets have enough cash to keep paying as far out as we can project.
I'm ready to send you both briefings immediately.
All I ask is that you examine my monthly research advisory, High-Yield Investing.
I use this service to share little-known income-generating secrets I've discovered as a retirement-planning specialist that can set you up with income that rolls in month after month.
I've managed millions of dollars for people from all walks of life… from young couples just starting out… to retirees managing their life savings.
And no matter what kind of financial goals these people had… in the end they were all seeking the same thing: income.
So that's the focus of everything I do—showing investors how to double, even triple their portfolio income.
The mainstream financial press rarely covers these opportunities. Most brokers won't tell you about them either. That's because you can hold onto many of them forever—and that means zero commissions.
Me, I don't work on commission. My only job is to help my readers enjoy a worry-free financial life and set them up with a second income that will never run out.
The Key to Every Dollar We Make
All the research we conduct at High-Yield Investing keys off the most underrated wealth-building tool in all of investing: the dividend.
More than 130 years of data prove that owning dividend-paying stocks… and then reinvesting those dividends… beats every other investment approach hands down.
When people talk about the massive gains common stocks have racked up over the long haul, what they're really talking about is the phenomenal juggernaut effect of reinvested dividends.
Look at the history of Coca-Cola. It went public at $40 a share. Today, after decades of appreciation and stock splits, each of those $40 shares is worth $400,896.
But that's not even close to the whole story. With its DIVIDENDS REINVESTED, each share is worth a stunning $12.8 million. (And that original $40 share is now throwing off $397,558 in dividends a year!)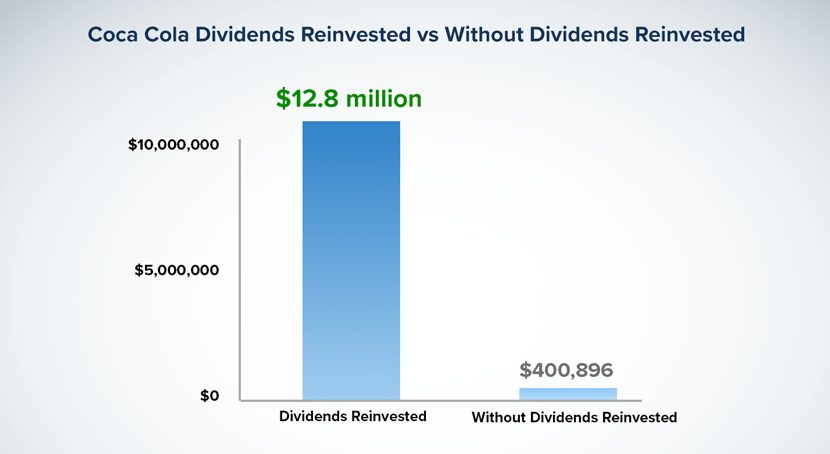 Now… I can't tell you what the next Coca-Cola is going to be.
But I CAN tell you where you'll find it…
It's in that small corner of Wall Street populated by stocks that are absolutely ruthless about raising their dividends. Every year. Or even every quarter when they can.
Here's the proof…
According to Ned Davis Research, if you had invested $10,000 in 1972 in the S&P 500 stocks that didn't pay dividends you would now be sitting on $30,153.
But if you had invested in the dividend-growers you would have $457,791. That's 15 times as much money.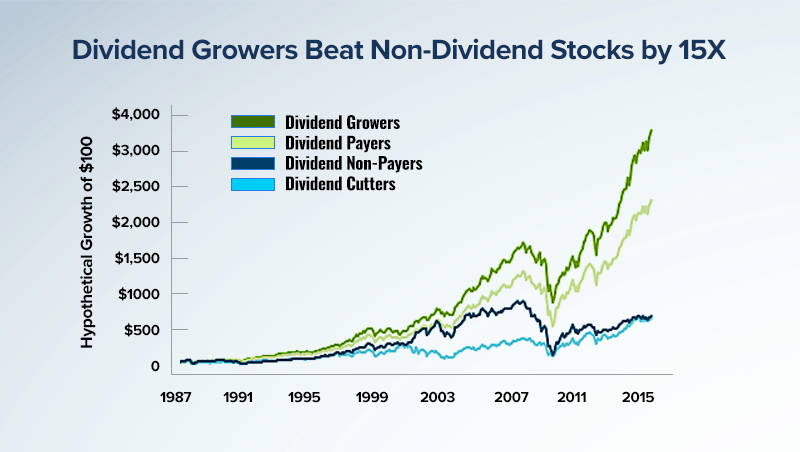 The indisputable winning track record of dividend-paying securities is behind everything we do.
And you'll find a lot more than plain old common stocks in High-Yield Investing.
Between REITS, closed-end funds, income deposit securities, ETFs and master limited partnerships… not to mention plain old stocks and bonds… I bring my readers every type of income-paying security on Wall Street.
A New Monster Yield Every Month
In every issue of High-Yield Investing, I pick the most compelling combination of yield and growth I can find as my "High-Yield Stock of the Month."
Here's a peek back at a few of the outstanding payouts we've locked in from past selections.
I hope it gives you an idea of the sheer variety of instruments that make High-Yield Investing so much more valuable than a standard stock-picking service. When you're locking in a double-digit yield on your money, a lot of your financial worries just fly away.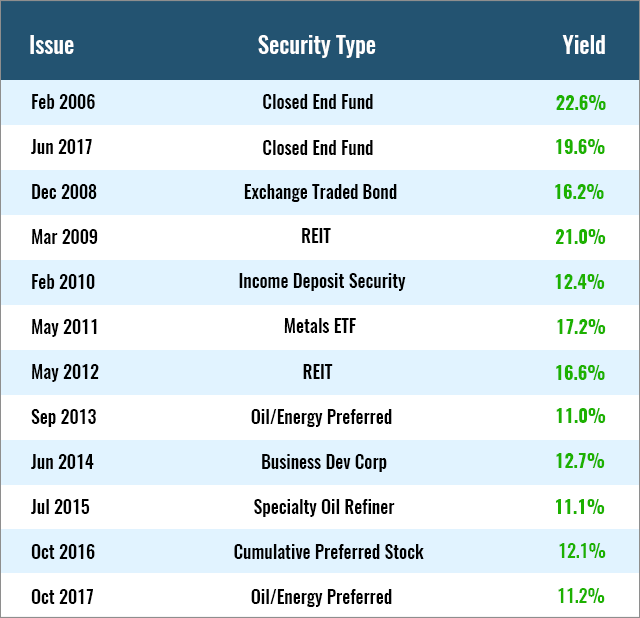 Capital Gains Pile Up When You Invest This Way
It's a funny thing about the high-payout companies we dig up in High-Yield Investing: hold them long enough and before you know it, you're usually sitting on a nice-sized capital gain as well.
For example, we featured Diana Shipping because of its 13.9% yield.
While the dividend came in like clockwork over the next two years, the share price more than doubled, handing us a 203% return.
Likewise with another shipper we featured at the same time as Diana, Eagle Bulk Shipping. This one was yielding a whopping 15.8%, and we liked it so much that we made it our "High-Yield Stock of the Month."
Within two years we were sitting on a 131% total return.
Sometimes the dividend itself rises so high and so fast that capital gains are beside the point.
We once added an energy stock to our portfolio at $57.41. Within three years it paid us dividends totaling $43.68. So we almost had our stock for free at that point.
Any company that can raise its dividend like that year after year will create you a huge pile of money. And we've featured dozens of them over the years…
Altria (the old Philip Morris) is a perfect example. There's nothing fancy about making cigarettes. But thanks to its long record of high and rising dividends $10,000 invested in Philip Morris 20 years ago has exploded into $241,912.
It's the same story with almost any stock with a history of high and rising dividends.
Take Johnson & Johnson. Buying J&J 20 years ago and reinvesting its fat dividends would have made you more than seven times your money.
Likewise with McDonald's… which has raised its dividend every year since making its first payout in 1976. Anyone who bought the stock 20 years ago has now collected 20% more in dividends than the stock cost them to begin with.
Look at Dominion Resources. Twenty years ago, 1,000 shares would have set you back $39,625. Now, you'd have 4,970 shares worth $334,666… almost a 10-bagger… and you'd be pocketing $12,872 per year in dividends, to boot. That's a 32.5% yield on your original investment.
Sunoco Logistics wasn't even around 20 years ago. But it has already turned its steady dividend into a fortune for investors.
If you invested $10,000 in Sunoco at its 2002 launch, you'd be sitting on $178,589. That's a 17-bagger and then some.
Reynolds American is another stock whose dividend rose so strongly that it made a fortune for investors.
When it IPO'd in 1999, 1,000 shares would have set you back $31,750. By the time it was bought out by British American Tobacco last July you'd have had a pile of stock worth $1,558, 195—a 49-bagger. And you would have been pocketing $35,088 in dividends every year – more than your initial investment!
The exhilaration of "lapping" your stock that way is a feeling you never forget. But you'll never experience it unless you own the sort of constantly rising dividend payers you'll find in High-Yield Investing.
That's why I want to show you what we're buying NOW.
And I'll make it easy for you to get started…
First, I'll knock 50% off the regular $99 price and welcome you on board for just $49.
Take a look at everything you get for less than $50…
Subscription Benefit #1—12 FULL ISSUES OF MY MONTHLY ADVISORY LETTER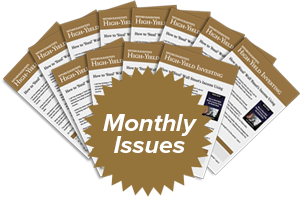 For the next year, you'll receive my High-Yield Investing research advisory… which covers every type of income-generating investment on Wall Street. The highlight of each issue is my "High-Yield Stock of the Month". If you like a towering dividend and a great shot at a capital gain, you'll love this compelling combination of yield and growth (regularly $99).
Subscription Benefit #2—12 MID-MONTH UPDATES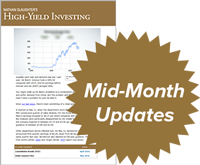 To keep you updated between issues and to let you know if we need to make any changes to our high-yielding portfolio (an $89 value).
Subscription Benefit #3—MEMBERS-ONLY SPECIAL ALERTS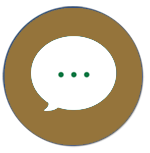 When market conditions change quickly—or if one of my picks is seeing a lot of action—I send out an alert to keep you up to speed. That way you won't be left wondering what to do (an $89 value).
Subscription Benefit #4—FULL ACCESS TO ALL MY RESEARCH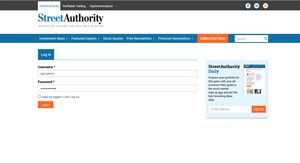 Along with your trial subscription, you'll get complete access to my firewalled website… which is a central clearinghouse for my investing research. You'll find a constant stream of ways to "goose" your portfolio to generate thousands of dollars in extra income every year (a $99 value).
Subscription Benefit #5—FREE SUBSCRIPTION TO STREETAUTHORITY INSIDER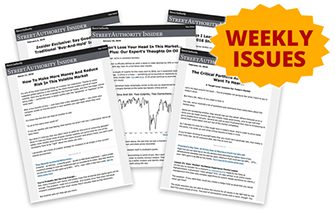 The Insider gives you a peek at the market picks… and the gurus behind those picks… that have made StreetAuthority one of the premier investment publishers in the United States. It's an exclusive publication for our paying clients only.
Of course, you'll also get these two special reports at no additional charge: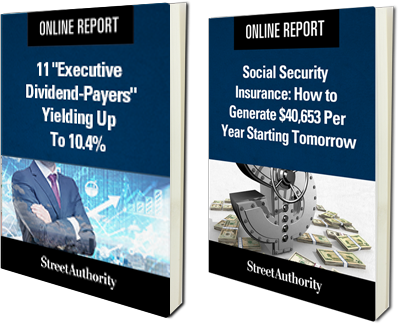 11 "Executive Dividend-Payers" Yielding Up To 10.4%…
Social Security Insurance: How to Generate $40,653 Per Year Starting Tomorrow.
Note that these reports aren't for sale anywhere, at any price. They are only available to members of the High-Yield Investing inner circle. And they'll be all yours as soon as you decide to start your trial membership.
One more thing I want you to know.
My job is to safely make you wealthier, without a lot of risk.
On the contrary, when you try High-Yield Investing the risk is all mine. You don't risk a penny with my 100% guarantee. Here it is…
My Total Guarantee
My guarantee can't be any simpler: you are either completely happy or you get your money back.
Take the next 90 days to check out my "Executive Dividend" payers … pore over the next issue of High-Yield Investing… share my recommendations with your broker and your friends… see what they think.
I'll give you three whole months to use High-Yield Investing and all the other research and services that come with it. That's plenty of time to kickstart a growing stream of income into your account.
If you don't find it useful… if it just doesn't work for you… I don't deserve to keep your money. Just let me know and I will rush you a complete refund of your subscription fee.
I'm not talking about a partial refund pro-rated for the balance of your subscription. I'm talking about the entire fee.
How can I afford to offer such a generous guarantee? Because virtually no one uses it! They're too happy beating the tar out of the market.
As we speak, 28 out of the 38 positions in my recommended portfolios are in the black, with total returns as high as 472%.
As a group, these picks are up an average of 37.2% each. Not bad considering we've owned 12 of them for less than a year.
My "Lifetime Wealth Generators" portfolio is especially robust. All six positions are well into positive territory, averaging a 134% total return. In other words, my readers are doubling their money in this portfolio.
Results like that are why we have the highest renewal rate in the business.
Just ask John Achmakjian, of Wellesley, Mass. He's not going anywhere.
"You have a terrific service. I am one guy you will never lose as a subscriber."
Martha Murch, of Franklin, Maine tells us
"High-Yield Investing surpasses any of the competition's investing letters. I can't wait for each edition."
Anthony Lemos, of Quincy, Massachusetts says
"High-Yield Investing is the best financial publication in existence, bar none."
Las Vegas investor Lee Roach says
"I have subscribed to numerous financial publications over the past 25 years, but High-Yield Investing is the absolute best. If you want substantial dividends, I'd suggest subscribing as soon as you can."
Here's what I propose…
With your permission I'm going to send you your copies of "Executive Dividend-Payers" AND Social Security Insurance: How to Generate $40,653 Per Year Starting Tomorrow right now.
These two powerful reports represent a total of 325 hours of investment research… and together they're worth $150. But today they're yours FREE just for taking a trial look at High-Yield Investing.
Whatever you finally decide about my service… well, you can decide that later.
Right now, I don't want you to miss out on the chance to check out my Social Security Insurance Program.
Which is why I have to repeat:
Unless you like playing craps with your retirement, you need to do something NOW.
Because one thing is clear: MORE CUTS are coming for Social Security.
And more major companies are poised to cut their dividends as interest rates slowly tick up.
I know it sounds far-fetched. But unpredictable things are happening in this country… and there's too much at stake here to take chances.
Don't make the mistake of pinning your hopes on pensions and Social Security.
You could live out your days counting your pennies and feeling constant financial pressure. That's no way to live.
But when you lock in this bonus income stream, your future is wide open. Whether it's traveling the world… playing golf all day… or just staying home to spend your time with your family… you can spend your days however you want.
Considering your only cost is $49.95… which you can get back if you want… and that you get a year of wealth-building research plus two critical investment reports… why wait?
Click on the button below and get started right away.
This is one time when you can't sit on your hands… You need to get started on this NOW.
Best wishes for a lifetime of income,

Nathan Slaughter
Chief Investment Strategist, High-Yield Investing
P.S All you have to do is complete five simple steps and you can begin collecting your checks.
Within a month, the money will start flowing in… and the checks should continue to roll in forever—literally.
You can even pass your payments on to an heir… and they can collect the money after you're gone.
It's all in the report I've prepared for you. And you can get it five minutes from now.