With over 136,000 readers and one of the strongest research teams in the business, independent financial research outfit StreetAuthority is once again going out on a limb with a series of startling new forecasts, including…
Violence in Peru will light a fire under copper prices. The world's #2 copper producer is facing its worst economic crisis in a century as riots in the capital paralyze the economy. But the global economy absolutely needs copper to run smoothly. If production is cut off, copper prices will soar. Below we share a move that could pay off more than 20-to-1 if this happens.
Elon Musk will quit as CEO of Tesla and the stock will flounder without him. But instead of shorting Tesla, we recommend following Musk to his next passion project. It could lead to huge profits. (To see Musk's fascinating next step read on.)
A revolutionary breakthrough in air travel may make early investors fabulously rich. This is an opportunity of enormous proportions, similar in many ways to the e-commerce revolution, in which early investors saw returns of up to 180 to 1 on their money. Read on to see why we're calling this breakthrough the "opportunity of the century."
The bounce-back investment of the year will be high-yielding energy partnerships. After correcting sharply as the economy tanked under COVID, they are now poised like a coiled spring, ready to rebound just as they did after the recession of 2008, when they quadrupled. This is a dream scenario for yield-hunters, with more than a dozen of these solid infrastructure plays yielding in the double digits. See our full story below for ideas on how to ride the coming rebound.
A group of penny mining stocks we profile below could explode. They're speculative — don't bet the mortgage on them. But 100-to-1 profits are possible (it's happened before). See our story below for details.
Cryptocurrencies will surge in 2021… but the big winner won't be Bitcoin. We think another crypto is a better bet for new investors. More people use it than Bitcoin and it has already tripled in price this year. Now at $627, we think it could possibly surpass Bitcoin by the end of 2021. That's a potential 3,642% gain from here.
A new round of wildfires will sweep the western U.S. driving one "sleeper" investment sky-high. As lumber mills see their supply go up in flames, timber prices could quadruple, just as they did during this past summer's fires. In fact, I believe wood will beat both stocks and inflation hands down over the coming decade. You'll find this "sleeper" investment described below, including a way to pick up prime wood land for just $18 an acre.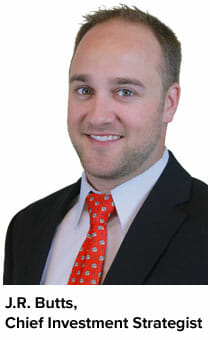 My name is J.R. Butts.
These are the latest forecasts from my research team at StreetAuthority.
In this letter, I will share these and other forecasts with you.
I'll also tell you how you can receive, completely without risk, an in-depth report that reveals the research and analysis that went into these forecasts.
This report describes specific investment opportunities which can help you reap exceptional profits from each of these predictions. But today I'd like to share the report's highlights with you.
They Told Us We Were Crazy
to Go Public With Our Predictions
For years now, StreetAuthority has been sending letters like this, alerting investors to the market's most pressing dangers and profitable opportunities. When we began doing this, people told us we were crazy. "You're bound to be wrong sometimes," they said, "and that will kill your sales."
But we felt that investors want clear, unhedged, and accurate forecasts… and we were determined to provide them for all to see. What's more, we knew we had developed some exclusive forecasting methods that have given us great confidence in these predictions.
As it turned out, investors have enjoyed reading our reports, because everyone's interested in getting a handle on the future. When they saw that our analyses made good sense, and a good many (though certainly not all) of our forecasts came true, our subscriptions soared.
From our very first round of predictions, we hit pay dirt.
We told our readers to expect "an opportunity of enormous proportions" in nanotechology. Our nanotech pick shot up 354% by the end of the year.
We also predicted that an obscure diamond miner in Northern Canada would strike it rich. Our pick rose 622% in the following year.
Year after year, most of our greatest market calls have come from our annual forecasts…
As the Swine Flu pandemic raged, we recommended a small biotech working on a breakthrough vaccine. Its stock went on to rise more than 400%.
We singled out a sophisticated chipmaker and predicted it would "ring up market-crushing gains" from the global rush into smart phones. The stock is now up a stunning 993%.
We also picked a title insurance provider we figured would prosper from record low mortgage rates. It has gone on to soar 573%.
In our report for 2015, we highlighted a little-known company that was turning algae into fuel. The stock went on to record an 823% gain by the middle of 2020.
In our most recent report, we predicted "a new miracle fiber would hit the market that's 35x tougher than steel… and cheaper than Kevlar." Five months later, the stock had shot up more than 800%.
Of course, there's no guarantee our new forecasts will be as profitable as these earlier ones. Speculative picks like the ones we're making here today can go down as fast as they go up. But when I reviewed the new crop with our publisher, he told me that he felt these could be some of the most lucrative recommendations in our organization's history.
Please bear in mind that when I discuss a specific investment, we are a totally independent publisher, with no affiliation to any brokerage or investment products. We live and die on our subscription revenues.
When you run an investment publication on subscription fees alone, you're not in business long unless your advice makes money for your customers. So please consider this letter a free sample of what our readers receive every month.
Later in this bulletin I'll describe how we have been able to select winning investments so consistently. I'll share with you our cardinal principle of successful investing — a principle that will help you systematically build your wealth while others, following the latest Wall Street fad, are inevitably fleeced.
For now, though, I want to get back to our current forecasts, so you can see our latest thinking. Of course, in a letter like this, we can only hit the highlights. There's simply not enough room for all of the data, projections, analysis, and judgment that go into each of these forecasts.
So I've compiled all this research into an exclusive report called The Hottest Investment Opportunities of 2021. To get the full story on each of these opportunities, I urge you to request a copy of the full report.
I'll tell you how to get the report in a moment. But first, let's get to our seven latest forecasts…
Prediction #1
Violence In Peru Will Light a Fire Under
Copper Prices
Peru is a mess. Political chaos has triggered violent protests, and riot police are killing people in the street.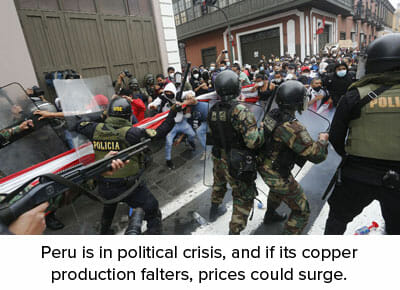 The country is facing its worst economic contraction in a century. And the currency has crashed to a record low. To add insult to injury, Peru has one of the highest COVID-19 death rates in the world.
Why should investors care? Because Peru is the world's #2 copper producer. And without copper, the global economy grinds to a halt.
We need it for smartphones, TVs, and air conditioning — just to name a few.
And now, with the boom in electric cars, the world is gobbling up so much copper that reserves have plunged by 70%. Believe it or not, we're running on a one-day supply, stored in warehouses around the globe.
So, we really can't afford to lose Peru's production. If a kink develops in the supply chain, copper prices are going to jump fast.
How can you profit best? Well, there's no practical way to buy the metal itself. You can't store 10 tons of copper in a safe in your basement.
That's why you should know about a company that has discovered eight billion pounds of the stuff right here in the United States. The most recent appraisal shows that it is sitting on $34 billion of wealth in the ground. And that's just what they've found so far.
This deposit is so big that when copper prices rise a penny, its value goes up by $89 million.
We love the fact that it's just around the corner from the famous Red Dog mine in northwest Alaska, where they've already taken $77 billion in wealth out of the ground.
There is huge potential here. This could be a replay of Southern Copper, one of our past recommendations. Southern Copper listed on the NYSE in 1996 at $16.25 a share.
Anyone who bought 1,000 shares and held on would now be sitting on $1,285,824.
Importantly, this is still a wide-open opportunity, as the stock is barely known outside of mining circles. It trades fewer shares in six months than AT&T trades in a day.
It's going to take a few years to dig up and sell this copper. But we believe there's a way to make up to 10x your money before the company mines its first ounce.
And if copper prices really heat up, you'll see a scenario that could take this $2 stock all the way past $44.
That's enough to turn 1,000 shares into $44,000… and every $10,000 you invest into a $266,300 cash windfall. All the details are in The Hottest Investment Opportunities of 2021.
Prediction #2
Elon Musk Will Quit Tesla —
and the Stock Will Flounder Without Him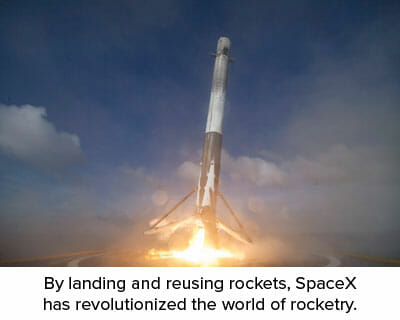 With Tesla, Elon Musk has revolutionized both the technological and automotive worlds. And he's made a lot of investors very happy.
Since he took his company public in 2010 the stock has shot up 16,823%… mushrooming into a $616 billion behemoth. It is now the most valuable car company in the world, worth more than Toyota, Volkswagen, Hyundai, GM, and Ford combined.
We recommended the stock ourselves in our predictions for 2015… and readers who followed our lead could be up as much as 1,340%. But it now appears that Musk is switching his focus to another project.
This is bad news for Tesla. Musk impacts every facet of the car company — every model, every battery, and every design. Without this visionary genius at the helm, all bets are off.
Musk is not only deeply involved in the day-to-day operations, but he inspires his people to outperform. Without his maniacal perfectionism we can't see Tesla continuing its meteoric growth.
So we're switching our focus along with him, from down on the ground to up in the stars.
You see, Musk's true passion is space travel. And a man with $150 billion in his pocket can afford to follow his passion, wherever it takes him. And he clearly wants to go to Mars.
If anyone can do it, it's Musk and his SpaceX enterprise — the most audacious space program since NASA's Apollo program.
SpaceX has revolutionized the business model of rocketry. By landing and reusing rockets, it saves so much money that it can launch a rocket for $2 million. Meanwhile, it costs NASA $152 million to launch that same rocket. That's 99% less.
This hyper-efficient approach has won it a good share of the global launch market. In 2020 SpaceX launched 26 rockets — even more than Russia. The U.S. Air Force is using the company to launch spy satellites… and NASA is contracting SpaceX to launch rockets into outer space.
Along the way, SpaceX has racked up an impressive series of private-company firsts: first to put a spaceship in orbit… first to land a rocket on a landing pad at sea… first to re-launch a used rocket… and first to launch a payload into orbit then land it back on Earth.
And now SpaceX is the first company to commit to colonizing Mars. Its plan for living on the Red Planet is called "Terraforming." It would make Mars more Earth-like by pumping gases into the atmosphere, making it warmer and more hospitable to life.
SpaceX is developing a massive "Starship" to ferry cargo and people across the 30 million miles between here and the Red Planet.
Musk says it will cost $2 to $3 billion to develop the Starship. That's just a percent or two of his personal net worth, so it's quite feasible financially.
As a possible sign of his commitment, Musk just moved from California to Texas, putting him close to the SpaceX launch site near Brownsville.
Unfortunately, SpaceX isn't a publicly traded stock… and may never be. But we've found a "backdoor" that could allow us to hitch a ride on Musk's interplanetary ambitions.
In fact, it's the only way for an investor to acquire a stake in SpaceX. Buy in now, and as a nice little side-bonus you'll also get a stake in a self-driving taxi service.
For the full writeup on this tantalizing opportunity, see our story in The Hottest Investment Opportunities of 2021.
Prediction #3
Best Investment of the Decade:
Flying Cars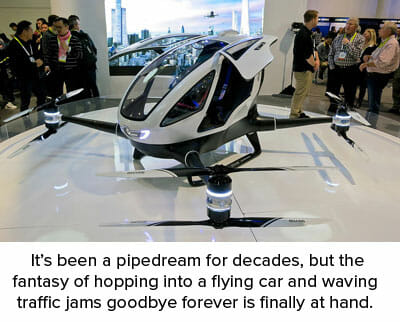 The next investment I want to tell you about is the kind of money-making opportunity that presents itself only once every decade or so, and no investor — from the cautious widow to the high-rolling speculator — can afford to ignore it.
The closest parallel I can think of is smart phones back in the 1990s, when investors who saw the surge coming were rewarded with staggering profits of $140-to-$1.
Today, my team and I are convinced that a once-in-a-decade opportunity for spectacular profits is shaping up in "flying cars."
It's been a pipedream for decades, of course, but the fantasy of hopping into the family jetmobile and flying off to work or play — and waving traffic jams goodbye forever — is finally at hand.
Advances in lithium-ion batteries, electric motors, automated navigation, and lightweight aluminum alloys are combining to bring flying cars to life across the globe — right now as you read this.
Fact is, these machines are already in the air. A self-flying helicopter in China is taking passengers on paying tours above the harbor in the city of Yantal.
In Berlin, you can reserve a ticket for an air-taxi rides around the city for $35. Drone makers, aerospace firms, ride-hailing companies, and even a few automakers are throwing their hat in the ring… all promising to whisk riders through the skies in what they are calling "air taxis."
Toyota is working with a Silicon Valley startup on an electric vertical takeoff and landing (eVTOL) aircraft. It can fly 150 miles on a single charge in near-silence. They promise to launch an air-taxi service by 2023.
SkyDrive is making a two-person aircraft the size of a car, with a range of 20 to 30 miles at 60 mph. The Japanese startup claims it can sell personal planes for the cost of a high-end car.
Boeing has already begun flight tests of its own air taxi.
German start-up Lilium Aviation has been flying a remote-controlled, jet-powered eVTOL since last year. It says its five-seater jets can travel 186 miles in an hour.
I truly believe that investing in the right "flying car" startup could make you the sort of money that sets you up for life.
After all, we're not talking about a new vacuum cleaner that cleans your carpets by itself. Air taxis will change the world, liberating millions of people now stuck in smoggy traffic jams… and wasting long hours on buses, subways and trains.
Billions of dollars are pouring into this industry. The market for on-demand urban air-taxi service alone could top $850 billion by 2040. That's more revenue than every internet, media, and publishing business in the United States made last year, combined.
The trick of course is picking the winners out of the dozens of companies in the air-taxi race.
If we had to pick just one, we'd give the edge to an outfit that has already flown air taxis in Austria, South Korea, Canada, Dubai, and the United States.
Its all-electric two-seater can reach 80 mph and flies by itself. It weighs just 600 pounds and can carry another 600 pounds of cargo or passengers.
We are impressed that this little self-flyer has already gone on more than 2,000 test flights around the world. I can't think of a single competitor that's racked up as many flight hours.
And its design is ingenious. It takes off and lands vertically, so you don't need an airport or runway. You can charge it up in an hour in your regular home electric outlet and take off right from your driveway. Just type in your destination in the control panel, and you're off.
If the weather gets bad, the craft automatically changes to a smoother route. You don't have to do a thing besides sit there and enjoy the view.
In The Hottest Investment Opportunities of 2021 you'll see why the first investors into this world-changing stock could see their shares soar…. perhaps in the same way that e-commerce pioneers who changed how the world shopped rewarded investors with profits of up to 180-to-1.
A bold investor who put $10,000 in Amazon on the day it went public in 1997 would now be sitting on more than $18 million.
I believe we're looking at a similar opportunity here…
When the opportunity presents itself to get in on the ground floor of something that could change the world, you need to grab it. Because you don't get this chance often.
Your free report will tell you how you can be among the first investors to participate in this extraordinary opportunity.
Prediction #4
The Best Bounce-Back Play of 2021 Will Be a Midstream Energy Partnership
(Currently Yielding 15.2%)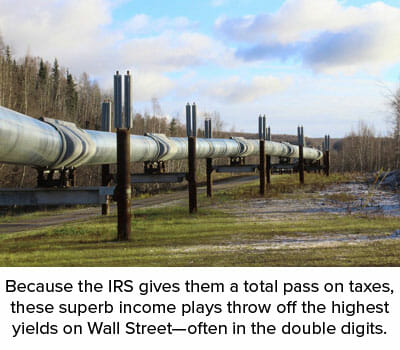 These have to be the best income investments nobody talks about. They look and trade like ordinary stocks, but with one big difference: the IRS gives them a total pass on income taxes. This leaves them so much free cash to distribute that they pay the highest yields on Wall Street.
Congress greenlighted this remarkable tax break to promote investment in "midstream" energy assets — the pipelines, storage tanks, terminals, and ships that move oil and gas from producer to user.
After a strong 20-year run, these midstream MLPs corrected sharply as the economy tanked under COVID this spring.
But we think they are now poised like a coiled spring, ready to rebound as soon as the economy shows its first green shoots… just as they did coming out of the recession of 2008. Once the economy picked up after that economic meltdown, these securities quadrupled in less than six years.
Meanwhile, this is a dream scenario for yield-hunters. As a result of panicky selling, more than a dozen of these solid infrastructure plays now yield in the double digits. But they keep on pumping out the dividends regardless.
When you consider the stock market has historically returned 9% a year, beating that right out of the gate in dividends alone is as close to a free lunch you'll ever find.
In The Hottest Investment Opportunities of 2021 you'll see our three favorite ways to ride the coming rebound … including a natural-gas distributor whose yield has soared to 15.2% amid the collapse in oil prices. (This makes no sense because it's not even an oil play!)
Anyone bold enough to put $10,000 into this dynamo when it went public eight years ago could now be sitting on a stunning $303,300.
Prediction #5
A Small Group of Penny Mining Stocks Will Soar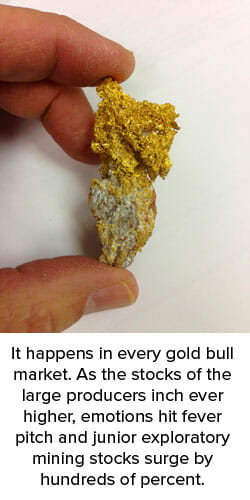 It happens in every gold bull market. First the bullion starts rising, then the stocks of the big established producers move higher, and finally as emotions hit fever pitch, we see a spectacular run-up in the junior exploratory mining stocks.
Take the gold mania of 1979-80. Major miners Newmont, Homestake, and Dome Mines moved up 182%, 258%, and 97%, respectively. But the smaller junior explorers absolutely exploded…
From the first day of 1979 to their highs the following autumn, 15 junior mining stocks averaged a return of 2,314%.
Lincoln Resources shot up from $0.78 to $20, recording a 2,464% gain.
Eagle River went from $0.19 to $6.80 for a 3,479% return.
And Copper Lake shot up from 8 cents to $10.50, for a 13,025% gain. That's a 130-bagger.
Less than two years later, it all happened again. Discoveries in Ontario ignited the rally of 1981-1983. Junior gold stocks in the Hemlo mining district saw an average return of more than 4,000% — even though gold was flat.
We saw the same story in the bull market of the mid-1990s. The average producer more than tripled inside of two years. But again, the real action was in the smaller exploratory stocks…
Francisco Gold went from $1.00 to $34.50 for a gain of 3,350%.
Arequipa shot up from $0.60 to $34.75 for a gain of 5,692%.
Cartaway Resources exploded from 10 cents to $26.14… a gain of 26,040%.
And the Voisey Bay discovery of 1993 was so rich that it propelled Diamond Field's stock from $0.30 to $174. That could've turned $5,000 into $2.9 million.
Can you imagine the thrill of owning a few thousand shares of a 30-cent stock that hits $174?
These huge gains occurred at the tail end of the last big run-up in gold. Gold has now risen for 16 of the past 20 years, shooting up from $273 an ounce to recently surging over $2,000. As this bull market matures we could see a similar blow-off spike in smaller speculative miners.
We might even see a replay of what happened with Aurelian Resources. Shares jumped from $0.60 to $43 in a matter of months, turning $10,000 into as much as $716,667.
Of course, plenty of junior miners crash and burn… so don't take this as license to put the mortgage money into penny mining stocks.
But for a shot at the sort of profits that could really change things in your life, we recommend taking a look at the penny mining stocks in The Hottest Investment Opportunities of 2021.
These small gold and silver hunters offer the potential to jump 10x or more in a hurry. Each one could be on the brink of making a strike that will send their share price through the roof.
Full details in your free report.
Prediction # 6
Cryptocurrencies Will Explode in 2021…
but the Big Winner Won't Be Bitcoin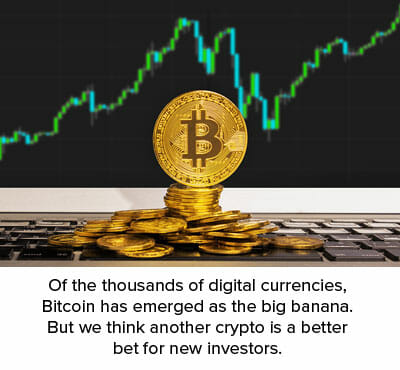 In a world under increasing assault by hackers, identity thieves, and government surveillance, the use of private digital "cryptocurrencies" is exploding.
Unlike traditional bank accounts, your crypto account can never be garnished, frozen, or seized. No business can track you and no government can take your money away.
It is also more private because instead of going through a bank, cryptocurrency is exchanged directly from person to person in complete anonymity.
That's all great news for anyone determined to keep their financial life "off the grid." But what's most impressive is how incredibly fast these currencies have appreciated.
An alert investor who put $1,000 into Ark crypto at its launch could have cashed out a month later with up to $1,020,000.
Another crypto, called NEO, launched at 3.2 cents… and later hit $162.11. That's a 5,066-fold gain. If you had bought $1,000 of it at the start you could have walked away with $5.1 million.
But the big banana is Bitcoin.
The Economist points out that "Anyone clever or lucky enough to have bought $1,000 of Bitcoin in July 2010… would now have a stash worth $46 million."
Just think — a single $1,000 investment in Bitcoin, and neither you nor your children would ever have to work again.
Of the thousands of digital currencies out there, Bitcoin has emerged as the "blue chip" of the bunch. It accounts for 64% of the total market cap in this sphere.
But at this point, we think another digital currency is a better bet for new investors.
Activity on its network is rising fast, averaging 850,000 transactions per day. That's three times more than Bitcoin averages on a daily basis.
Now the big boys of Wall Street are paying attention. A Manhattan fund manager has launched an ETF focused solely on this cryptocurrency. And the Chicago Mercantile Exchange is about to launch a futures contract on it.
This upstart digital currency has already tripled in price in the past year. But we believe there is still 10x, maybe even 100x long-term upside.
Plenty of new currencies with a lot less going for them than this one have shot up that much, so there's no reason this one can't as well.
Currently at about $1,170, we think it could surpass Bitcoin's current value by the end of 2021. That would give you a 3,133% gain.
Of course, like every boom in history, this early-adopter "bonanza phase" won't last forever. So you need to get moving on this while you still can.
The market cap of every cryptocurrency combined comes to less than a third of Microsoft's. Once everybody decides they want a bit of it in their portfolio, it will be like Niagara Falls going through a garden hose. The time to move is now.
For more information on the easiest way to buy our favorite cryptocurrency… how to store it securely in an electronic "wallet"… and how to convert it back into dollars after it soars in value… please send for your free copy of The Hottest Investment Opportunities of 2021.
Prediction # 7
Sleeper Investment of the Decade:
Timber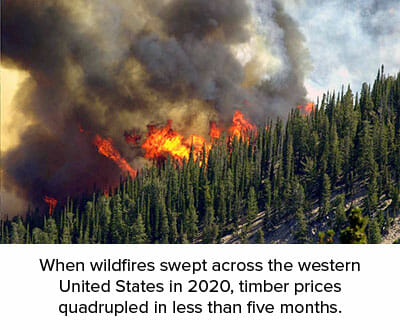 Harvard University has some of the best money-management brains in the country running its massive endowment. So when Harvard puts 10% of its cash into (of all places) timber, it's time to pay attention.
Demand for wood, pulp, and paper is soaring. China and the U.S. have nearly insatiable needs for lumber: China for infrastructure, and America for our renovation binge. Supply is tight and can't be increased easily.
Considering its track record, it's puzzling that wood doesn't get more attention from Wall Street.
Over the past 30 years, timberland has trounced stocks. An investment of $1,000 in the S&P 500 at the start of 1990 grew to $9,140 by the start of 2020, not including dividends. The same $1,000 invested in private timberlands appreciated to $14,260 over the same period.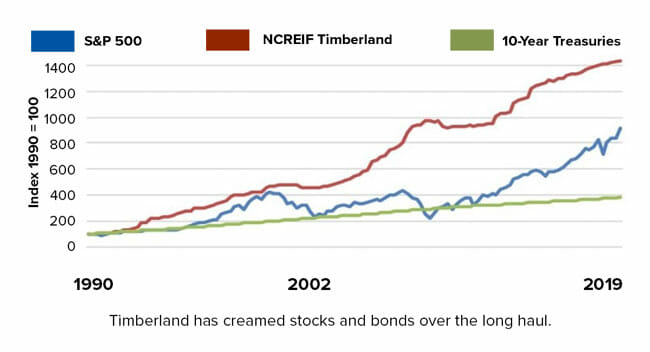 This isn't some recent economic fluke, either. The value of timberland has risen faster than stocks for over a century, since 1910 — and with less volatility.
Timber does especially well in bear markets, making it a great hedge against falling stocks. Timber outperformed the S&P 500 during the three largest downturns of the 20th century. During the Great Depression, it gained 233% as stocks crashed more than 70%. In 2008, when the S&P 500 lost 38%, timber gained 9.5%.
And if you're worried about inflation, look no further. Timber prices have beaten inflation by 3.3% a year over the last century. During the raging inflation of 1973-1981, timber rose 22% a year, well ahead of traditional inflation hedges like property and commodities.
In more-recent years, when inflation has topped 4%, timber returned 24.7% a year. That's twice as much as Treasury bonds and 31% more than the S&P 500.
The forces of supply and demand are also working in your favor here. The world's wood supply is steadily shrinking. Roughly half of the forests that originally covered the earth are now gone. Yet the United Nations predicts demand for wood will double in the next 30 years.
And the beauty of owning timber is that it can be harvested at any time. If prices are low, you just let your trees mature further until prices rise. Trees don't worry about interest rates or budget deficits. They just keep growing exponentially faster every year.
Plus there's a wildcard that could accelerate your return: forest fires. When western wildfires shut down logging operations this past summer, choking off supply to lumber mills, wood prices surged, quadrupling in 18 weeks.
Now, the National Interagency Fire Center is predicting higher than normal wildfire potential into 2021, which only serves to keep the pressure on rising timber prices.
In The Hottest Investment Opportunities of 2021 you'll see our in-depth analysis of the timber market. You'll discover:
Why investing in timberland stacks up so well versus stocks…
Why the demand for timber isn't going away (every American "consumes" a 100-foot tree every year, and rising)…
The most direct timber play in the stock market (now yielding 5.9% and letting you "own" timber for just $293 per acre)…
And where, if you have an adventurous spirit, you can pick up prime woodlands for as low as $18 an acre.
Now — Receive The Full Details
On All Our 2021 Predictions — FREE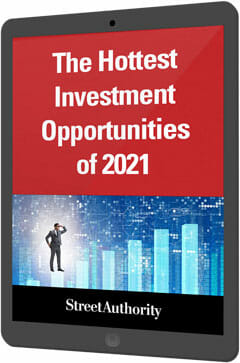 I hope you've enjoyed reviewing our major investment forecasts for the coming year.
Again, in today's brief report, I am only hitting the highlights… I've bundled all the data, analysis, and other research that went into these forecasts into The Hottest Investment Opportunities for 2021.
This report lays out the full details of all our predictions for the coming 12 months. It also spells out specific investment opportunities that could set you up to reap exceptional profits from each of these predictions.
I invite you to send for a copy of the report right now. It won't cost you a penny. Despite the months of research, hundreds of man hours, and thousands of dollars we have spent compiling it, we're not charging anything for this report.
Instead, it's yours as a free bonus when you accept a no-risk trial subscription to my financial advisory letter, Top Stock Advisor.
Extraordinary Investing Ideas You Won't Find Anywhere Else
At Top Stock Advisor I'm not looking to just beat the market — I'm looking for ways to generate life-changing fortunes, just like the opportunities you'll see in The Hottest Investment Opportunities of 2021.
Despite all the rocket scientists and supercomputers on Wall Street, the best way to get rich from investing is the same approach that worked best decades ago: find a breakthrough idea early on and watch your profits soar as the concept matures into a mainstream commercial success.
The ordinary media rarely cover this beat. They'll tell you all about a discovery once it comes out — but they don't look ahead to see where the next one is coming from.
And I can assure you that if you are not looking for the next breakthrough… you won't find it.
I spend dozens of hours a week looking for game-changing companies… poring over trade journals and SEC filings. My Rolodex is crammed with CEOs, brokers, and bankers… and I talk to them every day.
Most investors can't spend their days camped in front of a computer screen, sifting through stock charts. And they're not going to have much luck getting a CEO on the phone.
But I do. And that access is invaluable… because it gives me insight that you just can't get any other way. And I share what I learn in every new issue of Top Stock Advisor.
We're booking gains in stocks from every corner of the market… whether it's a blue-chip stalwart like CME Group (up 200% for us)… a cybersecurity startup like Okta, where we booked a 113% return in 15 months… or a game-changer like PayPal, where we closed a 300% winner.
Of course, not every stock we recommend is going to shoot to the moon. But the picks we've made so far are making plenty of my readers very happy. So much so that they've taken time out of their busy lives to send me notes like these…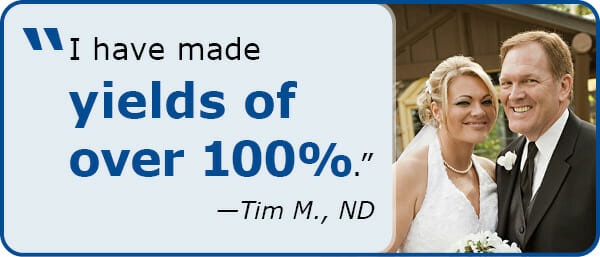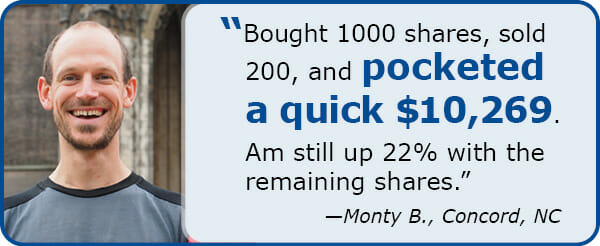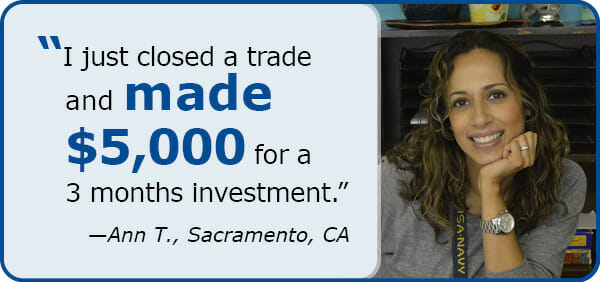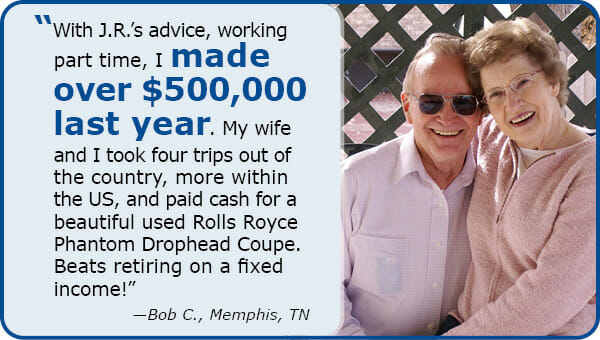 These are exceptional cases, and I can't promise you'll see the same results… but I'm sharing them with you to show how Top Stock Advisor is changing the lives of real people (and how it could change yours as well).
Join these folks today and in addition to The Hottest Investment Opportunities of 2021, you'll get all this:
12 Issues of Top Stock Advisor — Every month, I'll email you the latest issue, always containing an in-depth profile of the single-most promising profit opportunity my research uncovers.
Intra-Day FLASH Alerts  — As soon as I think one of our picks has reached peak profits, I'll send you an email explaining exactly how to close out your position, leaving you ready to invest in the next breakout opportunity.
24/7 Members-Only Website Access — As a Top Stock Advisor member you have unlimited, around-the-clock access to my private website. Here, you'll find a searchable archive of past newsletter issues, special market reports, FLASH Alert histories, and model portfolio details… all at your fingertips.
VIP Concierge Service — As soon as you're on the inside, you'll get the phone number for my VIP concierge team. They are standing by every weekday to answer any questions you might have.
A Special Offer Good for a Limited Time —
Only $39 for a Year of Top Stock Advisor
The approach I've described here — where I hunt for growing companies before they explode into mainstream commercial success — guides every recommendation in Top Stock Advisor.
This approach has served my readers exceedingly well, and I believe it could lead you to investment performance that surpasses anything you've ever experienced.
In fact, I'd like to prove how well you can do with the help of Top Stock Advisor — at no risk to you.
So, I'm making this exceptional offer: When you join me inside Top Stock Advisor today, you're getting a full year of access to my service for just $39 — that's less than 11 cents a day.
The regular price for Top Stock Advisor is $199 per year. But sign up through this offer and it comes to you for $39… that's 80% off!
These days, $40 barely fills up your gas tank. But if you act today it can buy you the next 12 months of Top Stock Advisor packed solid with specific recommendations from the investment publisher with one of the most successful track records in America.
It's quite an opportunity — and I urge you to take advantage of it, now.
Please know that you will also be protected by this ironclad "double barreled" guarantee: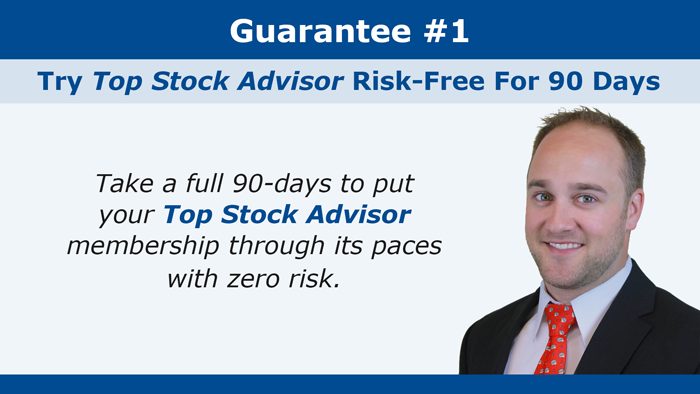 Review your bonus reports…
Read through the back issues…
And check out our model portfolio's performance.
If there's anything about Top Stock Advisor you don't absolutely love, place a quick phone call to our Concierge Hotline within 90 days of joining and we'll return 100% of your membership fee… no questions asked.
And here's my second guarantee…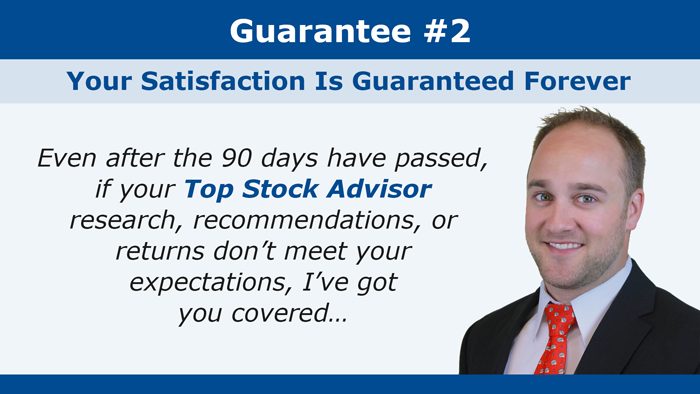 Once again, a phone call is all it takes.
We'll prorate your fee and refund you immediately for any unused months remaining on your membership term.
To sum up…
You'll get a full year of Top Stock Advisor at a massive 80% discount.
You'll receive a free copy of my exclusive report, The Hottest Investment Opportunities of 2021, identifying many of the best opportunities to come along in years.
And you'll be protected by my 100% satisfaction guarantee.
In all, it's an outstanding opportunity. Your risk with my service is zero, yet your profit potential is enormous. I urge you to take advantage of it now.
Just click on the link below.
You'll see a secure request form that will give you access to The Hottest Investment Opportunities for 2021 and all our other work in a matter of minutes.
Wishing you a great 2021!

J.R. Butts
Chief Investment Strategist
Top Stock Advisor
P.S. Go here now to take advantage of this $39 offer while it still stands. You'll also see how to lock in a second year at the same special rate, and with the same 100% guarantee, and receive five additional investment reports:
Bonus #1: The $10B Footnote: How Wall Street's Slipup Could Hand You $201,873 in the Next 12 Months (Value $59)
Bonus #2: 3 Biden-Proof Stocks Destined to Soar Now ($59 value)
Bonus #3: The 5G Revolution: Three Stocks for Six-Figure Profits ($59 value)
Bonus #4: 7 Stocks to Own Forever ($59 value)
Bonus #5: 7 Loser Stocks to Dump Now ($59 value)