Have you seen them yet?
Reports have been flooding in across America of a mysterious "train of lights" appearing in the sky at night.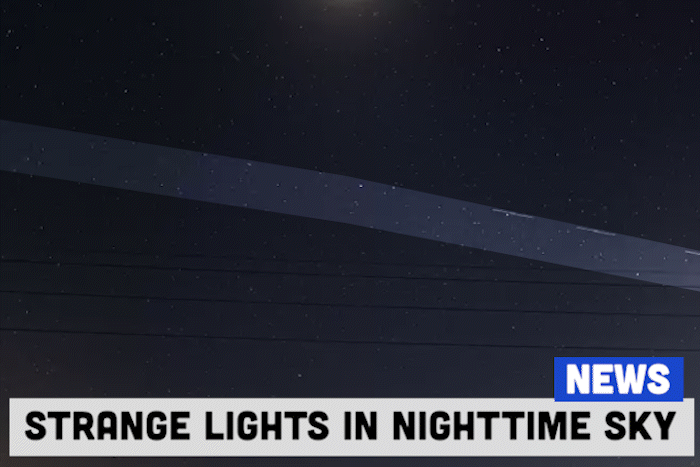 Archaeologist Dr. Marco L. was the first to capture them on camera.
After uploading his footage to his website, he said:
"It started with two faint, flashing objects moving into the field of view. Then, a few tens of seconds later, my jaw dropped… I could not help shouting "OAAAAAH!!!!" (followed by a few expletives…)"
John H. of St. Louis witnessed them too, while stargazing with his daughter.
"We were looking up at the sky and started seeing 'em," he told Fox News, who rushed out to hear his story. "I'd never seen anything like it…"
And in Sarasota, ABC7's newsroom reports they've been BOMBARDED with calls from astonished viewers like Rose L., who told them:
"It was so unusual, we've never seen anything like this in our lifetime."
So, what the heck are these strange lights?!
Well, they're NOT UFOs, like some people are speculating on social media.
They're NOT military drones.
And they're NOT stars, or distant planets.
Instead, you're looking at a revolutionary new technology…
Launched into orbit as part of Elon Musk's shocking $10 billion project to blanket Earth with internet from space!
If you haven't heard about Elon's new "Space-Net" yet, you soon will.
With speeds up to a whopping 200 times faster than traditional internet…
Beamed to you at ALL times — no matter where you are…
And for only a fraction of the cost you may be paying now…
Elon's new project could completely disrupt the $2.5 trillion telecom cartel ruled by the likes of some of the most despised companies in America including Comcast and CenturyLink…
And in the process, make early investors extremely rich. I'm talking about gains of up to 886% (or more!).
That's a big number, I know…
But if we look at what Elon's other projects have done for investors in the past, you'll see that my 886% profit projection is actually very conservative in comparison.
Take PayPal for instance, the online payments company he co-founded.
Analysts advised AGAINST betting on Elon…
And it was hard to blame them at the time…
The dot-com crash had just hit and Wall Street was running scared from tech stocks.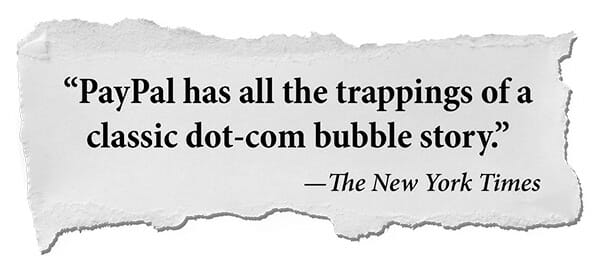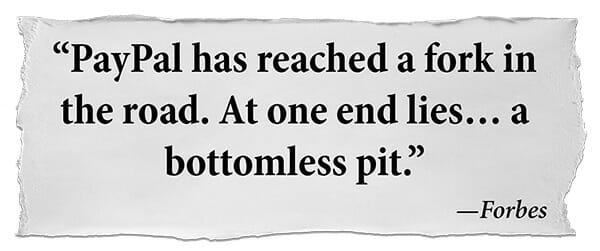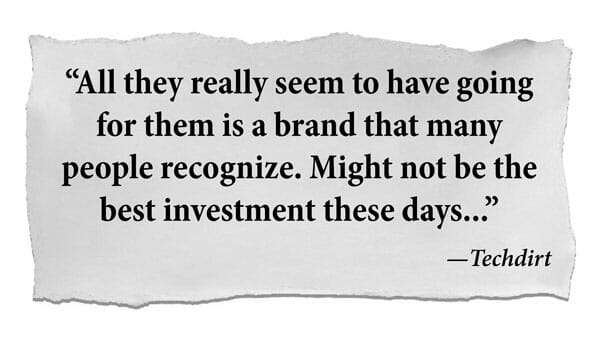 But if you had kicked $10,000 into PayPal when it went public in 2002, you'd be sitting on $468,798 today.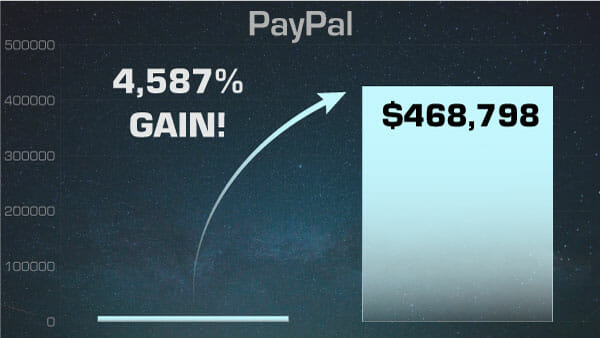 That's a 4,587% return on your money.
The same thing happened when folks doubted his aerospace company, SpaceX.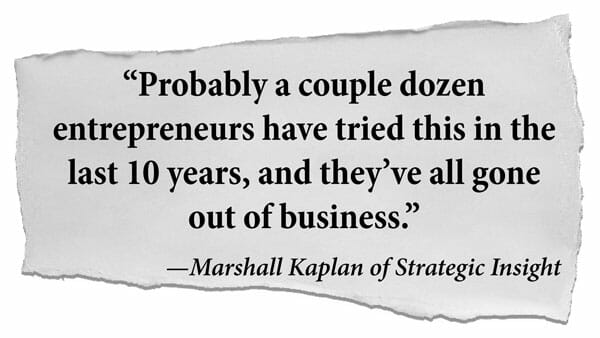 Not only did SpaceX beat industry giant Boeing to the punch by launching NASA astronauts to the International Space Station…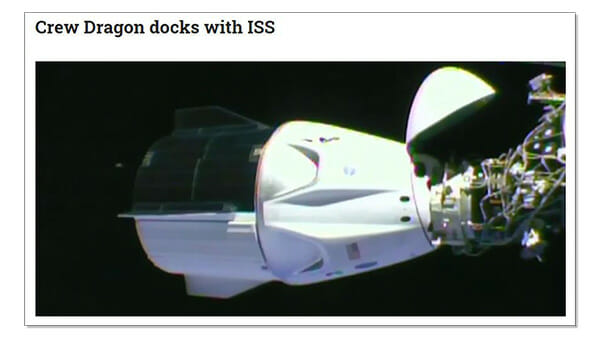 But Elon's private investors enjoyed massive growth as the company went from a tiny $18.8 million company in 2002 to one that today is valued at over $100 billion.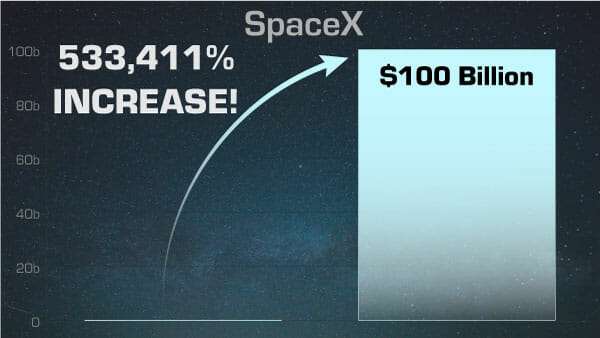 That's a 533,411% increase.
And while I'm sure you know the deal with Tesla after its huge run-up in 2020…
You probably don't know that virtually no one thought electric vehicles could compete with gas-powered cars…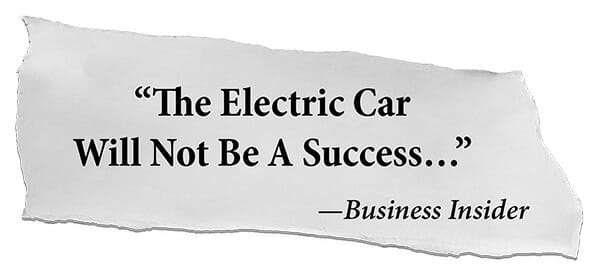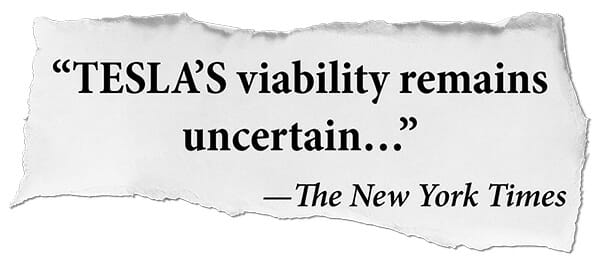 You may have also missed this stunning fact…
If you'd invested when Tesla IPO'd in 2010, you could have made 31,725%…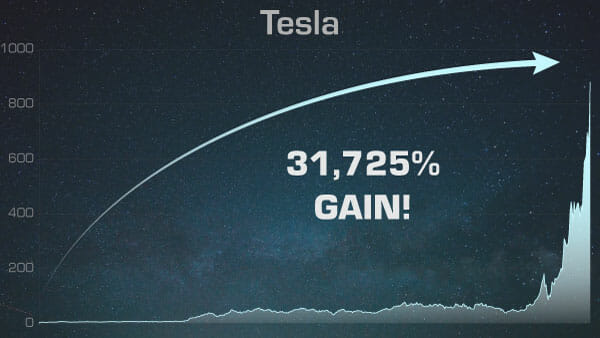 Enough to turn every $500 into $159,125…
Every $2,500 into $795,625…
And every $5,000 into $1,591,250.
Incredible right?
Imagine the impact that making over a million from a single investment could have on your life.
You could finally splurge on that new gourmet kitchen your wife always wanted…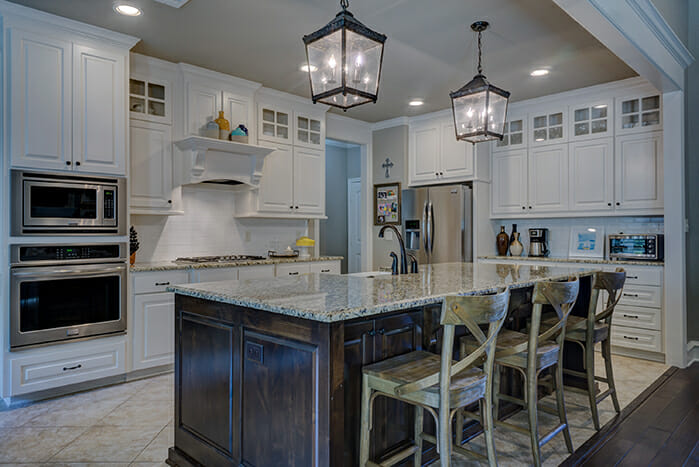 Buy a luxurious beach house on North Carolina's Outer Banks…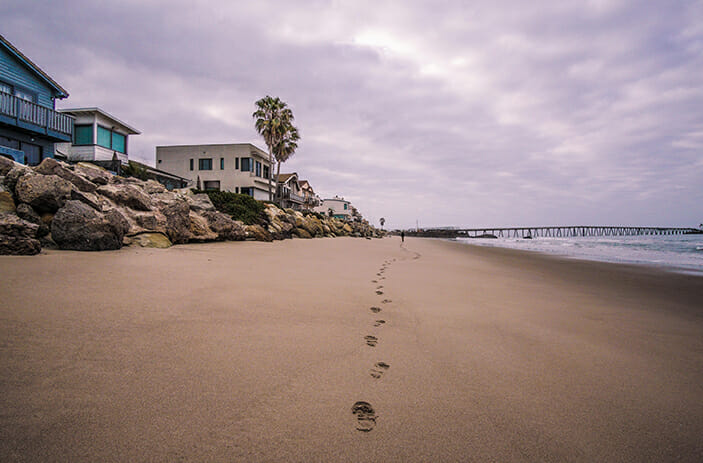 And finally be able to fulfill your teenage dream of owning a brand new, custom-red Corvette Stingray.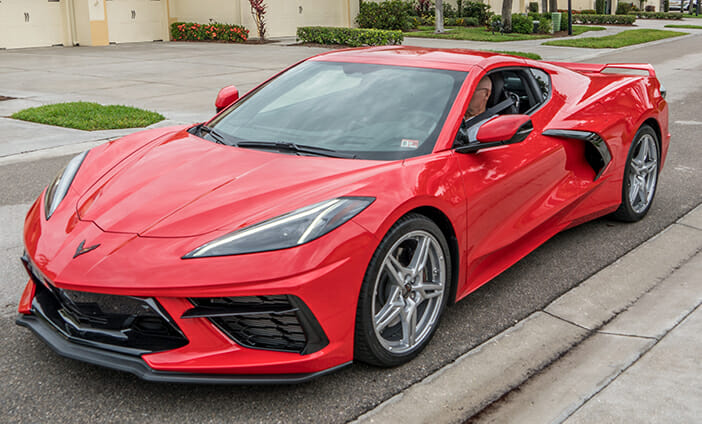 Well, what if I told you…
You don't have to imagine.
Because Elon said he expects his breakthrough new "Space-Net" to generate up to a mind-boggling $50 billion in revenue each year…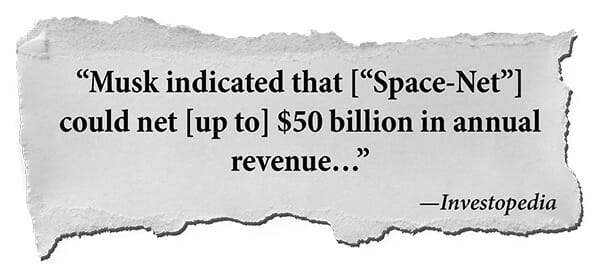 More than PayPal, SpaceX, and even Tesla!
Which means we're likely seeing the exact same scenario play out with Elon again…
One where critics set themselves up to be proven wrong by this "billionaire visionary with the golden touch."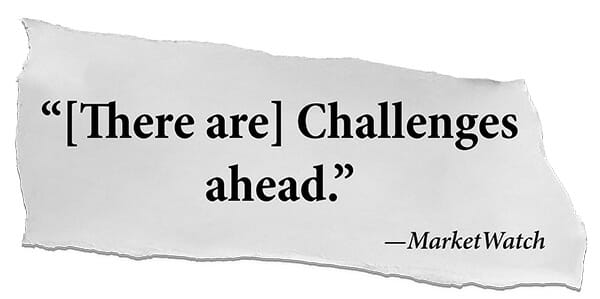 Will you be among the investors
Elon makes rich this time around?
Then you need to pay CLOSE attention.
Because Elon's new "Space-Net" is NOT a company you can buy into on the stock market…
In fact, he has no plans for an IPO until at least a few years from now.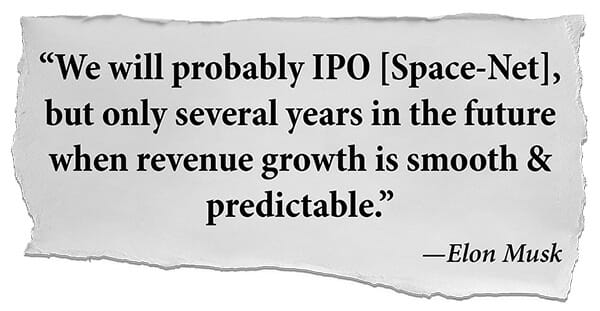 But while everyone is waiting in the wings for that to happen…
I've uncovered a secret backdoor investment that lets you get in on the ground floor of his "Space-Net" project NOW…
WITHOUT waiting for it to go public.
It all has to do with Elon's "secret partner," a company he's paying a king's ransom to make the rollout of his "Space-Net" a reality.
And by taking advantage of this investment — early investors could see gains as high as 886%.
If profits of that magnitude interest you in the least, then stay tuned.
Because in the next few moments you'll discover:
Everything you need to know about Elon's new "Space-Net"…
The simple reason why no other company will be able to compete with it…
And most importantly, how you can stake your claim in the "secret partner" which could help you make nearly 10x your money.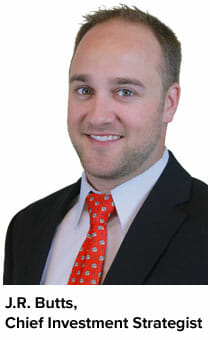 But I'm getting a bit ahead of myself.
My name is J.R. Butts…
And for nearly a decade, I worked as a financial advisor for some of the largest fund managers in America.
I chose that career because I LOVED the idea of using my skills in finance to help people make money.
But it soon became clear to me that there was a HUGE problem:
The outlandish fees I was required to charge by my employers.
This meant the only people who could afford my services were those who were already rich…
And making rich people even richer wasn't my goal.
I wanted to help people who actually NEEDED the money…
And so I turned my back on Wall Street…
And began a new career as the Chief Investment Strategist at StreetAuthority — one of the world's most trusted financial research firms, relied on by over 100,000 readers.
And it was a GREAT thing I did…
Because over the past few years, I've had the pleasure of helping more hardworking Americans that I ever thought possible unlock MASSIVE gains from the market.
Like this 102% gain on specialty chemicals company Albemarle: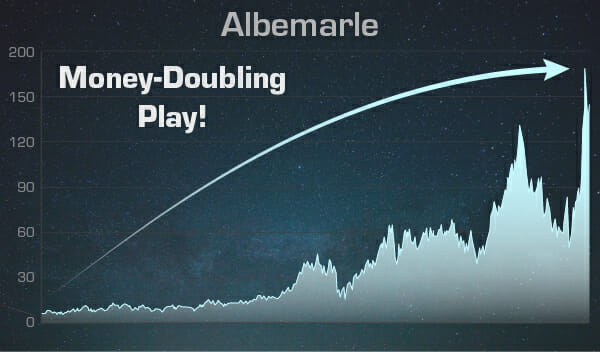 Giving them the opportunity to more than double their money.
This 113% return on San Francisco based cloud software company, Okta: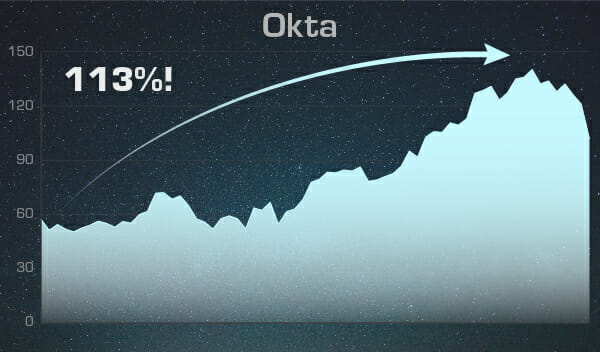 Was good enough to turn every $2,500 invested into $5,325.
And this giant 164% winner on Plano-based biotech company Reata Pharmaceuticals: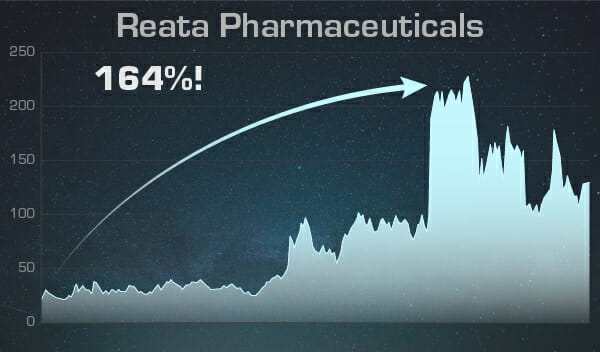 Transformed every $5,000 into $13,200 in less than three months!
Now look…
Not every trade I recommend turns out this well…
(And it's true what they say… all investments carry risk, and you should never invest more than you can afford to lose.)
Instead, I'm sharing these winners with you to show it is possible for regular investors to win… and win big!
More importantly…
They're NOTHING compared to the gains we could grab from the backdoor investment into Elon's "Space-Net!"
I'm not just saying this because his past companies have an unparalleled track record of making investors rich…

Or even because he's gone on record to say his "Space-Net" could be his most lucrative project yet.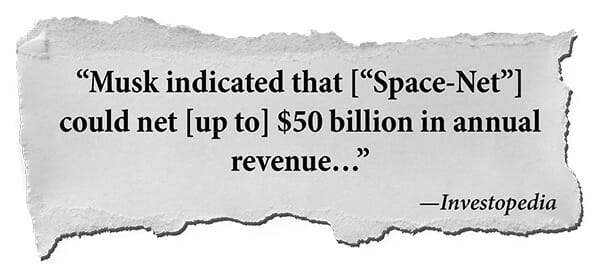 But as history has shown us time and time again…
Whenever a new technology revolutionizes the internet — like I believe Elon's "Space-Net" will…
Fortunes are minted by the minute.
Most people don't know this — but what we call the internet today started as a U.S. Defense Department project back in the '60s at the height of the Cold War.
It was called ARPANET, and it was designed to allow armed forces to quickly and effectively communicate with each other using computers.
Aside from the military, and a handful of contractors and universities, very few people were "online" at the time.
But that all changed in the early '90s, when companies like AOL began offering dial-up internet access.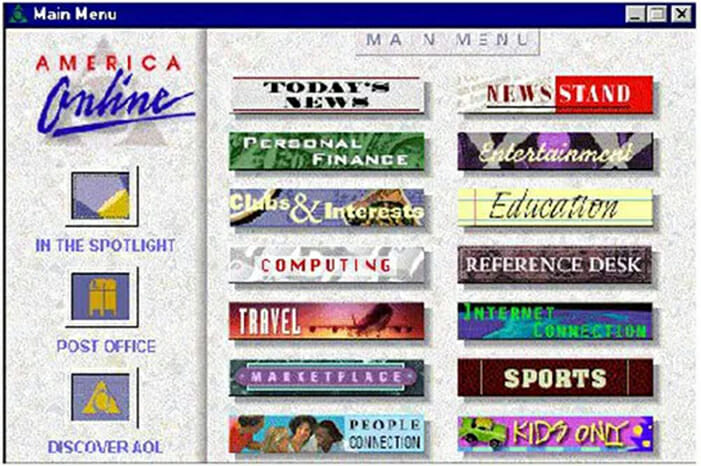 For the first time in history, this innovation brought the internet home to millions of Americans.
And while it was excruciatingly slow compared to today's internet speeds…
And you couldn't use your phone when it was switched on…
That didn't stop AOL's stock from exploding 5,622%: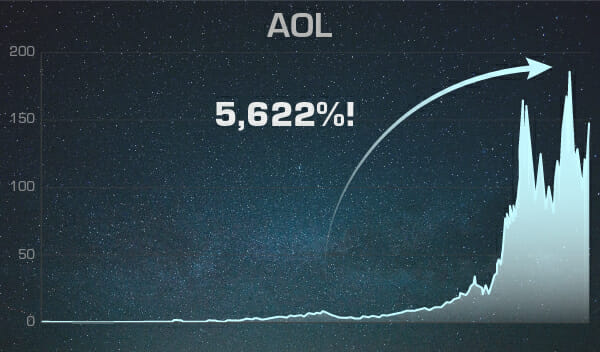 Enough to turn every $2,500 into $143,050.
Incredible right?
And from there, it didn't take long for DSL — the first form of broadband internet — to burst onto the scene.
DSL was up to 30 times faster than dial-up…
And it allowed people to make phone calls and use the internet at the same time.
So it's no surprise early providers like Earthlink saw their stock soar 10,145%: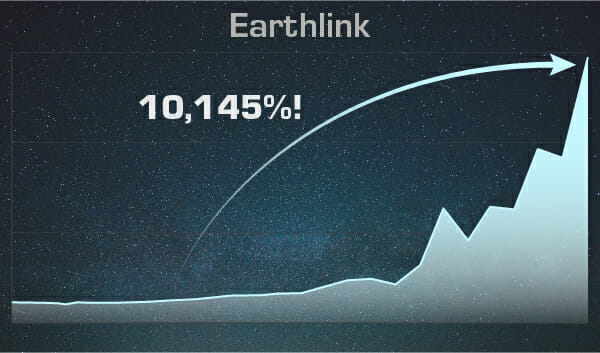 Transforming every $2,500 into $256,125.
And when cable stepped in to replace DSL…
Companies like semiconductor manufacturer Intel rocketed 6,934% as their chips powered the computers people used to access this faster internet: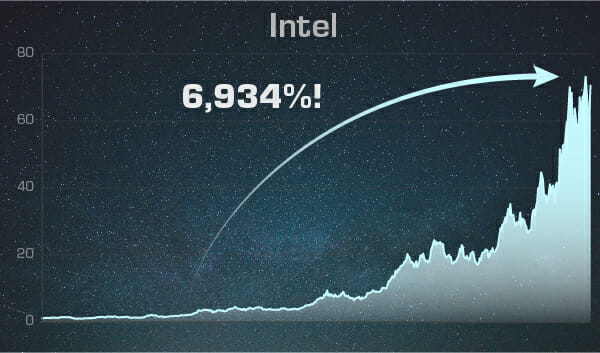 That's enough to turn every $2,500 into $175,850…
Every $5,000 into $351,700…
And every $10,000 into more than $700,000 dollars.
That's what happens when revolutionary technologies change the way we live.
If you missed out on any of these investments…
Don't worry.
Because the internet's BIGGEST revolution is yet to come.
And while most investors will have to wait years before they can claim their stake in "Space-Net"…
You're about to discover the "ODD" backdoor investment to get into Elon's next passion project TODAY…
For a shot at close to 10x your money (or more!)
Before I give you the details on this tiny company…
Let me give you the full rundown on Elon's new "Space-Net."
Its official name is "Starlink."
I'm sure you've heard about it on the news, or from your friends.
It's actually owned by Elon's private aerospace company — SpaceX — which I told you about earlier.
That's why we can't invest in it directly.
Starlink's goal is simple:
To beam superfast internet across the world from space.
Sounds crazy right?
But Starlink is ALREADY online in parts of America: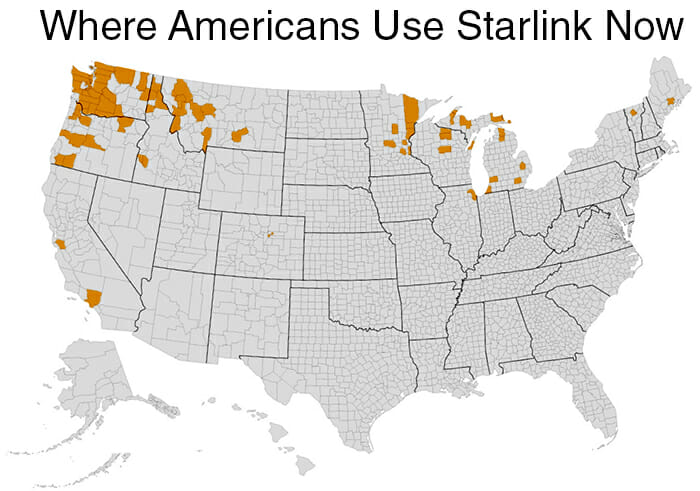 And even in parts of Canada and the U.K!
I'll be the first to admit this coverage map might not look too convincing — yet…
But that's honestly another reason I believe this opportunity has so much profit potential behind it (more on that in just a second).
In October 2020, Starlink began its first public beta test.
And just four months later, SpaceX revealed in an FCC filing that it already had 10,000 users.

For many of them, Starlink has been nothing short of life changing.
Take Brian R. for instance.
He's a mental health counselor who lives on a 160-acre farm in rural Michigan.
He's been struggling with sluggish internet speeds for years, making it a NIGHTMARE for him to hold meetings with clients over Zoom.
But thanks to Starlink, he's now enjoying speeds he never could have imagined before.
He said in an interview with Bloomberg:

Ross Y. is another lucky Starlink user.
He works as an engineer for a tech company in San Jose.
But because he works remotely from his home in Oregon, fast and reliable internet is a MUST.
Here's what he said after receiving his Starlink kit:

And Starlink is even changing the lives of entire communities…
Like the Hoh Tribe in Washington state, whose remote reservation spans nearly a thousand acres and has 23 homes.
Their internet was so appallingly slow, their kids struggled to access online classes, and downloading homework would take an entire day!
But that all changed when they were granted Starlink access.
They said…

And now that Starlink is online and out of its beta-testing phase…
I believe we're in the perfect position to profit.
Which means not only do you have the incredible opportunity to nearly 10x your money with our backdoor investment as Starlink rolls out across the globe…
You could:
Forever say "goodbye" to outrageously expensive internet bills…
Never waste another second on the phone with terrible customer service when your connection drops…
And begin enjoying a revolutionary new internet that's up to 200 times faster than what you're probably getting now.
And no, 200x faster is NOT a "wishful thinking" number that Starlink's marketing team came up with.
Many users are already seeing speeds that blow the best cable internet providers out of the water…
And it's getting faster every day.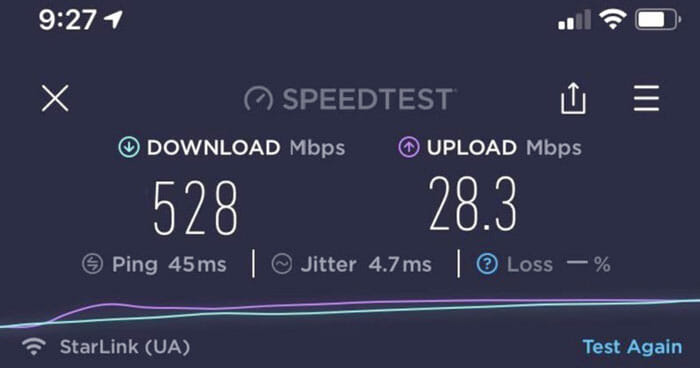 This is only possible thanks to a revolutionary new technology orbiting Earth as we speak.
Do you remember the strange lights I showed you earlier?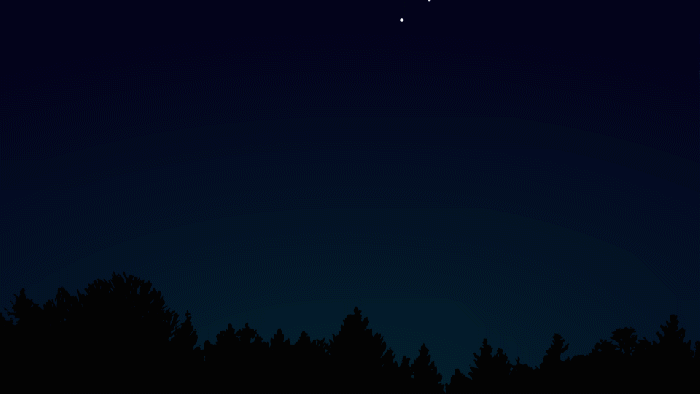 Take another look.
If you haven't figured it out by now…
Those strange flickering lights are actually SATELLITES.
But they're not just ANY kind of satellites…
They're Starlink's breakthrough new "LEO satellites."
LEO stands for "Low Earth Orbit" …
And what this means is simple:
Instead of orbiting Earth from 22,000 miles away like the satellites most people are familiar with…
Starlink's LEO satellites orbit Earth from only 340 miles above.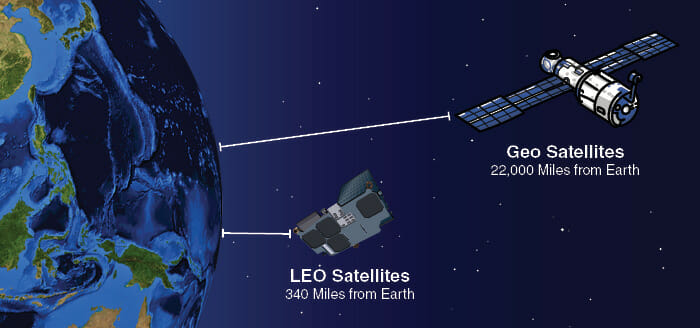 That's why it's possible to see them at night with the naked eye.
It's also one of the reasons Starlink internet is so fast — because the signal only needs to travel 1/64th of the distance to get to you.
Seems simple enough right?
But it works.
So much so, that SpaceX has already launched over 1,800 of these satellites into orbit.
That's right…
Starlink has a staggering 1,800 satellites orbiting the Earth.
This makes it the world's LARGEST commercial satellite constellation.

And that number is growing at a blistering pace — with no signs of slowing down.
Because SpaceX is launching as many as 60 Starlink satellites each week in order to hit their goal of having 42,000 in orbit over the next decade.

That's incredible, isn't it?
And here's what else I find incredible:
Without Starlink's "secret partner"…
Not a SINGLE one of these satellites would work.
That's because it's THIS company's technology that makes it possible for you to receive a connection from them back on Earth.
In other words, without this company…
Elon's satellites would be nothing more than space debris!
And that's what makes it the PERFECT backdoor investment:
I believe this firm is the linchpin behind Starlink's entire operation!
I'll tell you more about this company in just a moment…
As well as how investing in it today could make you 886% richer in the coming months.
But before I get to that…
Let me show you — in simple terms —
exactly how Starlink works.
First, SpaceX technicians and engineers build the satellites in their 40,000-square-foot Redmond, Washington development facility.

Then, 60 of these satellites at a time are loaded into one of SpaceX's Falcon 9 rockets and launched.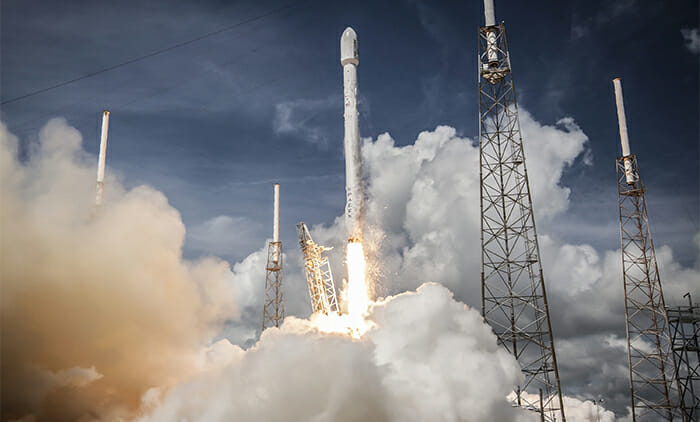 Once in space, the satellites are deployed…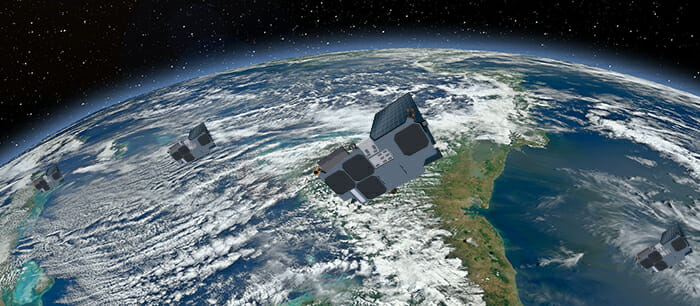 And then they position themselves into their final orbits, ready to blanket Earth with high-speed internet from space.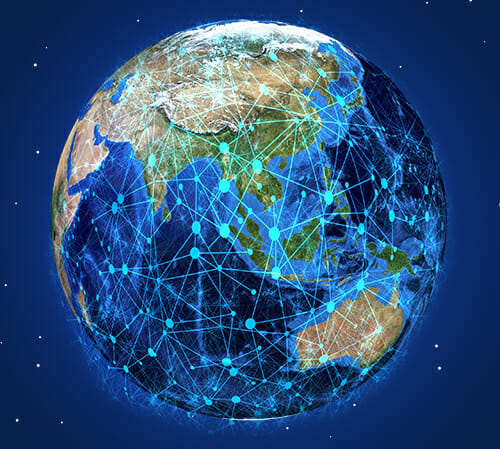 Now, I know that all sounds like a huge undertaking…
And it IS…
But make no mistake:
Setting up and using Starlink for yourself, couldn't be easier.
All you need to connect is a subscription…
And a Starlink terminal, which they'll send straight to your door.

Elon calls them "UFOs on sticks," and they're literally "plug and play."
All you need to do is:
#1: Plug it into a standard household electrical outlet…
And…
#2: Point it at the sky.
No five hour install window…
And no technician ripping into your walls or running wires.
The terminal will automatically sync up with Starlink's LEO satellite network…
And from there you just connect wirelessly to your computer, tablet, or phone like you do from any "regular" internet carrier.
That's it!
You can now enjoy lightning-fast internet, beamed to you, no matter where you live…
And at only a fraction of the cost charged by many internet service providers.
It's easy to see why I believe Starlink will take a MASSIVE bite out of the $2.5 trillion telecom industry.
BUT there's a catch…
Without this "secret partner,"
Starlink will never even get off the ground.
If you've looked at your internet bill recently…
You probably felt disgusted.
Because, not only is your internet probably shockingly slow (U.S. speeds are way behind other developed countries like Luxembourg, Japan, and Iceland)…

It's also the most expensive!

To show you just how worse off we are compared to other countries, consider this…
According to a recent study, people across the world pay an average of $18,585 for internet over the course of their lives.
But here, we pay nearly twice that — $32,400!
I'm not sure about you, but that makes my blood boil.
So why is our internet so slow and expensive?
It comes down to infrastructure.
See, the way our internet works today is mostly through fiber-optic cables that run through the ground.
As you can imagine, digging up the earth and installing these cables is not cheap.
In fact, the U.S. Department of Transportation puts the cost at $27,000 per mile on average.
These costs can easily add up to tens of billions of dollars, which is why America's largest internet providers including AT&T, Verizon, and CenturyLink have given up on upgrading their existing networks.

You can see in this picture just how much of America is left without fiber-optic cables: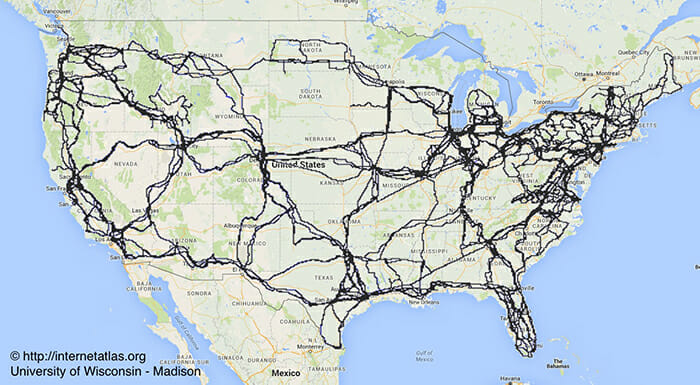 Shocking right?
And despite refusing to upgrade their networks, these companies seemingly charge whatever they want, simply because there are no cheaper alternatives — and in some cases, no alternatives AT ALL.
That's why Starlink is their worst nightmare.
With its revolutionary LEO satellites, Starlink can bypass the billions of dollars in costs associated with laying expensive cables underground…
And instead beam faster, cheaper internet from above.
For the 57 million people living in rural America, switching to Starlink will be a no-brainer.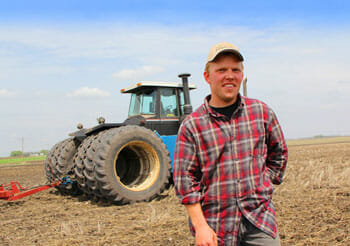 Consider the case of Norman S.
He owns a farm in Ceresco, Nebraska.
When he requested fiber internet from his local provider, he was told he'd have to pay a ridiculous $383,500.
And the absolute cheapest deal he could find was for $42,000.
Talk about a rip-off!
But now that Starlink is online and out of beta-testing…
Tens of millions of rural Americans not only have access to blazing fast internet…
But blazing fast AFFORDABLE internet.
Which, while life-changing for them…
Is an absolute game-changer for Starlink…
And has the potential to hand investors who make the right move today an 886% profit windfall.
Think of it like this…
At $99 per month, if ONLY 10% of those 57 million people bought access to Elon's new internet option…
That's an instant $6.7 BILLION A YEAR in revenue for Starlink.
And that doesn't even include current broadband users that simply want something better than what their massively overpriced service delivers.
The bottom line is this…
As scores of Americans ditch their internet providers and switch to Starlink…
An entire $2.5 trillion industry is about to be disrupted.
And thanks to our little-known backdoor investment — which is the KEY to Starlink's success…
You have the rare opportunity to make nearly 10x your money!
And this could be the easiest money you ever make.
Because as I mentioned earlier…
No other company will be able to compete
with Starlink.
Why?
In short, it's because of their enormous first mover advantage.
SpaceX launched Starlink's first batch of 60 satellites in May 2019.
Fast-forward just a couple years later, and they've already successfully launched over 1,800 more.
That means any potential competition Starlink may face is already YEARS behind them.
Just imagine how much market share Starlink will capture by the time their closest competitors catch up (if they ever do…)
Especially when you consider they are already delivering reliable, ultra-fast internet to their first customers… and receiving RAVE reviews.
"I hooked up Starlink and have amazing download and upload speed in the middle of nowhere. Sure does beat the 3Mbps I was getting prior. You guys ROCK"
—Christie A., Packwood, Washington
"Fantastic system… Finally able to use the Internet like a regular person. [They] won't update 50 yr old copper lines in my state. This is a life saver."
—Jody M., Merrill, Wisconsin
"[Starlink] is blazing fast and we have been daydreaming of this for a long, long time now! Good work y'all. Thanks a bunch!"
—Chris N., Richland, Washington
And it's not just individual customers Starlink is serving…
They recently inked a deal with the U.S. Army, who want to use Starlink to connect soldiers in the field…
And the U.S. Government just awarded SpaceX $886 million in funding to bring high-speed internet to rural America.

I hope it's clear just how far ahead of the game Starlink is…
Unfortunately…
They still have that one PESKY little problem…
Investing in Starlink right now is completely off the table.
But that doesn't matter.
Because I've uncovered a backdoor investment that gets you in on the ground floor — TODAY…
And could reward you with an 886% return on your money (or more!)
The best part?
You DON'T have to be rich to take advantage of it. (In fact, you can buy shares in this backdoor investment for around $40 — less than it costs a family of four to eat out at Chili's.)
Let me tell you more about the incredible investment I believe will change your financial future forever.
As you've just seen, there are two main components that make Starlink work.
The first are the satellites…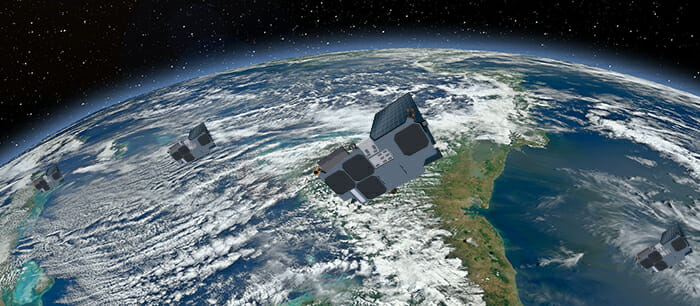 And the second are the user terminals, or as Elon calls them "UFOs on sticks."

They are what allow you to actually receive the signal from the satellites.
And let me tell you:
These terminals are incredible.
A satellite-communications expert recently told Business Insider that they are "one of the most sophisticated pieces of electronics" he's ever seen offered to consumers.
And Elon has reported that making the key component of these terminals — at scale — is Starlink's "most difficult technical challenge."
And this is where our backdoor investment comes in.
Usually, Musk likes his companies to produce their own supplies in a process called "vertically integrated manufacturing."
But in a rare move, he and SpaceX have partnered with an external company to make these terminals…
One that I'm sure 99 out of every 100 investors have NEVER heard of.
Elon has been VERY secretive about this partnership.
As far as I know, he's never mentioned this company even once publicly…
Which is why I call this company "Starlink's Secret Partner."
I know about it because the details of the partnership were recently leaked in a report by an industry insider (who wishes to remain anonymous for fear of retaliation).
At first, I was skeptical.
But then I saw the proof.
It was a video taken by an engineer and early Starlink beta-tester by the name of Ken K.
As an engineer, he wanted to see what kind of technologies were inside.
And so he did a "teardown" of the terminal, and what he found was truly exciting.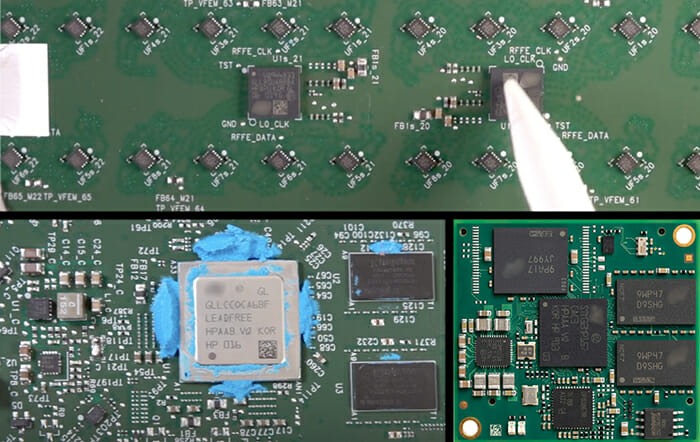 Because the parts inside — including the processor, GPS receiver, and radio frequency components — were branded with the name of the tiny company behind our backdoor investment…
So that begs the question…
Why did SpaceX decide to partner with this company, instead of making the terminals themselves?
According to my research, it's likely because of the level of sophistication required to make the terminal's key component — the phased array antenna.
This technology is what makes it possible for the terminals to track and communicate with the satellites.
Without it, the two wouldn't be able to connect with each other…
And Elon's dreams of blanketing the earth in high-speed internet would be dead in the water.
But this company has been in business for over 33 years and are leaders in developing advanced electronics.
Is it any wonder SpaceX would outsource this crucial job to them?
According to the report, SpaceX has already signed an agreement with this company for the production of one million terminals.
Think about that for a moment…
One million terminals…
At a price tag of $2,400 each…
That's a $2.4 billion revenue explosion for this company!
And that's just the start.
SpaceX is set to ink another deal with this company.
But not for one million terminals.
And not for two or even three million terminals.
The next agreement could be for FOUR million terminals.
That's how many additional terminals SpaceX has applied for with the FCC.

At a price of $2,400 per terminal, that's an extra $9.6 billion for this company — which is nearly how much they made in 2021…
From their ENTIRE operation!
And that's STILL just the start.
Remember when I said earlier that Elon expects Starlink to bring in $50 billion a year in annual revenue?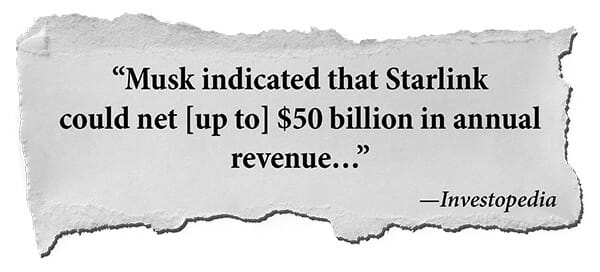 That gives us an indication of how many terminals he expects to order from this company.
And at Starlink's current monthly subscription cost, that means an estimated 42 million terminals.
At $2,400 per terminal, that would mean $100.8 billion flowing into Elon's "secret partner"…
And considering the fact this company's total revenue for 2020 was just over $10 billion…
That could mean an 886% gain for investors who get in now…
Enough to turn a tiny $2,500 investment into $24,650…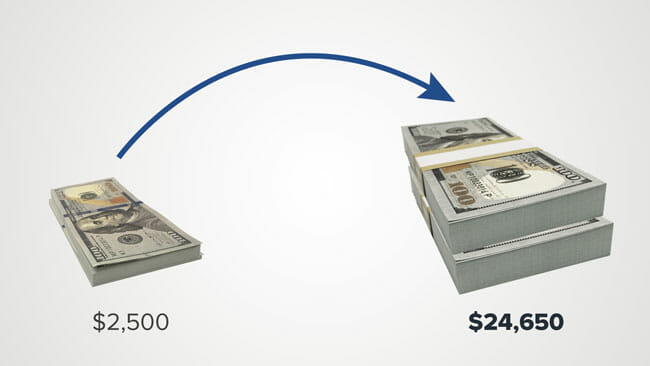 $5,000 into $49,300…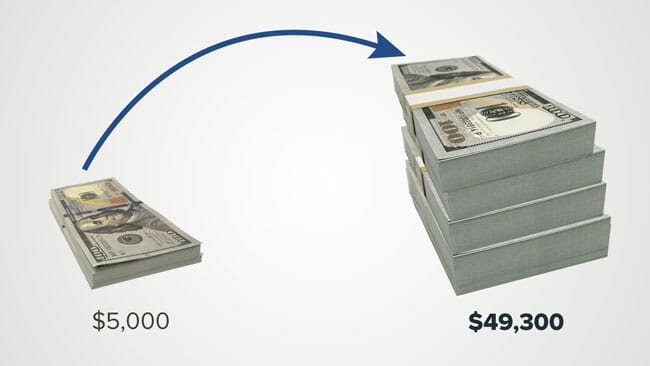 And every $10,000 into nearly a HUNDRED thousand dollars.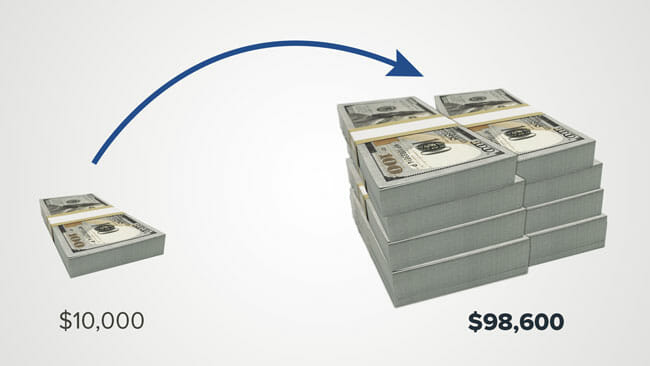 Now before I go any further…
I want to state the obvious.
There's no guarantee you'll make money if you invest in this tiny company.
It's true, what they say… all investments carry risk.
But the simple truth is, I wouldn't be sharing its details with you if I wasn't 100% convinced it has the potential to deliver a massive windfall to early investors.
Which is also why it's important you take action TODAY.
Wall Street and the nightly news have been quiet about this opportunity.
They're too preoccupied digging up negative stories to do all the digging I have.
But once word gets out about Elon's next volley of satellites, the dam could break. And when it does, your window to get in on the ground floor and ride this wave to a potential 886% profit windfall could get ripped out from under you.
That's why it's important we act FAST.
And while investors and analysts drool over the idea of investing in Elon's next great invention…
You'll already have your claim staked…
Lightyears ahead of everyone else.
I've put everything you need to know about this company inside a special report called:
How to Profit up to 886%
From "Starlink's Secret Partner"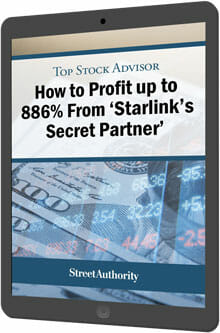 Inside, you'll discover:
This tiny company's name and ticker symbol…
How its recent performance in the stock market has ALREADY started making investors rich…
And most importantly, the easy-to-follow, step-by-step instructions for claiming your stake TODAY.
This report will put you years ahead of the crowd of investors patiently waiting for Starlink to IPO…
And will show you how to potentially turn every $2,500 into $20,300… starting as early as today.
This is one of the biggest investment opportunities I've ever seen…
And the ONLY way I know of to get in on the ground floor of Starlink right now.
Which is why I want to send you this report today FREE OF CHARGE.
I've got the email queued up and ready to send…
All I ask is that you accept a risk-free invitation to join me in my investment newsletter:
Top Stock Advisor
Each issue of Top Stock Advisor is driven by one very specific goal:
To bring you the market's BIGGEST winners… BEFORE they skyrocket.
But I want to make one thing very clear… I don't just focus on tech stocks, like the backdoor investment into Starlink I shared with you today…
I research ALL sectors of the market and bring you the cream of the crop — stocks with the potential to fund your retirement with a single investment.
That's why I spend my days:
Scouring through financial statements…
Poring over new patent filings…
And researching the inner workings of some of the most promising operations on Earth.
In short, I dig up all the "dirt" on these companies to uncover the diamonds in the rough…
The stocks with the highest potential to hand you massive profits…
Meaning you don't have to spend hours glued to your screen, scanning the markets, and HOPING you made the right move.
Take a look at just a few of the winners you could have gotten in on had you been a member of Top Stock Advisor in recent years:
299% on PayPal…
165% on Reata Pharmaceuticals…
158% on Intel…
75% on Thor Industries…
106% on Tencent Holdings…
71% on Packaging Corp of America…
46% on PVH…
77% on Andeavor…
48% on Corning…
61% on Alibaba…
46% on McDonalds…
48% on Algonquin Power & Utilities Corp…
51% on Guidewire Software…
42% on Rocket Companies…
55% on Royal Gold…
90% on Arrowhead Pharmaceuticals…
102% on Albemarle Corporation.
If you'd invested just $1,000 into each of these trades when they were recommended, you could be $32,310 richer today!
Of course, not every trade I put out is a winner…
As I mentioned before, all investing carries risk.
But I'm ecstatic with the results I've delivered readers of Top Stock Advisor so far…
And I'm proud of the inspiring messages I constantly receive from my readers about their results.
Like this one from Matt U. in Missouri:

Jane P., who lives in Oregon wrote:

And I received this message from Bob C. in Memphis, Tennessee:

Imagine seeing $500,000 in your brokerage account!
These are exceptional examples, of course…
And I can't promise you'll see the same results following my work…
But I do hope these messages show you how Top Stock Advisor is helping to change the lives of everyday Americans…
And how it could change YOUR life, starting today.
Join me today, and you'll immediately receive your FREE copy of: How to Profit up to 886% From "Starlink's Secret Partner" (Value: $99)…
But that's not all you'll get.
The moment you take me up on your risk-free trial of Top Stock Advisor, you'll also gain instant access to: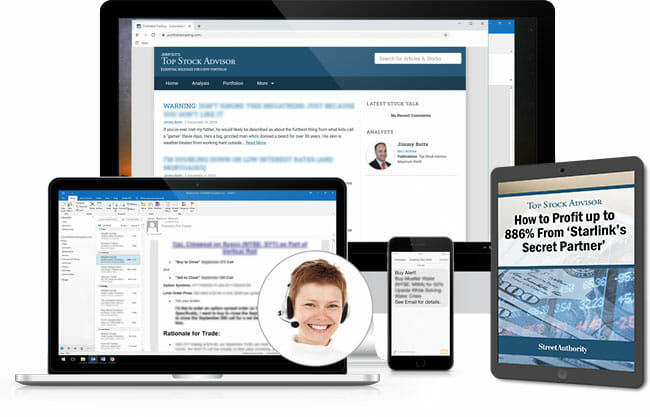 You're looking at…
12 issues of my Top Stock Advisor investment newsletter. Every month, I'll send you a brand-new investment opportunity that has the potential to multiply your money many times over. My goal is to bring you the market's BIGGEST winners… BEFORE they skyrocket. (Value: $199)
Intra-day FLASH alerts. The markets never take a break… and neither do I. Whenever I discover an urgent opportunity that requires immediate action, I'll send you a special alert so you can jump on it right away.
24/7 access to our members-only website. This is where you'll easily find all past newsletter issues, special reports, FLASH alert histories, and our model portfolio.
VIP concierge service. As a new member, you'll have full access to my VIP concierge team, which you can reach by phone or email between 9 a.m. and 5 p.m. EST, Monday through Friday.
That's a total value of $298!
But with the special offer I have ready for you today, you won't pay anywhere near that.
Here's what I propose.
Because of the incredible opportunity in front of us, with this backdoor investment into Starlink…
And because I'd like you to experience for yourself just how life-changing the opportunities I bring to the table at Top Stock Advisor can be…
I want to make it as easy as possible for you to try my research.
That's why I've worked with my publisher to drastically lower the cost.
When you say "yes" right now…
You won't pay the full value of $298…
Or even the $199 we normally ask for a year's worth of my recommendations.
For today only…
The first 99 investors who join will get an entire year of Top Stock Advisor for only $39!
That's a massive 80% discount!
Why only 99 people?
Frankly, that's the maximum number of spots I could convince my publisher to open at such a deep discount… (and it took a lot of arm twisting to get that many!)
And considering that you're about to lock in access to a full 12 months of Top Stock Advisor for just $0.11 a day — FAR less than it costs to buy even a single pack of gum…
And the opportunity I've just shown you with "Starlink's Secret Partner" alone, has the potential to hand you an 886% profit windfall…
I don't expect them to last much longer.
The good news is, if you're reading this page right now, it means there is a spot still available for you…
But that could change any moment — be sure to claim your spot NOW or you'll risk getting locked out for good.
I understand if you're on the fence about joining me inside Top Stock Advisor.
Afterall, making any new decision about where to put your money can be nerve-wracking…
So allow me to put your mind at ease.
I am so confident in this opportunity with "Starlink's Secret Partner" …
Along with the moneymaking power you'll get inside Top Stock Advisor…
That I'm going to put my money where my mouth is.
When you claim your spot today…
You will also be protected by my
"double-barreled" 100% money-back guarantee.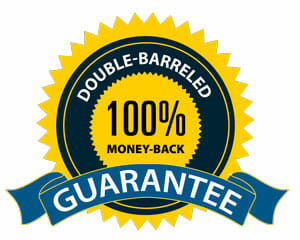 That's right, as a new member of Top Stock Advisor, you'll be protected by TWO guarantees.
Here's how it works.
First, you'll get a full 90 days to give Top Stock Advisor a test drive.
That will give you the opportunity to…
Position yourself for a shot at up to 886% profits from "Starlink's Secret Partner"...
Take advantage of the recommendations you receive in your Top Stock Advisor issues and intra-day FLASH alerts…
Get in on all the amazing opportunities already listed inside my model portfolio.
If for some reason, after experiencing all these benefits, you're not satisfied…
Simply let me know within 90 days and I'll refund 100% of your subscription cost.
No loopholes to navigate.
And no hoops to jump through.
I'm not stopping there though…
I'm 100% committed to your satisfaction, even after the first 90 days have passed…
Which is why even after your 90-day trial period is up, if you decide you're not happy with what you're getting from me at Top Stock Advisor…
Simply let me know.
And I'll issue you a refund for any unused months remaining on your membership term.
Plus — as thanks for giving Top Stock Advisor a try, your special report and all of the issues you received up until that point are yours to keep.
See… simple and straightforward.
Just like I promised.
With this incredible offer, you've got NOTHING to lose…
And absolutely EVERYTHING to gain.
Still on the fence? Let me sweeten the pot a little more for you…
When you claim one of the 99 spots available today…
I'll also include three BONUS wealth-building gifts.
Each one contains a new investment opportunity that could set you up for huge profits.
The first is called…
Retire Rich on the "Tesla of Space"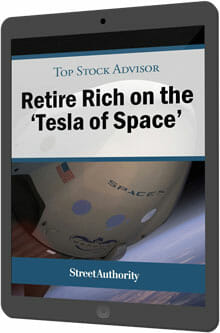 Starlink isn't the only amazing business poised to succeed in the "final frontier."
In this special report, you'll find another company set to make investors huge returns.
Media outlets are calling it the "Tesla of Space"…

Because just as Tesla kick-started investor interest in electric vehicles a little over a decade ago…
The "Tesla of Space" has got the world's richest investors piling their money into space stocks.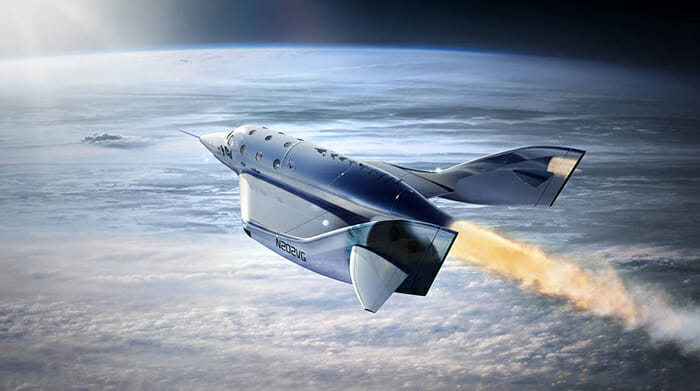 This is the vehicle it's developed that will soon take regular people into orbit!
The prospect of being an astronaut for the day has got thousands of people excited…
Which is why this company has already pre-sold as much as $150 million worth of tickets.
This spells a huge opportunity for investors…
And Wall Street agrees — its biggest players are buying up shares hand over fist.
Blackrock — the world's largest asset manager — has bought five million shares, worth $186 million.
Goldman Sachs and Morgan Stanley have handed this company $60 million each…
And Vanguard has poured in $412 million.
But here's the GREAT news:
Shares are only trading for around $30, which means you still have the chance to get in on the ground floor.
At least for now.
As the buzz continues to build around this company…
I expect share prices to follow suit.
Bottom line: the sooner you get this company's details and get in on the action…
The better.
And we're just getting started…
Because your second special bonus is called:
The One Ticker to Profit From the
ENTIRE Space Industry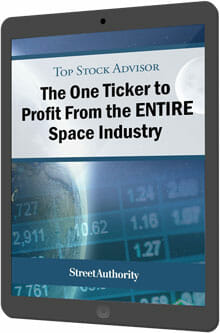 As Goldman Sachs reports, space is:

And Bank of America projects TRILLIONS of dollars will flow into the space industry in the coming years.
That's why in your second free bonus report, I'm going to show you how to tap into this enormous pool of money…
With just ONE ticker.
This stock is already receiving huge media attention from media outlets like CNBC…
So we need to strike while the iron is hot on this one.
Which is why I recommend that you get in now.
I'll give you everything you need to take action on this opportunity, the moment you accept your risk free trial of Top Stock Advisor.
But, the money making opportunities don't stop there!
I'd also like to give you a third bonus report:
How the Explosion of Smart Devices Can Flood Your Account With Cash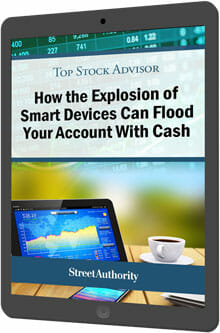 We're at the dawn of what Business Insider is calling...

And it's poised to mint a whole new generation of millionaires.
You see, it used to be just your smartphone and computer that were connected to the internet...
But today, consumers are spending billions of dollars on a new wave of smart devices like smart fitness trackers, thermostats, and home speakers.

That means there's billions of dollars up for grabs for investors like us...
And this opportunity is about to get even bigger as Starlink rolls out and makes it easier for billions more devices to connect to the internet.
In this report, you're going to get the three stocks I believe are in the best position to skyrocket from this looming megatrend.
So, to recap…
Here's everything you get when you claim your spot in Top Stock Advisor today!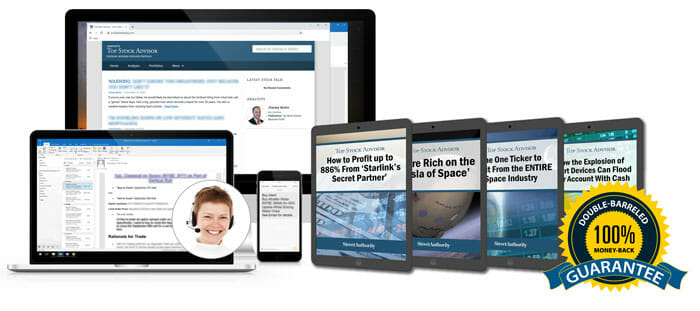 A full year Top Stock Advisor at an 80% discount. Includes 12 issues, intra-day FLASH alerts, 24/7 access to our members-only website and access to our VIP concierge service. (Value: $199)
Your FREE report for getting in on the ground floor of Starlink: How to Profit up to 886% From "Starlink's Secret Partner" (Value: $99)
Your three special bonus reports:

Retire Rich From the "Tesla of Space" (Value: $59)
The One Ticker to Profit From the ENTIRE Space Industry (Value: $59)
How the Explosion of Smart Devices Can Flood Your Account With Cash (Value: $59)

Plus, you'll be fully protected by my "double-barreled" 100% money-back guarantee!
That's a total value of $475…
But if you're one of the first 99 people who respond today, this entire new member bundle is yours for just $39!
Now, the way I see it, you've got a decision to make.
As you've seen today, Starlink is ALREADY rolling out across the world as we speak…
And as it does, it's going to take a MASSIVE bite out of the $2.5 trillion telecom industry.
But, while mainstream investors sit helpless, not knowing how to get in on the action…
You're about to discover the details of an opportunity that will get you in on the ground floor... and set you up for a potential 886% profit windfall!
But if you want in, you need to act NOW…
All it takes is for one lazy Wall Street fat cat to stumble on what I've shown you today…
And your chance to make a fortune will vanish in an instant.
Don't miss out.
Claim your risk-free trial inside Top Stock Advisor and grab your free copy of How to Profit up to 886% From "Starlink's Secret Partner" by clicking the "Yes! I Want In" button below.
You'll be taken to our secure order form, where you can review everything one last time before you join.
Thanks for your time…
And I look forward to welcoming you as a new member of Top Stock Advisor in the next few minutes.

J.R. Butts
Chief Investment Strategist
Top Stock Advisor