Stock #1

gives you a piece of Warren Buffett's empire — for 99.99% less than one single share of Berkshire Hathaway!

Stock #2

is a behind-the-scenes player set to soar from the rollout of COVID-19 vaccines!

Stock #3

is the last line of defense against a sinister threat that could decimate the world's biggest corporations!

Plus

: Two special "megatrend" stocks that could double your money or more over the coming year…
Dear Reader,
The economy may still be in the toilet…
But the stock market is ON FIRE.
After the "Corona Crash" in March, the Federal Reserve turned the firehose on full-blast, plowing oodles of free money into the economy — igniting a massive stock market rally.
Now, if you feel like you've missed out on the fun (and profits), please don't worry.
Because as long as COVID-19 is with us and the economy continues to sputter, the Federal Reserve will do everything it takes…
For as long as it takes…
To keep the party going.
Because make no mistake, this rally WILL continue… even with Joe Biden as President.
And while everybody else spent much of the year on pins and needles wondering and worrying about who would win the election, I turned my focus elsewhere…
And spent the last 10 months digging through thousands of pages of financial documents… listening to earnings calls… monitoring how companies are managing the COVID crisis…
And out of the thousands of stocks I've reviewed, I've found 5 that I believe could unlock mega-gains in 2021 and beyond.
In fact, if I could put my money into only five stocks right now, these are the ones I'd choose.
I'll give you all the details on each one in just a moment, but first, allow me to introduce myself.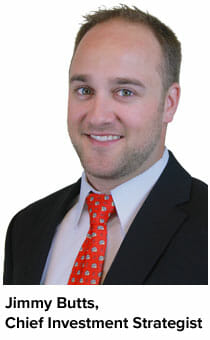 My name is Jimmy Butts. I'm the Chief Investment Strategist at StreetAuthority, one of the world's largest and most trusted financial research firms, relied on by over 100,000 readers.
And for the last few years, I've been quietly sending my personal "best of" list for the coming year to a select group of investors…
Giving them the opportunity to lock in extraordinary gains.
And I must say, I've gotten pretty darn good at it, too.
In 2018, I told my readers that Visa and Dollar General had nowhere to go but up. And they did — delivering 86% and 112% gains since I recommended them.
(And that was even through an incredibly volatile year that saw the S&P 500 drop 15% in the 4th quarter!)
In 2019, while Brexit, Middle East tensions, and a major trade war had investors on edge, I urged them to pile into NVR, Leidos Holdings, Salesforce, and Facebook…
Which have since delivered respective gains of 72%, 75%, 107%, and 117%.
And for 2020, I urged readers to pile into Smith and Wesson (formerly American Outdoor Brands), which has since gone up 127%.
They also had the chance to make 31% gains off Tencent, 50% gains from Marvell Technology and 57% off Amazon — in less than one year — right in the midst of a major pandemic!
And while these gains are certainly extraordinary…
With the massive rally ignited by Fed's "mad dash" money printing, the five stocks I'm going to show you today could easily put them all to shame.
In just a moment, I'm going to reveal how you can get their names and ticker symbols.
But first, let me tell you a little about these stocks so you can see for yourself why I'm so excited about them.
Stock #1:
Grab a piece of Warren Buffett's empire —
for 99.99% less than one share of
Berkshire Hathaway
While much has been written about how the world's #1 investor created his own fortune, most people forget that Warren Buffett has also made many other investors insanely wealthy along the way.
Consider this: Back in 1980, you could have grabbed one share of Berkshire Hathaway for $430.
Today, that one single share would now be worth well over $330,000.
That's a mind-boggling return of more than 77,500%!
Now, I have no doubt that Berkshire Hathaway will continue to be a stellar investment long after Warren Buffett is gone.
But let's be honest — most of us don't have an extra $330,000, laying around to get in on the action.
However, there is some very good news I'd like to share with you:
I've uncovered a way you can own a piece of Buffett's massive wealth-creating empire — for 99.99% less than the cost of one share of Berkshire Hathaway!
This "mirror" version of Berkshire Hathaway allows you to share directly in the company's wealth — WITHOUT having to go through fee-laden mutual funds that mimic its holdings.
Since it appeared on the scene in the late '90s, this Berkshire Hathaway "mirror" has delivered 962% gains to investors.
That's enough to turn a modest $10,000 stake into more than $962,000.
But don't feel bad if you missed out on this ride. Because as Berkshire Hathaway continues to go, so too will this "mirror" version of the company's stock.
Which means there's years and years of potential gains for you to pocket — for 99.99% less than what many other investors pay.
Stock #2:
A behind-the-scenes player set
to make a fortune with the rollout
of the COVID-19 vaccines
The rapid creation COVID-19 vaccines by Pfizer and Moderna is a stunning scientific achievement.
It's a victory for the American people… and for these company's investors.
But there's another player that stands to make investors even richer — one that these companies can't do without.
Why?
Because it's responsible for mass producing their COVID-19 vaccines!
Many people don't realize this, but these companies don't mass-produce their own vaccines — instead, they outsource production to this little-known player.
And without it, we'd quickly find ourselves in short supply of COVID-19 vaccines (along with the many drugs and medicines that we depend on them to produce).
Pfizer and Moderna aren't the only ones outsourcing production of their vaccines to this player, either.
It also going to do the same for Johnson and Johnson and AstraZeneca's forthcoming vaccines…
Yet despite all of this, I'm willing to bet that fewer than 1 in 100 investors have ever heard of this company!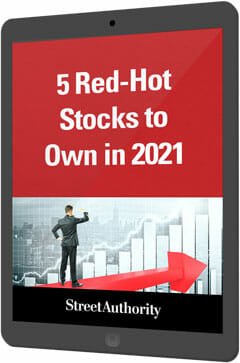 And that's a shame. Because its stock — which has already delivered gains of 327% since going public 6 years ago — stands to go ballistic as the rollout of COVID-19 vaccines accelerates.
And that's why you'll want to grab a piece of this behind-the-scenes- player fast… before it gets way out of reach.
You'll find out how in 5 Red-Hot Stocks to Own in 2021, a special report I put together with the names and ticker symbols of the 5 very best stocks to own for the New Year.
I'll show you how to get your hands on it in just a moment, but first, let me introduce you to the next stock you'll discover inside…
Stock #3:
The last line of defense
against a growing global threat
What do eBay, Home Depot, and JP Morgan Chase have in common?
Aside from being some of America's largest Fortune 500 companies, they are also victims of the biggest cyberattacks of the 21st century, losing confidential data from 277 million customer accounts to hackers.
And they're far from the only ones. The last 20 years are full of stories about huge cyberattacks that have afflicted Equifax, Yahoo!, Target, and so many others, giving hackers data from over 5 billion customer accounts.

Major breaches like these are why the annual costs from cybercrime are projected to double from $3 trillion in 2015 to $6 trillion in 2021.
It's why Cybersecurity Ventures predicts global spending on cybersecurity products and services will exceed $1 trillion cumulatively from 2017 to 2021.
And it's why one former FBI Director remarked, "There are only two types of companies: those that have been hacked and those that will be."
Because make no mistake: America is under relentless assault — not just from petty thieves looking to steal your credit card number…
But from ultra-sophisticated, state-sponsored hackers in places like China, Russia, Iran, and North Korea.
Hackers who know that the key to crippling America's economy lies in disrupting its mightiest companies.
Fortune 500 companies like eBay, JP Morgan, and Home Depot.
And they're far from the only ones.
The awful truth is, more than a quarter of Fortune 500 companies already report being hacked over the last decade.

And those are just the ones that will admit to it!
It's why more and more of them are rushing into the arms of the one enterprise that can protect them from the world's worst state-sponsored hackers.
How?
By locking down and securing the most critical, most vulnerable parts of these corporation's networks…
The keys to the kingdom… the holy grail sought by the world's worst cyberhackers in their quest to take down America by inflicting massive financial pain.
This enterprise is already such an A-player when it comes to protecting the most sensitive of data, more than half of Fortune 500 companies rely on it to protect theirs.
No wonder its share price has more than tripled since going public six years ago.
But I firmly believe this is just the beginning.
Because with major new cyber-attacks constantly in the works…
And this company's sterling reputation at protecting the digital assets of the world's biggest enterprises…
I fully expect its client list — and stock price — to grow by leaps and bounds for a very long time.
And it's why you'll want to grab your copy of 5 Red-Hot Stocks to Own in 2021, where I give you all the details on how to play it for maximum profits.
So far, you've seen:
How you can share in Warren Buffett's empire of wealth for 99.9% less than the cost of one share of Berkshire Hathaway…
How you can set yourself up for massive gains as we roll out coronavirus vaccines…
And why one enterprise has what it takes to make you rich by protecting America's Fortune 500 companies from the world's most destructive hackers.
Because of the crucial nature and value of the services they provide, I firmly believe that each of these plays has the potential to hand you mega-gains in the New Year and beyond.
But if you're truly committed to making more money faster than you ever thought possible, you'll want to play close attention to these last two opportunities.
Because they're riding the crest of two earth-shaking mega-trends that will affect the lives of billions. As a matter of fact, one billionaire has already made one of these mega-trends his #1 investment focus.
Stock #4:
Double your money or more
as the 5G rollout continues
Unless you're living under a rock, you're no doubt hearing all sorts of big news about 5G and how it's set to transform our world with connection speeds at least 10x faster than those from 4G networks.
The truth is, it's already doing so — and making miracles possible…
Last year, doctors in China were able to perform remote brain surgery on a Parkinson's patient 1,900 miles away using ultra-fast 5G.
Until recently, remote surgery using wireless networks has been impossible because the lag time between medical devices' input and output…
Which of course, could possibly be fatal to a patient.
But thanks to 5G, that lag time has been reduced to a near-instantaneous 2 milliseconds.
Modern miracles like this are why 5G is one of the most exciting megatrends of our time — one that's set to create $17 trillion in new wealth by 2035 — and one that's already lining the pockets of smart investors.
Over the last two years, in fact, the price of 5G-centric stocks such as Qualcomm and Skyworks Solutions have doubled.
And they'll be far from the only ones to do so as 5G's rollout continues.
Like this under-the-radar play I just uncovered…
Here's what I mean:
You see, what many people don't understand about 5G is that for the most part, all the real work comes from fiber optic cables, since they carry the data the longest distance…
So while many investors are focused on the antennae companies… or the cell tower operations they partner with…
The smarter ones are turning their eyes to this small company whose products help supercharge the fiber optic networks of major telecoms like AT&T, Sprint, and Verizon, making it the 5G backbone of the telecom industry.
What's more, it also provides them with optical network hardware — technology that uses light waves instead of electricity to carry digital information via their fiber optic cables.
Without this technology, the 5G networks of these telecoms can't deliver on their promises of ultra-fast speeds… or the modern miracles those speeds make possible.
Which puts this under-the-radar player right in the catbird's seat. The good news is, you can still grab a piece of it for just $44.
But you must act fast — as 5G's rollout continues, I doubt it will remain a bargain much longer.
You'll discover its name and ticker symbol in your copy of 5 Red-Hot Stocks to Own in 2021.
Stock #5:
Get "extremely rich" from soaring demand
for the world's #1 resource
When people think of the world's number one resource, usually things like cobalt and lithium come to mind…
Critical raw materials used in everything from iPhone batteries to jet engines.
But the truth is, there's another in-demand resource that's far more crucial than either of them.
Goldman Sachs calls it "the petroleum of the next century."
And in the not-so-distant future, the world could learn just how crucial it really is.
It's why billionaire investing legend Jim Rogers says those who know how to invest in this resource "will be extremely rich."
The funny thing is, though, you most likely won't hear this liquid mentioned in the company of other major resources.
You won't hear it talked about on the nightly news.
And you won't find it traded on any commodities exchange, either.
Yet it's so critical that billionaire Dr. Michael Burry has made this resource his number one investment focus.
And I've found the perfect way for you to play it.
It's comes from a shareholder-friendly titan with operations in more than 150 countries around the world…
And that has jacked up dividend payments 156% over the last eight years!
I'll reveal this special resource and the number one way to play it for maximum profits in 5 Red-Hot Stocks to Own in 2021.
This special report is yours the moment you accept your risk-free trial subscription to my monthly investment resource, Top Stock Advisor.
No matter what kind of company it is — or in which industry it operates or which market it serves…
If it has the potential to make you a small fortune, you can be sure you'll find it in Top Stock Advisor.
Just a few of the sizable gains I've brought readers include:
McDonalds – 46%
Royal Gold – 55%
Guidewire Software – 51%
Packaging Corp of America – 71%
Andeavor – 77%
Okta – 114%
If you invested $5,000 in each of these recommendations, you'd now be sitting on $50,700.
And that's just for starters…
Because as I write this, my readers are sitting on open gains like…
105% from an e-commerce powerhouse…
149% off a controversial media giant…
127% off a major tech conglomerate…
129% from the world's leading provider of IT solutions…
134% off a semiconductor chip manufacturer…
133% off the world's largest financial derivatives exchange...
And 160% off of a major credit card company
Like I said, no matter what kind of stock it is, if it has the potential to make you life-changing gains, you'll find it in Top Stock Advisor. It's that simple.
And it's a big reason why I keep receiving happy notes from all kinds of thrilled readers.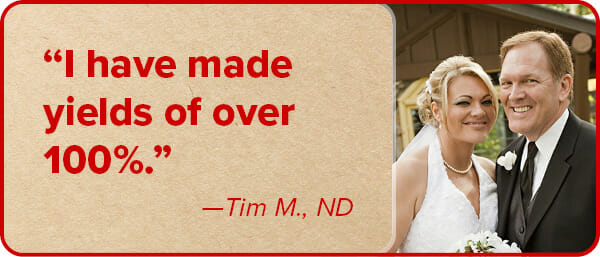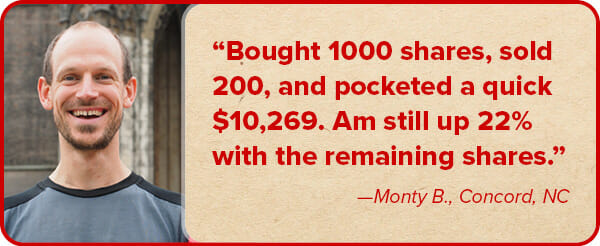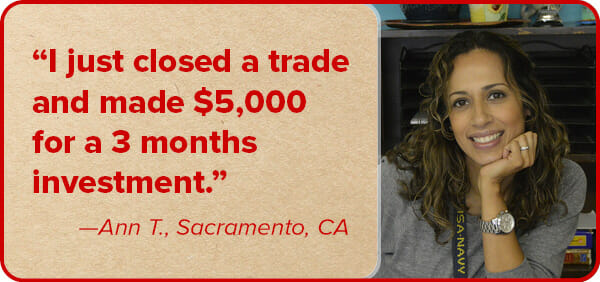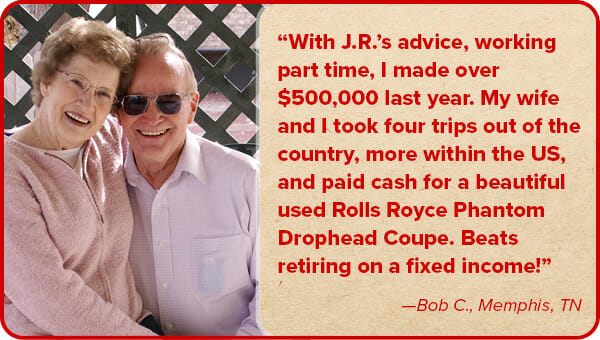 Now, to be clear, not everyone sees such exceptional results following my work…
It's like any investment…
The more you put in, the more you stand to get out of it.
But I can tell you these kinds of gains are possible ONLY when you have someone by your side who's committed to uncovering the cream of the world's top stocks — the kind that have what it takes to consistently outperform the market without exposing you to unnecessary risk.
And it's why I'd like to invite you try out Top Stock Advisor for yourself today without risking a single penny.
When you do, you'll have immediate access to 5 Red-Hot Stocks to Own in 2021, a $99 value.
Inside, you'll discover….
How to grab a piece of Warren Buffett's empire for 99% less than the cost one share of Berkshire Hathaway…
The behind-the-scenes player that's sure to soar from the rollout of COVID-19 vaccines…
The cybersecurity firm shielding some of America's largest corporations from the world's most destructive cyberattacks…
How to double your money as the 5G rollout continues…
How to profit from soaring demand for the world's number one resource (it's not what you think).
But that's not all you're going to get. When you join today, I'll also rush you an additional profit-maximizing report (a $99 value) absolutely free: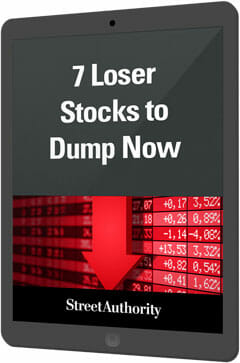 7 Loser Stocks to Dump Now: Watch out — these ticking time bombs could blow a smoking crater in your portfolio. Many of them are quite popular. You probably know their names. In fact, you may already own a few of them.
The first "loser" emerged this year as an extremely popular pandemic-era play that gullible investors can't stop swooning over…
The second is one of America's oldest and largest companies that can't stop losing customers fast enough…
And stock #3 is a debt-soaked dud, ensnaring eager investors with a deceitfully large dividend.
Plus, there are four more investing death traps just like these you'll discover inside this shocking report. If you find these picks in your portfolio… you should do yourself a favor and DUMP THEM NOW.
Valued at $198, these two reports can be yours free, just for accepting your 90-day risk-free membership to Top Stock Advisor.
But that's not all you'll get for making a wise decision today.
There's so much more waiting for you when you join the Top Stock Advisor family…
Each month, I'll send you the latest issue of Top Stock Advisor with an in-depth profile of the single-most promising profit opportunity my research uncovers.
You'll also receive Intra-Day FLASH Alerts any time I find an urgent BUY opportunity or when my research tells me it's time to take profits on an open trade.
You'll never wonder what to do or when to do it… I'll be with you every step of the way.
With your membership, you'll also receive:
Mid-Month Update Emails — containing important news affecting the economy, the market, or our portfolio positions.
Access to My Confidential Members-Only Website — this secure, password-protected membership site is where you'll have 24/7 access to all past issues of Top Stock Advisor, FLASH Alert histories, portfolio summaries, special reports, and bonuses.
VIP Concierge Hotline — where a real live human is available during business hours to handle any questions or concerns you have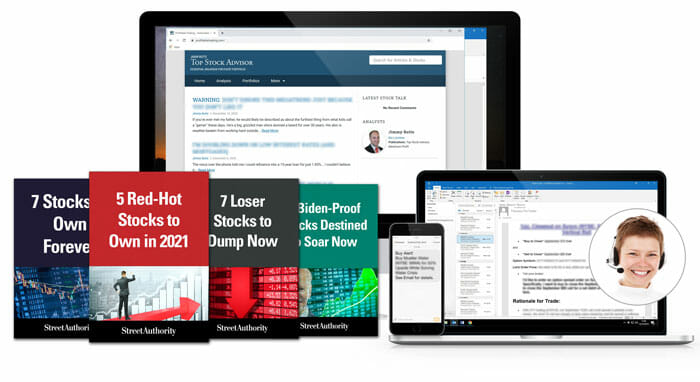 I'm so confident you'll love everything you receive when you accept your 90-day risk-free membership to Top Stock Advisor, you'll want to stick with us for an entire year to fully take advantage of these benefits.
And to that end, I'm doing something very special today.
Here's what I mean:
Uncovering all the life-changing profit opportunities waiting for you in Top Stock Advisor takes a lot of time and research — hours and hours of late nights spent digging through thousands of pages of financial documents.
And when you remember that each of these profit opportunities has the potential to double your money or more, I think you'd agree I'd be well justified in charging as much as $1,000 for a full year's access to them.
Many Wall Street firms would happily charge even more.
But that's not what Top Stock Advisor is all about.
My goal is to help regular people just like you get rich from the cream of the world's very best stocks — only those which have the potential to double your money or more.
And without having to take on unnecessary risk — or having to spend your life savings to access them.
And it's why when you join us for a full year, you won't pay $1,000… $500… $300…
Or even the $99 I regularly ask new members to pay…
At least if you act fast.
What do I mean?
Well, I've sent this letter out to 200,000 people.
But for the first 250 who respond today, I've set aside something very special:
12 full months of Top Stock Advisor for 60% off.
That's just $39 — less than dinner for two at a chain restaurant.
I don't expect those 250 spots to last long of course…
Which is why, as a bonus for acting fast and claiming your spot now, I've made it possible for you to receive two more money-making reports (each a $99 value):
3 Biden-Proof Stocks Destined to Soar Now: There's a lot of anxiety about how a Joe Biden administration will affect certain stocks. But no matter what kind of surprises his Presidency has in store, these three special stocks are destined to go nowhere but up.

The first is one of America's largest homebuilders, taking advantage of a huge nationwide supply deficit, and which has more than tripled dividend payouts over just the last year.
The second is a tech juggernaut with its hands in everything from AI and cloud services to mobile gaming and electric vehicles, perfectly positioned to profit from these red-hot sectors.
And the third play you'll discover is one of the world's largest financial exchanges, protected by a giant economic moat and which has tripled dividend payouts over the last nine years.

7 Stocks to Own Forever: Want to really sleep well? Then you owe it to yourself discover the 7 ultra-solid stocks inside this report. Bull or bear… inflation or deflation… these companies are so reliable, so dependable, and so profitable, you can have true financial peace of mind as they relentlessly churn out new wealth for decades to come. Inside, you'll discover:

A "boring" yet extremely lucrative enterprise that has delivered 17% annual returns 45 years in a row — enough to turn a $10,000 investment into $11.7 million!
One of the most innovative and disruptive companies ever — so well run and so profitable it's sitting on a massive $193 billion cash hoard. Even more importantly it's making investors rich, handing them more than 1,100% gains over the last decade.
An iconic American company that's every income investor's dream come true, hiking dividend payouts by an astounding 2,100% over the last 20 years.
But most importantly, to prove just how committed I am to your success with Top Stock Advisor, when you join us, you'll be protected by…
My Double-Barreled 100%
Satisfaction Guarantee
Because I want you to be 100% sure Top Stock Advisor is right for you, I'm giving you three full months to try it out "on the house."
That's a full 90 days to check out everything on the Top Stock Advisor website… read a few issues…
And more than enough time to take part in the moneymaking opportunities you'll discover both in your free reports as well the recommendations I bring to the table inside each new issue and every FLASH alert…
If at any time during those 90 days you're not completely happy with what you're getting from me — or the money you're making — simply let my Customer Service team know.
And I'll issue you a prompt, no-questions-asked refund for every penny of your membership.
I have no interest in keeping your money unless you're 100% satisfied.
But I'm still not done…
Because even if it's past the 90-day mark and you find yourself unhappy, for any reason, I still have your back.
Simply let your VIP concierge know and I'll give you a refund for the unused portion of your subscription.
Absolutely no questions asked.
What's more, everything you've received up to that point — the issues, the special reports, and all profits you've made — are yours to keep.
It can't get much fairer than that.
So, the way I see it, you now have two choices:
Ignore the spectacular opportunities I've shown you today — ones that could double your money or more — and just mindlessly amble through 2021 hoping to find at least one stock that "pays out."
Test-drive Top Stock Advisor completely risk-free and discover all the profit opportunities waiting for you inside.
The right choice is yours to make — but you need to act fast.
Remember, only the first 250 responders will be able to claim the special 60% discount off Top Stock Advisor…
If you put this off, even for a few minutes, you run the risk of getting locked out for good.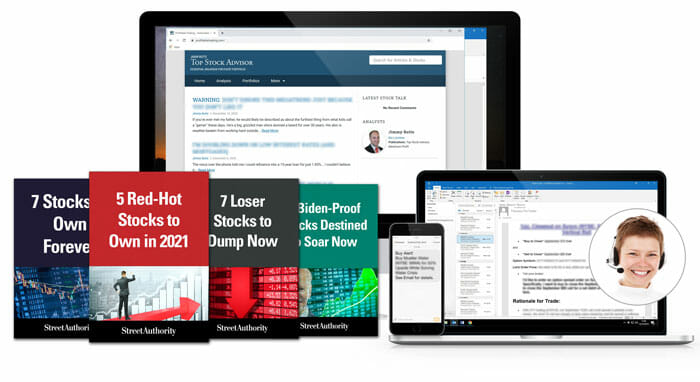 And the moment that happens you lose your chance to claim your new members package valued at $396.
So do yourself a favor and click the button below NOW.
Remember, thanks to my double-barreled satisfaction guarantee you risk absolutely nothing by joining me today.
So please don't wait another moment: Simply click here now to secure access to Top Stock Advisor and claim your free reports.
I look forward to welcoming you.
To an immensely profitable 2021,

Jimmy Butts
Chief Investment Strategist
Top Stock Advisor