"One Obscure Footnote is Your Key to Unlocking a
$201,873

Windfall"

REVEALED: How One Small Detail Wall Street Analysts Missed Could Add Six-Figures or More to Your Retirement Account… Starting Today
Dear Reader,
In late 2019, a little-known satellite company quietly purchased an Internet tech startup at a bargain basement price.
How'd the stock market react to the news?
Bupkis… no one cared.
The stock price didn't budge.
Now, Wall Street analysts get paid a lot of money to research deals like this one.
They review reams of contract paperwork…
Call in teams of high-priced lawyers to explain the confusing legalese…
And harness advanced computer models to crunch gigabytes worth of financial data…
All so they can find and scoop up a multi-million-dollar profit opportunity before the public ever hears about it.
And these analysts are talented… they rarely miss one.
After all… in 2019, America's banks raked in more than $233 billion in profits.
You don't make that kind of money by dropping the ball all that often.
So when a satellite company buys a no-name tech startup…
And its stock price doesn't move a penny…
It's because an army of wealthy, suit-wearing analysts didn't find anything interesting or special about the deal…
So they quickly moved on to the next one.
But this time…
They missed something.
They completely overlooked a detail so massively important, it could add $100,937… $201,873… even as much as $504,685 to your investment account in the next 12 months.
You see, just like the Wall Street analysts I described a moment ago… I follow these deals too.
But I'm a one-man team.
I don't have a squad of lawyers on speed dial…
Or a room full of computer scientists to crunch numbers for me.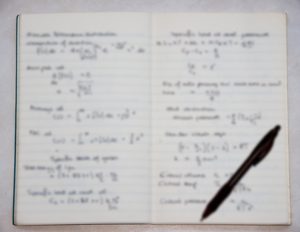 Instead, I use my eyes and ears…
A spiral-bound notebook…
And a $0.69 Bic pen.
No one expects me to beat Harvard-educated bankers at a game they invented.
But I usually do.
In fact, I recently handed one group of average investors a shot at a 299% return on an online payments company most people missed.
You see fancy degrees, expensive suits, and teams of math geniuses are no match for a guy who's willing to roll up his sleeves and…
DO THE WORK.
It's always been that way.
As "smart" as they might seem, computers still can't understand the subtle details of human language.
I learn a lot more about a corporate buyout by reading the contracts and speaking to the people involved.
That's my edge.
And this time, it paid off in a big way.
Because buried deep among hundreds of pages of legal contracts in this buyout agreement…
I uncovered an obscure footnote all the Wall Street suits seem to have missed…
One that could be worth as much as $10 billion a year to the satellite company I want to tell you about today.
And that "hidden" $10 billion could boost the stock price by 10X… 20X… even as much as 50X… within hours of its existence hitting the news.
If that sounds like a huge miss…
You're right. It is. For THEM.
But Wall Street's miss has created a huge opportunity for you.
You don't need an Ivy League MBA to imagine the impact an extra $10 billion a year can have on the stock price of even a well-known industry leader.
But to a small, unknown satellite company…
This type of news could send its stock price into orbit overnight.
Even a modest stake could give you the kind luxury retirement most people only ever dream of.
Look, opportunities to beat Wall Street insiders don't come along every day.
So, it's critical you jump on this one immediately.
Because the company is just a few short weeks away from doing something that could plaster its name all over the evening news.
At that point, every investment bank and hedge fund in the country will buy up all the shares they can get their hands on.
And it will be too late for everyday investors to stake their claim.
Make no mistake…
Hundreds of investors will have the opportunity to get extremely wealthy from the events that are about to unfold.
And I'd like you to be one of them.
But the clock is ticking…
So, it's extremely important you pay close attention to the instructions I reveal in the next few minutes.
Before I get to that, let me ask you a "weird" question…
Like Buying A Corvette For $1,000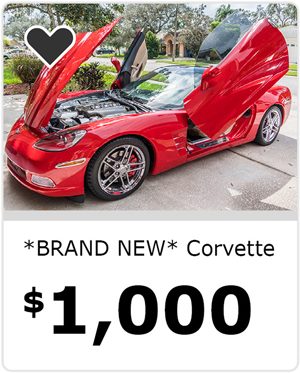 If a Chevrolet dealer near you was selling brand-new Corvettes for $1,000 each…
Would you buy one?
Or a better question: "How many would you buy?"
Because you could easily sell each one for fifty times the amount you paid…
And pocket an easy $49,000 per car.
That's exactly what happens when you buy an undervalued stock.
You see, a company's stock price "should" reflect all the money it's expected to earn in the future.
But when the company has a $10 billion "hidden" revenue stream…
One that Wall Street hasn't discovered yet…
Then you have an opportunity to get the bargain of a lifetime on that company's stock.
Just like buying a Corvette for $1,000…
Then turning around and selling it for $50,000 a few weeks later.
Now, it goes without saying… opportunities like this don't come along every day.
And they also don't stick around very long…
Because some Ph.D. mathematician running computer models in the windowless basement of a Wall Street bank will inevitably figure out the stock he's analyzing is undervalued by billions of dollars…
Call his boss on the trading floor…
And within hours, the stock could pop 10X, 50X… maybe even 100X.
How long will it take for one of those "rocket scientists" to discover the massive profit opportunity I'm hand delivering to you today?
It could happen tomorrow… the next day… or a few weeks from now.
There's no way to know for sure.
That's why taking action today is the only way to be 100% certain you can stake your claim in this hidden gem…
And ride it all the way to a $201,873 windfall profit.
Now, if you have any reason to question the urgency of this opportunity…
Let me explain why timing is so important here…
The $10 Billion Footnote That Could
Put Your Retirement on Easy Street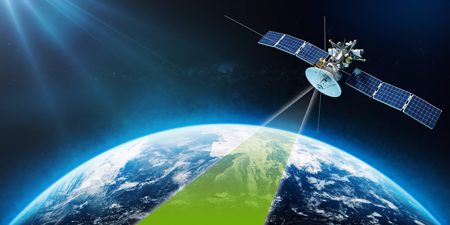 Companies can't just launch satellites into space and start splattering beams of data all over the planet.
Just like radio stations, satellite operators have to apply for licenses to broadcast at specific frequencies.
But satellites broadcast from space.
So their frequency licenses need to apply globally.
That's why governments around the world coordinate with one another to ensure no two satellite companies broadcast at the same frequency…
And interfere with one another's signals.
Agencies like the FCC hold auctions for satellite frequencies…
And licenses go to the highest bidders.
But because a lot of the frequencies have already been spoken for…
Every year, new licenses sell for higher and higher prices.
For example…
In 2017, the FCC raised over $19.6 billion from satellite license auctions.
And a single auction in December 2020 raised just shy of $81 billion.
That's basic economics…
The less there is of a scarce resource, the more it's worth.
So, because every year there are more and more companies applying for fewer remaining satellite frequencies…
Companies who own licenses become more and more valuable.
Here's why that's important…
The satellite company I've been following paid a measly $26 million for the tech startup it bought in 2019.
That's an amazing price for the assets, intellectual property, and brand name it got in the deal.
But it's just a small fraction of what they received for their $26 million.
Because buried deep in those dense legal contracts was a critically important footnote all the obnoxious Wall Street analysts missed…

The startup they bought owned exclusive global rights to not just one frequency…
But a huge slice of satellite communication "channels" in what's called the S-Band.
How much is that S-Band slice worth?
Well… think about all the Amazon Alexas, Google Assistants, Nest thermostats, Ring doorbells, and Wyze security cameras in the world.
Now, think about all the internet-connected TVs, microwave ovens, refrigerators, and robot vacuums.
Gartner, Inc. estimates there are 20.4 billion of these "smart" devices in the world today.
It's also estimated 127 new devices come online every second…
And there could be as many as 64 billion connected devices in the world by 2025.
Well… our little satellite company owns enough S-Band channels to support as many as 5 billion smart devices.
And if they charge the manufacturers of those devices as little as two dollars a year to communicate over their channels…
They generate a quick, easy, and repeatable $10 billion in revenue…
EVERY YEAR!
Now, $10 billion is a lot of money to any business.
But to a small company like our satellite firm…
That has just under $2 billion in annual revenue today…
An overnight increase of $10 billion a year is a HUGE deal.
What's critically important to understand is this…
None of that $10 billion a year is reflected in the satellite company's current stock price.
That means, today you have the rare opportunity to pick up an undervalued stock…
For pennies on the dollar versus its true market value…
And potentially turn a $10,000 stake into as much as $201,873 the moment Wall Street catches on.
If this S-Band acquisition sounds like a happy accident for the satellite company…
Let me assure, that was not the case, because…
The Company Is Run By The
Smartest Business Minds In America
There's a rule-of-thumb successful investors follow, and it's this…

Over the years, I've analyzed hundreds of companies across dozens of industries…
And the ones that produce the best stock market returns…
The ones that make investors truly wealthy…
Are almost always the companies with the strongest and smartest management teams.
After all, would you rather own shares in the 1992 men's Olympic basketball Dream Team…
Or the Dallas Mavericks… even if they'd been handed a younger version of Larry Bird?

Of course, you'd choose the team where every last player is an all-star at the top of their game…
The best of the best. A team of true superstars.
So it's no accident the dream team running this satellite company snapped up a $10 billion revenue stream for $26 million.
If they only got one year's worth of income out of the deal…
That's a 38,362% return… in year one!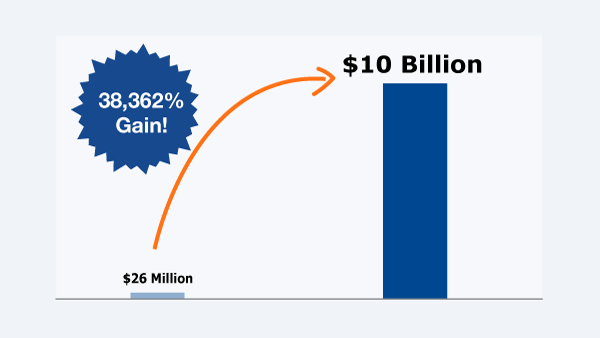 But the company's not getting just one year of revenue.
In three years, they'll have generated $30 billion.
After six years… $60 billion.
And ten years from now, that revenue stream will have generated a staggering $100 billion.
All for a measly $26 million initial investment.
This deal could go down as the smartest acquisition in the history of business.
Look, this wasn't a lucky break…
The company's CEO, CFO, CTO, and other senior leaders knew exactly what they were doing — and what they were getting — when they signed the contract to buy the tech startup.
But that's not the only brilliant move this team has made in the past couple of years.
You see, just a few years ago I wouldn't have touched this company with a ten-foot pole.
Why?
Because a huge chunk of its revenue came from distributing television content.
And "pay TV" in all its forms is a dying industry.
In 2020, America's top 5 pay TV providers were on track to lose close to 5 million customers.
And a recent study by eMarketer indicates the majority of U.S. households won't have a pay TV subscription of any kind by 2024.
That's over 68 million homes who'll have officially "cut the cord."
The management team of our satellite company saw the writing on the wall and made an incredibly bold move…
One that could turn every $5,000 invested into $100,937 or more.
You see, in 2019 the leadership "dream team" sold off every last part of the company having anything to do with broadcast television.
Gone!
And today the company is light, lean, and 100% focused on a market sector that's absolutely exploding…
Demand for Broadband Access
Is Growing Everywhere
The number of broadband Internet subscribers is growing every year.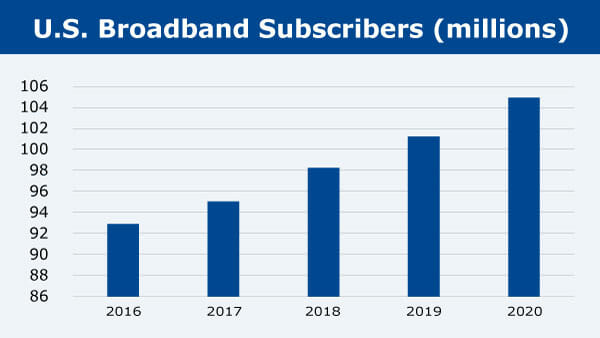 And that's just here in the U.S…
It's a trend that's not about to slow down any time soon…
And our satellite company is capitalizing on that trend in a gigantic way.
In the third quarter of 2020, more than 98% of the company's revenue came from selling broadband products and services.
And while 95% of American's already have some form of Internet access…
There are still 3.4 billion people in the world who don't.
And our little satellite company is taking full advantage of that.
Right now, the company has contracts to deliver broadband Internet services to Mexico, Australia, Indonesia, Columbia, Philippines, India, Brazil, Russia, Malaysia, Africa, Ireland, and Canada.
And that plan is working like gangbusters.
By focusing on areas where their products are in short supply, they're able to charge premium prices.
And they show no signs of slowing down.
Almost every month, they seem to be locking down a new international deal.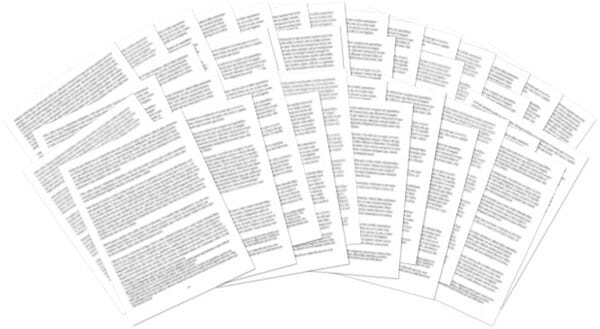 Plus…
The company has agreements to deliver satellite hardware to three branches of the U.S. military.
Military contracts tend to be long-term and high-dollar value.
So they help support higher stock prices many years into the future.
It should be clear that a company with laser focus on a growth sector…
Providing products and services to residential customers, international clients, and the U.S. military…
Makes for a-close-to perfect investment.
Heck, I'd recommend this stock even if it weren't the "$1,000 Corvette" of broadband providers.
But when I discovered the information I'm about to share, it made me even more confident I was on the right track.
You see, outside of a small number of people with access to this presentation, almost no one knows about the $10 billion footnote I just revealed.
Except…
One tiny group of investors.
And it's a group you'll want to pay very close attention to…
Company Insiders Own a Truckload of Shares
The chairman, CEO, CFO, and other senior officers of most publicly traded companies aren't stupid people.
And they have access to far more and far better information about their company's finances than anyone in the world.
So when insiders own a lot of a company's stock…
You can bet your bottom dollar they're confident the future is bright.
Well during my research, I discovered this:
Insiders of this satellite company own over 38% of all shares available to regular investors.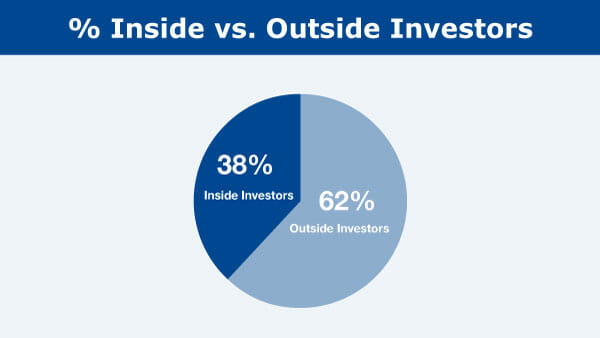 That amounts to a staggering $102 million.
For me, that's a huge Seal of Approval.
The only time I ever see insiders sitting on this many shares is when something big is about to happen.
So I dug around some more.
And even though I've been in this game for over a decade…
What I found shocked me.
Because…
The Document I Uncovered Is Your
Urgent BUY NOW Alert
Whenever a company buys a satellite frequency…
A regulatory organization called the International Telecommunication Union (ITU) gets involved.
Without regulations, wealthy investors could simply buy licenses…
Stick them in a filing cabinet…
Wait a few years until the value shoots up five, ten, or even 20 times…
And then sell them at a huge profit.
Worse yet, during the years those frequency rights were collecting dust in a drawer, no one would get to use those channels for communications.
And that would be bad for everyone.
To prevent this kind of abuse, the ITU enforces rules to ensure anyone purchasing a license has a concrete plan to use it.
And companies who don't launch satellites and use their frequencies within specific timeframes…
They lose their licenses.
If you remember the S-Band acquisition I showed you a few minutes ago…
Well, our little-known satellite company is quickly approaching its use-it-or-lose-it date with the ITU.
Normally, this would make me nervous…
I'd hate to see the company lose its $10 billion cash cow.
But during my research, I uncovered a document that made me certain of two important things:
The company's license is 100% safe.
Their stock price could blast off within weeks.
You see, the document I uncovered was a purchase order for two nanosatellites.
These devices are just a little bigger than a magazine…
And they're designed to communicate at the exact S-Band frequencies the company purchased in 2019.
As soon as the first nanosatellite is launched and "plugged in" to the communications network here on Earth, the ITU can no longer revoke the company's license.
That's great news.
And the moment I uncovered this, I had to create this presentation and share it immediately, because…
This News Could Send the Stock into Orbit
Getting a satellite into space is no joke.
The company needs to notify the United Nations…
Get permission from the Federal Communications Commission…
Coordinate with the Federal Aviation Administration…
And hire a partner like Boeing, SpaceX, or Blue Origin to strap the satellite to a rocket and launch it.
Can you imagine doing even one of those things without getting a call from a reporter?
Well, as miraculous as it might seem… the company managed to do it.
They launched two nanosatellites into orbit without a single mention of it hitting the news.
In fact, details of the launch were almost impossible for me to track down.
It took a lot of digging to find this one-sentence comment from the Chief Strategy Officer during the company's Q3 2020 earnings call…

Why is this so important?
Well as you saw just a moment ago, the ITU doesn't wait forever for satellite companies to use their spectrum licenses.
They set up use-it-or-lose-it "utilization" dates, set them in stone…
And companies that fail to meet those dates…
They lose their licenses.
So, the fact our "little" company has already launched two satellites means they're 100% on track to meet their utilization date in mid-2021.
As hard as it might be to believe, Wall Street's "geniuses"…
The same folks who missed the original "$10 billion footnote"…
Also seem to have completely missed the fact that these two S-band satellites have been launched.
But, I don't expect their ignorance to last forever.
And the moment Wall Street figures out their mistake, a feeding frenzy is bound to follow…
And when it does, all hell will break loose with the company's share price.
Investors who claim their stake BEFORE that happens will have an opportunity to take the entire ride…
And see a $5,000 stake turn into $100,937…
A $10,000 investment turn into $201,873…
Or a $25,000 stake turn into as much as $504,682.
But investors who sit on the sidelines and wait to read the news headlines…
Plain and simple… they're going to miss out.
I won't be surprised to see Fox News, CNN, and MSNBC reporting on the company…
Its satellite launch…
And its $10 billion a year hidden revenue stream…
Any day now.
That's why it's critical you take action immediately.
If you don't…
There's a very strong chance you'll be kicking yourself for missing out on what could be the biggest investment opportunity of your life…
An opportunity to bank a quick $100,937… $201,873… or $504,685… depending on how much you invest.
Based on what I've shown you so far, you can see why I'm confident this company could make you rich.
But there's one more detail that seals the deal for me…
Patent Income Is Your "Insurance Policy"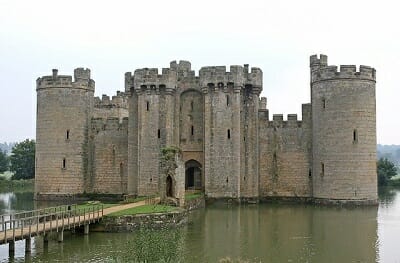 Patents give inventors of new, ground-breaking technologies the exclusive right to profit from those inventions for up to 20 years.
U.S. courts protect patent holders by making it illegal for anyone else to profit from their inventions.
That kind of protection creates a financial "moat" around a company…
One that keeps competitors out…
And keeps revenues flowing in.
And the more patents a company has, the wider their moat becomes.
As Warren Buffet puts it…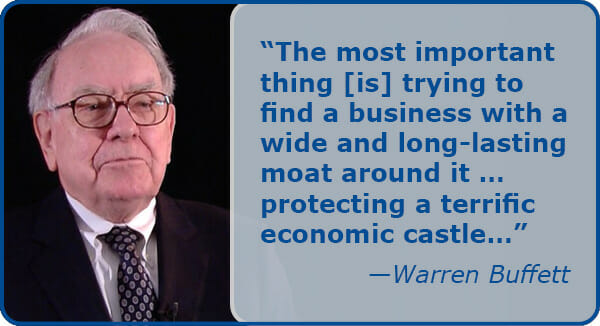 In addition to being a savvy dealmaker, this little satellite company has over 300 approved patents on technologies related to satellite communications, data encryption, and video content distribution.
A patent portfolio of that size makes the company's moat wide, deep, and teaming with starving alligators.
Even if it shut down all active client business tomorrow…
Their patents would continue to generate revenue for up to 20 years into the future.
Look, a company with a hidden $10 billion revenue source is a rare find.
But when I also discover it has a huge portfolio of patents…
And they're adding new ones every year…
Well, that seals the deal for me.
Because their growing "moat" shields them from the competition and ensures their revenues are legally protected for decades into the future.
Basically, it makes the company bulletproof.
Of course, I can't guarantee the stock will blast off overnight. After all, there are risks with every investment.
But considering…
The company's most "in-the-know" employees are sitting on $102 million worth of stock…
They launched two satellites in late 2020 to lock down their "secret" S-Band license…
And their growing patent moat slams the door shut on their competition…
I'm confident the company's stock has the potential to explode 20X or more in the coming months.
But you've got to make your move now, because…
The Clock Is Ticking
Look… there's a lot more I could tell you about this overlooked satellite company.
Like the fact they've won multiple Emmy awards for their innovations in Technology and Engineering …
How they were named "Top Performer" in 2019 by a leading B2B industry authority…
That a senior member of the management "Dream Team" received a "Distinguished Service" award from the world's most prestigious engineering organization, the IEEE…
About the #1 ranking they received from the Federal Communications Commission four years in a row…
Or about the jaw-dropping $2.5 billion in cash they have in the bank… ready to put to work at a moment's notice.
I could spend the next hour showing you all the reasons I'm confident this stock could hand you $100,937… $201,873… or even as much as $504,685 over the next 12 months.
But the more time I take up, the less time you have to log into your brokerage account…
And lock in your stake.
I'm not exaggerating when I say time is running out on this opportunity.
It might be only days before the media catches wind of the company's nanosatellite launch…
Or a Wall Street analyst stumbles across everything I've just shown you and tips off his bosses.
Waiting until you hear the company's name on the evening news is the wrong move.
By that time, the stock will already be through the roof…
And you'll miss the opportunity to see maximum gains.
I want you to join the small group of company insiders who've been preparing for months for this stock to explode.
So I've prepared a detailed report giving you exact instructions on how to play this opportunity.
It's called The $10B Footnote: How Wall Street's Slipup Could Hand You $201,873 In The Next 12 Months.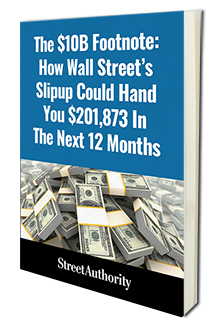 Inside, I reveal everything you need to take advantage of this life-changing opportunity, including:
How an "obscure contract footnote" stands to turn a paltry $26 million investment into $10 billion or more in cold, hard cash… every year.
How the rise of data-hungry video services like Netflix, Hulu, Apple TV+, and Disney+ has created an explosion of demand for the company's broadband services… both here in America and around the globe.
Full details on the little-known satellite company including revenue projections and stock price forecasts for the next 12 months and beyond.
The company's giant patent portfolio that will keep protected revenue flowing in for the next 20 years… and widening the "moat" between them and the competition.
How the company's nanosatellite launch will lock down their frequency license for good… effectively placing their $10 billion cash cow in a steel cage.
Plus, the name of the company, details of their talented executive team, and how brilliant business decisions are leading the company toward becoming a global leader in the satellite broadband industry.
And most importantly, exactly how to play this stock… and at what price… so you won't have to wonder if you're doing the right thing at the right time.
If I were selling this report on its own, I'd charge at least $99.
And that would be a flat-out bargain considering the precise instructions inside could add hundreds of thousands to your investment account.
But today, I'd like to send you this report absolutely free.
Why?
To put it simply, I get a lot of satisfaction from helping hardworking Americans enjoy the retirement lifestyle they deserve.
So when I uncover an opportunity of this magnitude…
I want to share it with as many people as possible.
And I don't want money to get in the way.
With a $10 billion tidal wave of revenue rolling in, this little satellite company will generate life-changing wealth for thousands of investors.
And to claim your stake, you only have to make one simple move today…
Get your hands on this free report.
I'll show you exactly how to do that in just a moment.
But first, let me introduce myself…
An Ex-Banker Committed To Making
Everyday Investors Very Wealthy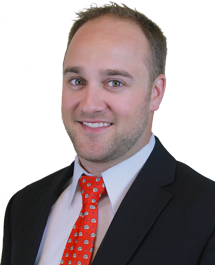 My name is J.R. Butts…
And I'm the Chief Investment Strategist at StreetAuthority.
I started my career managing client investment accounts at some of America's biggest banks.
During those years, I learned a lot about the inner workings of Wall Street.
But one lesson in particular changed the course of my career and life…
You see, most financial advisors follow a strict formula…
And that formula is designed to accomplish two things:
Make a little money for their clients
Keep them from getting fired
Clients hate losing money.
So advisors who play it safe and follow "the formula" get to keep their jobs…
Even though they produce boring, predictable, mediocre results for their clients… year-after-year.
Let's be real…
No one is thrilled about a 3% annual return…
Unless they're already rich and make a conscious choice to play it safe with their life's savings.
When a client with a $1 million account makes a 3% return…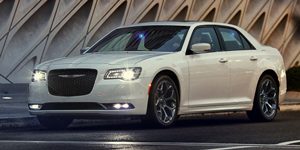 They add $30,000 to their account.
That's enough to buy a new Chrysler 300.
But a client with $10,000…
A 3% return nets them only $300 after 12 months in the market.
Those clients can forget "building wealth."
They're doing everything they can just to play catch-up.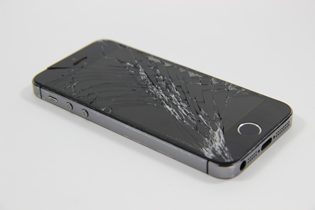 I mean, $300 is barely enough to buy a used iPhone.
But throughout my years of managing other people's money, I uncovered one undeniable fact…
A "golden thread" that separates successful wealthy investors from those who are always trying to catch up…
And that golden thread is this…
People with seven-figure accounts don't rely on "3% formula" returns to build wealth.
They grow their accounts by taking advantage of rare investment opportunities…
Like the one I just showed you.
When wealthy investors find an undervalued stock like our satellite company, they don't waste a single minute…
They pounce on it immediately.
I became a student of how millionaires became and stayed wealthy.
I watched every move they made. I listened closely to the types of questions they asked. I saw the information they gathered and the decisions they made.
And when I'd learned all I could from them…
I jumped ship.
I left the banking world and never looked back.
Today, I use what I learned during my Wall Street years to share market-shattering returns with investors like you.
Here are just a few recent examples:
114% on Okta…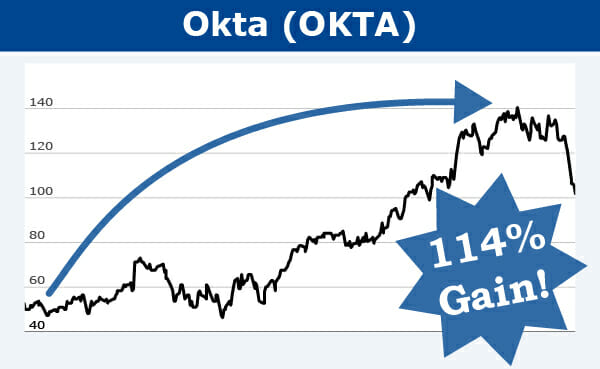 106% on Tencent Holdings…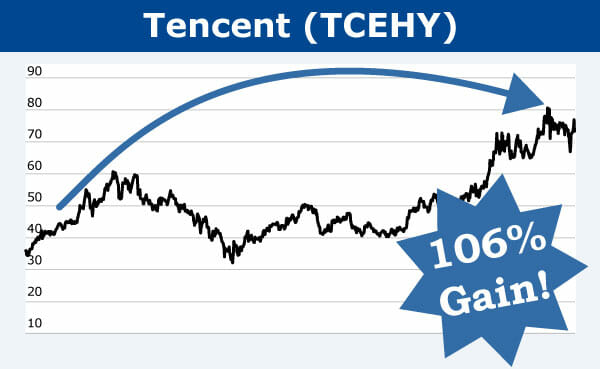 165% on Reata Pharmaceuticals…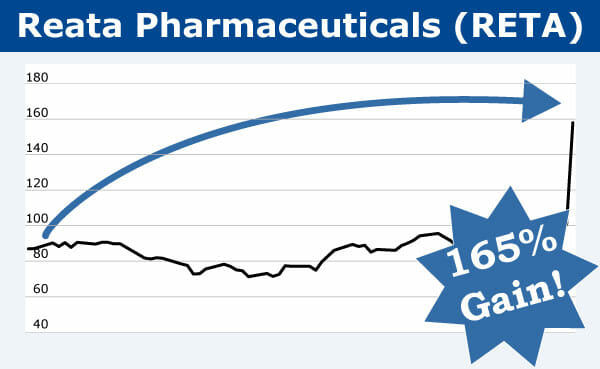 102% on Albemarle Corporation…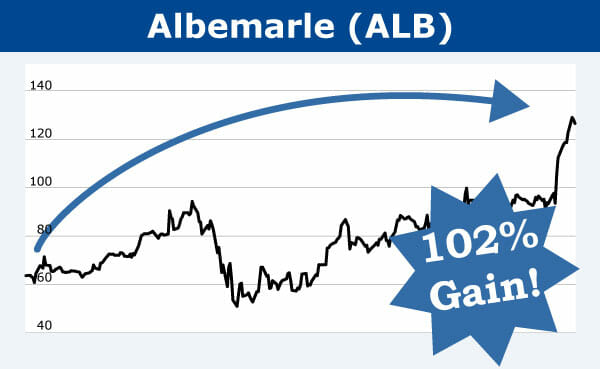 And a 299% homerun on PayPal…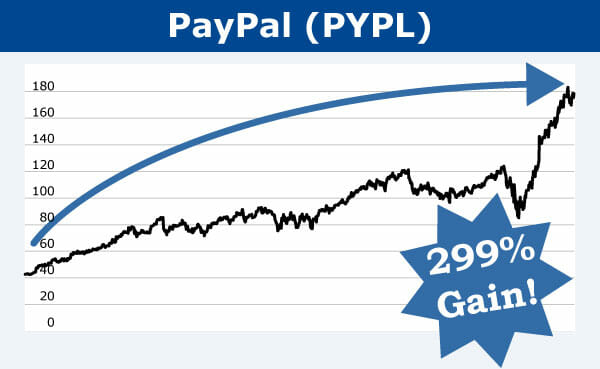 If you'd invested as little as $10,000 in each of these opportunities, today you'd be sitting on $128,510.
Even though I now live 2,468 miles away from Wall Street…
I'm more committed than ever to helping everyday investors like you build seven-figure investment accounts…
So you can enjoy the stress-free, luxury retirement you deserve.
And to get you started on that journey, I want to send you my free report…
The $10B Footnote: How Wall Street's Slipup Could Hand You $201,873 In The Next 12 Months.
Plus, I'd also like to send you these two wealth-building bonus reports…
BONUS REPORT #1: Three Undercover Stocks For 10X Gains (Value $59)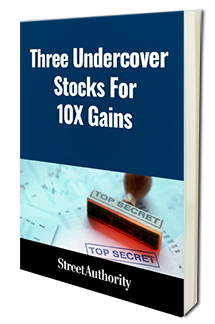 As you've seen, I love finding undervalued, no-name stocks long before the media, Wall Street, and average investors find them "sexy."
Getting in on the ground floor means you can buy stock at bargain-basement prices and watch your stake explode 10X before the rest of the world catches on.
In this exclusive report, you'll discover three unknown gems…
A unique tech company who's becoming a "silent" leader in an industry generating twice as much revenue as the Hollywood film business… with over 2.5 billion customers around the globe.
A company whose indispensable products become more and more valuable and in-demand every year protecting the world's most important resource.
An "underdog" who's crushing the video streaming market and currently on track to more than 10X its revenues in just 2 years!
All three of these gems have the potential to add major cash to your account in the short-term…
Plus… become "forever stocks" that continue to grow and keep paying you over and over for years to come.
BONUS REPORT #2: 10 Hot Stocks To Own In 2021 (Value $59)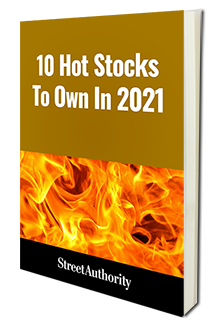 For the past half-decade, this has been my most popular and profitable annual report…
Delivering returns as high as 123% to the lucky few who've been able to get their hands on a copy.
The report isn't available for sale anywhere or at any price… only to readers of this presentation.
So if you're looking to refresh your investment portfolio in 2021, don't make a single change without it at your side.
Together, this three-report "library" has a combined value of $217.
But I want to send it to you today as my free gift for agreeing to try out my premium investment service…
What Top Stock Advisor Can Do For You
I have a single goal with Top Stock Advisor and it's one I take very seriously…
To help you become wealthy.
I'm not satisfied delivering mediocre returns that just barely beat the market.
Instead, Top Stock Advisor is designed to present you with opportunities to generate life-changing fortunes…
Just like the ones you'll discover inside the three reports you'll receive today: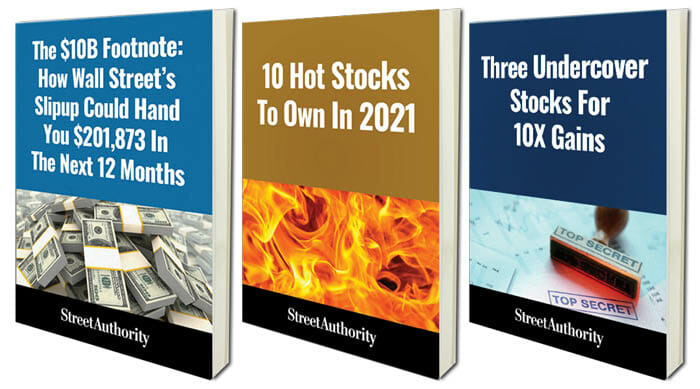 The $10B Footnote: How Wall Street's Slipup Could Hand You $201,873 In The Next 12 Months (Value $99)
Three Undercover Stocks For 10X Gains (Value $59)
10 Hot Stocks To Own In 2021 (Value $59)
But I want to make one point perfectly clear…
As excited as I am about this satellite company right now, Top Stock Advisor is not a tech stock-only advisory.
I analyze the economy, the markets, and individual stocks day in and day out.
And I work tirelessly to bring members the very best stock picks in the market… no matter what industry they're in.
Here are just a few highlights of the gains members have seen recently…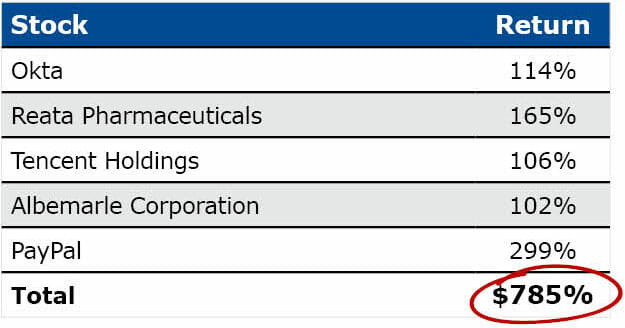 If you'd invested as little as $10,000 in each of these opportunities, today you'd be sitting on $128,510.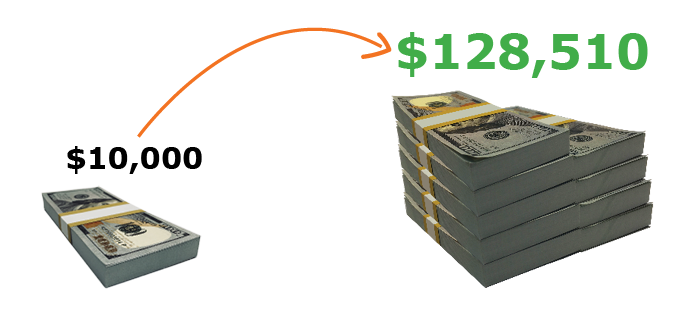 That's more than 4 times better than the returns you'd have seen investing in some index fund the Wall Street shills always seem to be pushing.
Returns like these make my members very happy…
And wealthy.
So much so, many of them have taken time out of their busy lives to send me notes like the ones below…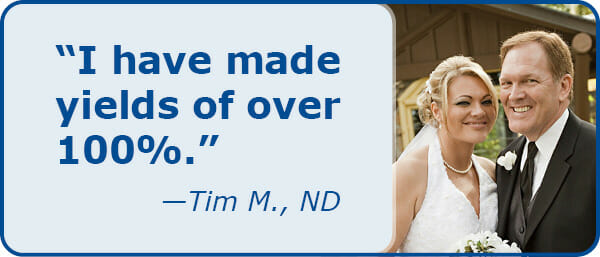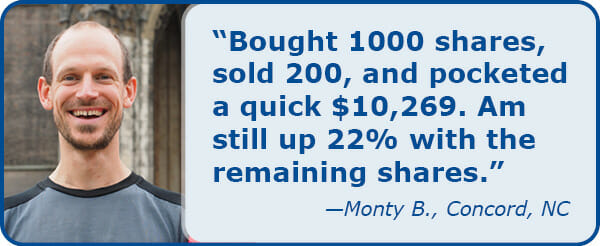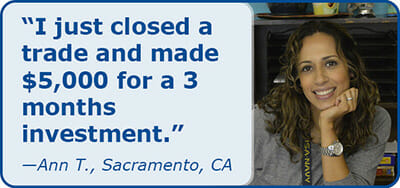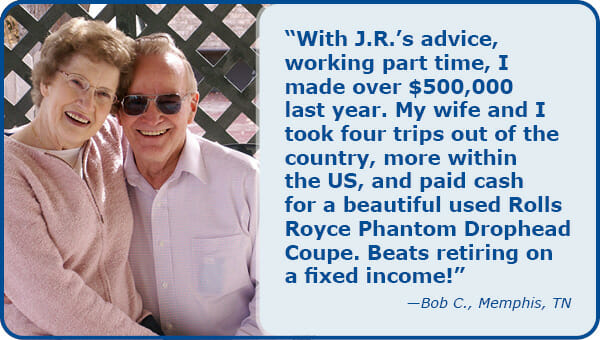 And today, I want to offer YOU the opportunity to join these folks and thousands of other members who benefit from the research and recommendations I publish each and every month inside Top Stock Advisor.
It all starts with the one undervalued satellite company I just showed you…
The one I want you to pick up shares of today.
Because the moment the first Wall Street analyst realizes he overlooked a $10 billion treasure trove…
Or the mainstream media catches a whiff of the company's nanosatellite launch…
The stock could easily skyrocket overnight…
And hand you the retirement lifestyle you and your spouse have dreamed about for decades.
Today, you can claim your copy of my special report containing all the details.
But you've got to do it right away…
Because as of right now…
I Can Only Release Details to
500

257 People

I wish it could be more.

But to ensure Top Stock Advisor members get first shot at all new opportunities I show them…

I have to strictly limit the number of people I let in.

And because they're limited, I expect the remaining membership spots to disappear quickly.

The moment you join Top Stock Advisor, you'll get instant access to:
The $10B Footnote: How Wall Street's Slipup Could Hand You $201,873 In The Next 12 Months (Value $99)
BONUS #1: Three Undercover Stocks For 10X Gains (Value $59)
BONUS #2: 10 Hot Stocks To Own In 2021 (Value $59)
These incredible, life-changing opportunities are just the tip of the iceberg though, because…
Each month, I'll email you the latest issue of Top Stock Advisor containing an in-depth profile of the single-most promising profit opportunity my research uncovers…
Along with the full detailed instructions on how to position yourself to profit from it.
You'll also receive Intra-Day FLASH Alerts any time I find an urgent BUY opportunity or when my research tells me it's time to take profits on an open trade. You'll never wonder what to do or when to do it… I'll be with you every step of the way.
With your membership, you'll also receive:
Mid-Month Update Emails — containing important news affecting the economy, the market, or our portfolio positions.
Confidential Members-Only Website — this secure, password-protected membership site is where you'll have 24/7 access to all past issues of Top Stock Advisor, FLASH Alert histories, portfolio summaries, special reports, and bonuses.
VIP Concierge Hotline — where a real live human is available during business hours to handle any questions or concerns you have.
As you can see, Top Stock Advisor is the full package.
Becoming a member means you have an expert analyst doing the heavy lifting for you…
Providing all the research, communication, and support you need to create the financial future you've always wanted.
All that remains is for you to follow my monthly recommendations…
And you're done.
The profits will take care of themselves.
With everything you receive as a Top Stock Advisor member…
You might expect membership to cost thousands of dollars a year.
And with the gains I've delivered to members in the past…
Even a price of $2,500 a year would be worth every penny.
But remember, I'm no longer interested in making wealthy Wall Street fat cats richer than anyone needs to be.
Today, I'm 100% committed to helping hardworking, everyday Americans like you build the wealth you truly deserve.
And to do that, I've convinced my publisher to allow new members to join Top Stock Advisor for only $199.
Given you'll receive a minimum of 12 opportunities to generate double or triple-digit returns each year…
And a single recommendation could cover your annual membership fee 10, or maybe even 100 times over…
I think you'll agree… $199 is a fair price.
However, today's "footnote" opportunity is so incredibly important that I've unlocked 500 257 seats at a price so low my publisher won't allow me to show it on this page.
You'll have to click the link below to get full details.
When you do, you'll also discover your membership is covered by two 100% money-back guarantees. So you can join today with zero risk.
The Next Move Is Yours
Today, you have a unique opportunity to hitch a ride with a small group of insiders…
"In-the-know" executives who've placed a $102 million bet on the success of their own company.
Right now, most everyday investors have never heard the company's name.
But that's all about to change. And soon.
It could be a week from now… maybe more… maybe less.
But no matter when it happens, the stock price could explode…
And I don't expect it to slow down anytime soon.
Right now, you can choose to walk away and forget everything you've seen here today, or…
You can join Top Stock Advisor and claim your stake in the $10 billion a year windfall that could be only days away.
Make no mistake… a lot of people will have an opportunity to get incredibly wealthy from the "gold mine" this little company has hidden in its back pocket.
The only question is…
Will you be one of them?
I have only 500 257 membership spots remaining today, and with the special offer pricing you'll see on the next page… I don't expect them to last much longer.
To lock down your opportunity to pocket a quick $201,873 before the Wall Street "geniuses" wake up…
Click the link below and join Top Stock Advisor while there's still time.
I look forward to welcoming you as a new member soon.
Thank you,

J.R. Butts
Chief Investment Strategist
Top Stock Advisor
February 2021